I loved this book!
Live to Fly, Fly to Live is a story set in New Zealand about a little girl named Ollie and a Royal Albatross called Lucy.
When a car accident cripples Ollie, she can't find the power in herself to try to recover, and Ollie thinks she may never walk again.  But when she makes an unlikely friend, Lucy Albatross, things start looking better.  Lucy tells Ollie about her amazing, circular route around the Southern Ocean, coming back after each journey to tell Ollie about it.  This enthuses Ollie to do her exercises every day, so that she may show Lucy her progress.  Yes, things are looking much better!
My favourite part is when Ollie can walk again, and she runs along the beach with Lucy flying overhead, although, I also like it when Lucy learns to fly, right at the beginning of the book.
I especially enjoyed the bits where Ollie 'flies' (in her imagination) on Lucy's back over Niagara Falls and the Grand Canyon.  It really made me feel that I was there, and that I felt what they felt.  It was an amazing experience, imagining to be in their imagination, and to go there with them.
You cannot give an age group for this book, everyone would love it.  I enjoyed it immensely, and hope that you will too.
Roberts, Sheri E. & Volkert, Susan L. 2009.  Live to Fly, Fly to Live.  The Story of Lucy Albatross & Little Ollie.  Atlanta: Pickle Family Press.  103 pp.  ISBN 9781456517083.
Molly Ryan, Muizenberg, South Africa, 13 July 2012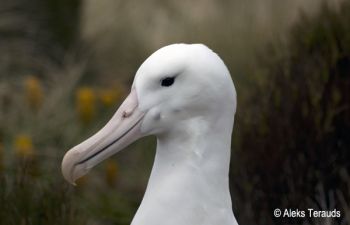 A Southern Royal Albatross.  Photograph by Aleks Terauds
Editorial notes:
Live to Fly, Fly to Live is Sheri Roberts' first book for children and is illustrated by Susan Volkert.  It comes with a companion guide for using the book at home and in the classroom.  Sheri works in a hospital where she helps people recovering from accidents, and is passionate about albatross conservation.
You can also read an earlier review of a children's book about an albatross by 10-year-old Molly Ryan.
Click here for a listing of children's books and fictional accounts about albatrosses and petrels down the years.  ACAP Latest News would be pleased to hear of other titles and also to receive copies of new publishings for review.