Simon Elwen (Mammal Research Unit, University of Pretoria, South Africa.) and colleagues writing in the electronic journal Ornithological Observations report on a juvenile Southern Giant Petrel Macronectes giganteus (that was unable to fly due to an entanglement injury) being killed and partially eaten by an adult male Cape Fur Seal Arctocephalus pusillus in Namibian waters.
Graphic pictures of before, during and after the attack!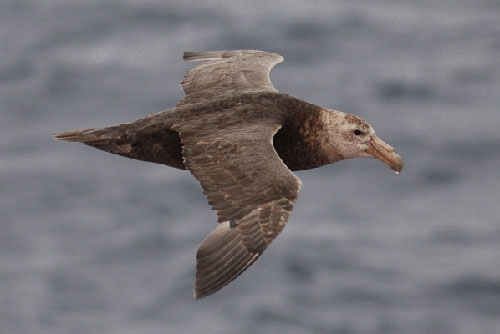 Southern Giant Petrel.  Photograph by Warwick Barnes
Reference:
Elwen, S.H., Meintjies, J. & Roux, J.-P. 2012.  Death under the surface - Cape Fur Seal predating [sic] on a Southern Giant Petrel in Walvis Bay, Namibia.  Ornithological Observations 3: 206-210.
Ornithological Observations is an open-access electronic journal published by BirdLife South Africa and the Animal Demography Unit, University of Cape Town.
With thanks to Arnold van der Westhuizen for information.
John Cooper, ACAP Information Officer, 16 October 2012