The Museum of New Zealand Te Papa Tongarewa's photographic competition for images featuring albatrosses and petrels revealed the winners at a short function held during the Fifth International Albatross and Petrel Conference held in Wellington last month.
There were six winning images in the five categories (two prizes were awarded in the Conservation Messages category):
Portrait:  Jacob Gonzáles-Solis
Conservation messages:   Peter Langlands & Mark Rauzon
Lonely islands:  Hélène de Méringo
Researchers in action:  Abraham Borker
At sea:  Dimas Gianuca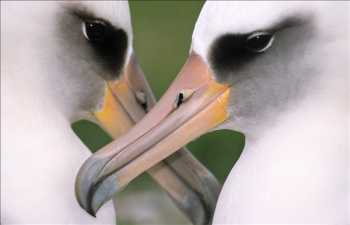 "Face to face": the Gold Winner in the Portrait Category
A pair of Lysan Albatrosses photographed on Midway Atoll; in 2001 by Jacob González-Solis
A full list of Gold, Silver and Bronze winners is given on the museum's web site.  Click here to view all the photographs submitted to the competition, as well as the six gold winners.  Information on each submitted photograph is also given.
It is hoped that the photographs could be made available for use by ACAP for conservation purposes if copyright agreement can be obtained from the photographers.
With thanks to Jacob González-Solis and Susan Waugh.
John Cooper, ACAP Information Officer, 14 September 2012