When I am asked what I do in retirement I say I work to help conserve albatrosses.  This generally arouses some level of interest: the average person has heard of albatrosses but does not know much about them.  Would be good then to direct friends and acquaintances to a book that will give a clear, up-to-date summary of all the various species, their biology, the threats they face and what is being and can still be done to save them.  Of course such a book for the general and the young reader must come with good colour pictures and not be too long and not too expensive.  Is there a book out there to fill these requirements?  Perhaps there has not been, but maybe there is one now.
Albatrosses by Tony Martin is in the WorldLife Library Series published by Colin Baxter Photography.  It follows on from similar books (among others) in the series on whales and dolphins.  The book is a nicely-produced soft cover, clearly written with a pleasing absence of jargon and overly technical terms.  It is well-illustrated with a number of excellent full-page photos.
Following an introductory chapter, the text is divided into four main sections. Understanding Albatrosses discusses what is special about their biology; The World's Albatrosses takes the reader though the various species; Studying Albatrosses is short and talks mainly about tracking birds at sea; and Save the Albatross covers their plight, concentrating on at-sea mortality from fisheries and what is afoot to address the problem.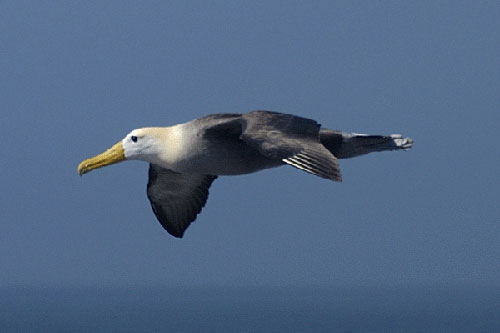 A Waved Albatross at sea.  Photograph by Barry Baker
The book has a forward by Dame Ellen MacArthur D.B.E. who broke the then World record for the fastest circumnavigation by sail of the globe in 2005, seeing (and being influenced by) albatrosses in the Southern Ocean on her way.  It ends with maps of movements at sea based on the use of electronic loggers and trackers, Albatross Facts that usefully lists details (scientific names, numbers, breeding distribution, etc.) of the species and some recommended reading and web sites (including that of the Albatross and Petrel Agreement).
There are, unfortunately, some errors and lapses in the book that could have been caught by more careful editing.  Among them the picture of a "majestic" Southern Royal Albatross Diomedea epomophora on page 15 is surely of a Wanderer D. exulans.  Its pink ear stains and lack of a dark line along the bill are giveaways.  Also, the pic entitled "Atlantic yellow-nosed albatrosses on Amsterdam Island" (p. 44) is of two Indian Yellow-nosed Albatrosses Thalassarche carteri as shown by their all-white heads.  The Atlantic T. chlororhynchos does not breed in the southern Indian Ocean where Amsterdam Island is situated.  The text is wrong to lump the two yellow-nosed albatrosses with the Grey-headed T. chrysostoma and Buller's T. bulleri as all having "... striking yellow and orange stripe ... top and bottom."  Both yellow-nosed albatrosses have only a single yellow stripe on their upper bills.  Quite a few pictures, including some of the "full-pagers", are without captions - although you could by searching work out which birds they depict from the book's index.
Albatrosses should make an inexpensive (under a tenner) "stocking filler" come year-end for young and old seabird-watchers and aspiring marine ornithologists alike.
If you have enjoyed Tony Martin's book and feel you want to learn more about albatrosses then you could try another popular book of the same title by Terence Lindsey (in the Australian Natural History Series by CSIRO Publishing, 2008), which at 152 pages with single-spaced text (as against double-spaced) provides a deal more information.
Reference:
Martin, Tony 2011.  Albatrosses.  Grafton-on-Spey: Colin Baxter Photography.  72 pp.  46 colour photographs, five colour maps, UK£ 9.95.  ISBN 978-1-84107-403-0.
http://www.colinbaxter.co.uk/products/wildlife.html
John Cooper, ACAP Information Officer, 28 October2012