After close to two months of incubation by both members of a suspected female-female pair (click here), the Short-tailed Albatross Phoebastria albatrus nest on Kure Atoll has failed.  Between 23 and 25 December the immature-plumaged bird took over incubation of the nest.  On the next nest check on 27 December a crushed egg was observed beside the nest cup with the bird sitting 15 m away.
The field crew suspects that the damage to the egg could have occurred during a switch in incubation shifts.  The following day the crushed egg was collected and the nest cup excavated to look for the second egg.  The second egg was not found (even after checking under nearby Laysan P. immutabilis and Black-footed P. nigripes Albatross nests) and it is suspected that it was eaten by crabs.  The collected egg was dissected and contained only liquid, and since the projected hatch date for the egg was 1 January, it was likely infertile since no chick was found inside, further supporting the suspicion that the incubating pair consisted of two females.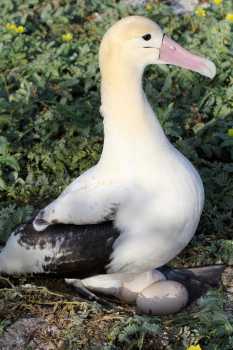 Although the failure of the nest is disappointing, it is not surprising given that no male birds have been observed on the island.  In the meantime we will pin our hopes on a positive outcome for the Midway Atoll nest which is still being incubated by a suspected male-female pair of Short-tailed Albatrosses (click here).
 For more news of the Midway pair also visit http://www.fws.gov/midway/Midway%20short-tailed%20albatross%20final%20nr%20120910.pdf
With thanks to Cynthia Vanderlip, Field Camp Manager, Kure Atoll Seabird Sanctuary, Papahānaumokuākea Marine National Monument, Hawaii Department of Land and Natural Resources for information by satellite phone from Kure Atoll.
Lindsay Young, ACAP North Pacific News Correspondent, 8 January 2011