The Mists of Time is a fictionalised account of the life of a South Atlantic Wandering Albatross from being reared by its parents, finding its life-long mate and embarking on a lifetime of epic voyages and a final return to its starting point.
It is a haunting tale in the tradition of classic heroes and heroic voyages, although the dangers Cymba faces are of our own time and of humanity's making.
The book is illustrated with photographs by internationally respected wildlife photographers, several of whom donated images as their contribution to this initiative for the protection and conservation of the Wandering Albatross Diomedea exulans.  All profits from the sale of the book have been donated by the author to the *South Georgia Habitat Restoration Project.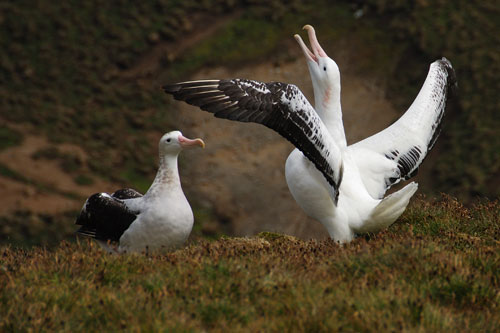 Retired business executive Jim Wilkinson writes under the pen name of James McQuilken, which was his old Irish family name until the early 19th century.  The Mists of Time is his response to the appalling wholesale slaughter of seabirds in the Southern Ocean.
Reference:
McQuilken, J. 2010.  The Mists of Time.  The Amazing Story of Cymba, the Wandering Albatross from the Islands of South Georgia.  York: Sessions of York, England.  162 pp, 15 colour photographs.  ISBN 978-1-85072-409-4.  UK£15.00.  (Click here to order).
Click here for a listing of children's books and other fictional accounts of ACAP-listed species, including the following title written about a southern Indian Ocean Wanderer from Marion Island.
James, N. & Mackintosh, R. 2009.  Allie makes a Difference.  Wynberg: Don Nelson Publishers.  104 pp.  ISBN 978-1-86806-278-2.
John Cooper, ACAP Information Officer, 8 February 2011
*A dispute exists between the Governments of Argentina and the United Kingdom of Great Britain and Northern Ireland concerning sovereignty over the Falkland Islands (Islas Malvinas), South Georgia and the South Sandwich Islands (Islas Georgias del Sur y Islas Sandwich del Sur) and the surrounding maritime areas.