The Pacific Seabird Group will hold its 38th Annual Meeting with the general theme of tropical seabirds on the island of Oahu, Hawaii, USA from 7-10 February 2012.  The venue will be the Turtle Bay Resort and Golf Club, situated in a protected bay along the North Shore.
Information on plenary speakers and the Special Paper Sessions is now available (click here).
The four Special Paper Sessions and their Convenors are:
Tropical Seabird Biology and Conservation:  David Hyrenbach and Scott Shaffer

Where Seabirds and Tuna Meet: Biology and Management of Subsurface Predator Facilitated Foraging:  Sara Maxwell, Lance Morgan and Peter Kappes

Biology and Conservation of Hawai`i's Endemic Seabirds: Hawaiian Petrel Pterodroma sandwichensis and Newell's Shearwater Puffinus newelli:  Helen James and Nick Holmes.

Seabirds, Marine Spatial Planning, and Impacts of Renewable Energy Development in the California Current Ecosystem:  Jeannette Zamon.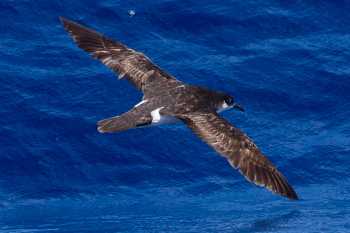 Newell's Shearwater: subject of a Special Paper Session
Photograph by Eric Vanderwerf
The thre Plenaries will be given by Jeffrey Polovina, Chief of the Ecosystem and Oceanography Division at NOAA Fisheries Pacific Islands Fisheries Science Center in Honolulu, Hawaii, Matthieu Le Corre, Professor at L'Université de La Réunion and Deputy Director of the Marine Ecology Laboratory of Réunion and ACAP's Information Officer, John Cooper, who is a Research Associate of the DST-NRF Centre of Excellence for Invasion Biology at Stellenbosch University, Western Cape, South Africa.
Information on field excursions and the programme schedule is also available on the meeting web site.  The deadlines for submitting abstracts and applying for travel funds have now passed.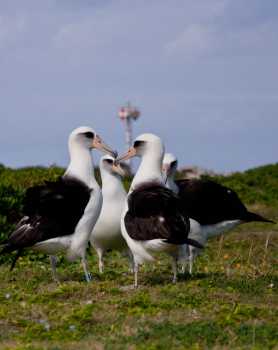 Laysan Albatrosses get familiar at Kaena Point: site of a meeting field trip
Photograph by Lindsay Young
The Local Program Chair is Lindsay Young, ACAP's North Pacific News Correspondent.
Lastly, "[d]ress and attire in Hawaii is very casual and virtually anything goes.  Suits are only worn by the governor and those on job interviews from the mainland".  We have been warned!
John Cooper, ACAP Information Officer, 28 November 2011