The National Oceanographic and Atmospheric Administration (NOAA) says updated computer models show that marine debris from the Japan tsunami earlier this year could reach the Northwestern Hawaiian Islands as early as January or February 2012 (click here).  However, there is still a large amount of uncertainty in the model's predictions.
Click here to read a report of a sighting of the debris at sea in September this year.
The U.S. Fish and Wildlife Service is continuing systematic shoreline monitoring and removal of beached debris on Sand and Eastern Islands on the Midway Atoll National Wildlife Refuge every 28 days.  Similar clean-ups have been taking place on Kure Atoll farther to the west, where washed-up fishing buoys are being used to help mark out Black-footed Phoebastria nigripes and Laysan P. immutabilis Albatross census areas (click here).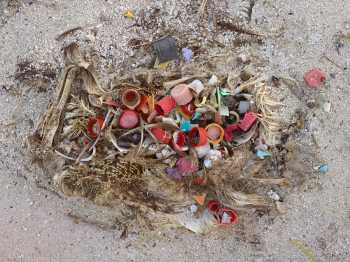 Floating plastic debris at sea resulted in the death of this Laysan Albatross chick on Midway Atoll
Photograph by Chris Jordan
Click here to access more information on the tsunami's debris field in the North Pacific and to find the answers to frequently asked questions about the Japanese tsunami click here.
And to see what an amazing range of plastic objects are swallowed by North Pacific albatrosses at sea and then fed to their chicks have a look at this video clip taken on a Midway beach.
Established in 2005, the NOAA Marine Debris Program supports national and international efforts to research, prevent and reduce the impacts of marine debris.  The programme's goal is to protect and conserve natural resources, oceans, and coastal waterways from the impacts of marine debris.  You can also sign up for NOAA's weekly e-newsletter Marine Debris NEWS.
John Cooper, ACAP Information Officer, 27 December 2011, updated 28 December 2011