Genetic (cytochrome b) research recently published in the journal Molecular Phylogenetics and Evolution supports specific status for Northern Macronectes halli and Southern M. giganteus Giant Petrels and for the Spectacled Petrel Procellaria conspicillata.
The multi-authored giant petrel study (with authors from no less than eight countries) estimates the two species diverged about 0.2 million years ago (mya).  The giant petrels of Gough Island in the South Atlantic, the northernmost breeding site for the genus, are confirmed to be Southerns.
Spectacled and White-chinned P. aequinoctialis Petrels are deemed to have diverged approximately 0.9 mya.  Two regional populations for White-chins are identified, one centred around New Zealand and the other throughout the Atlantic and Indian Oceans, thought to have diverged 0.35 mya.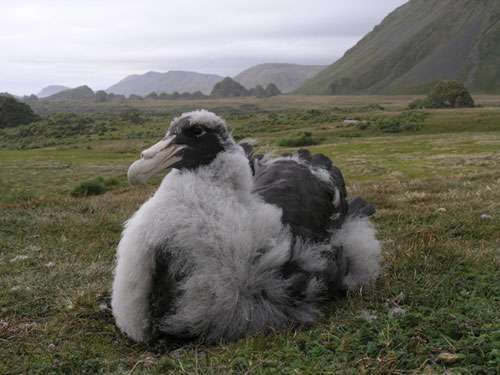 The two publications form part of Dr Mareile Techow's PhD research at the University of Cape Town (click here).
Click here for reports of the ACAP Advisory Committee's Taxonomy Working Group.
References:
Techow, N.M.S.M.. O'Ryan, C., Phillips, R.A., Gales, R., Marin, M., Patterson-Fraser, D., Quintana, F., Ritz, M.S., Thompson, D.R., Wanless, R.M., Weimerskirch, H. & Ryan P.G. 2009.  Speciation and phylogeography of giant petrels Macronectes. Molecular Phylogenetics and Evolution.  doi:10.1016/j.ympev.2009.09.005.
Techow, N.M.S.M., Ryan, P.G. & O'Ryan, C. 2009.  Phylogeography and taxonomy of White-chinned and Spectacled Petrels. Molecular Phylogenetics and Evolution 52: 25-33.
John Cooper, ACAP Information Officer, 11 December 2009