Megan Dalton, a biologist with the non-profit Pacific Rim Conservation, writes in the latest issue of Gooney Gazette II, the newsletter of the Friends of Midway Atoll National Wildlife Reserve (FOMA), on plans to establish a colony of globally Near Threatened Black-footed Albatrosses Phoebastria nigripes on the "high" Hawaiian Island of Oahu, as an insurance against sea-level rise.
Her article follows:
"Early next year, 15 young Black-footed Albatross (Phoebastria nigripes) chicks that hatch on Midway Atoll NWR will be translocated to Oʻahu as part of a pioneering effort to establish a protected Black-footed Albatross colony in the Main Hawaiian Islands. The chicks will be brought to a predator-proof enclosure within [the] James Campbell National Wildlife Refuge, located on the windswept north shore of Oʻahu, where they will be raised and closely monitored for several months by biologists. Because albatross chicks imprint on their natal site sometime after one month of age, the idea is that they will return to their new home at James Campbell NWR as breeding adults to raise chicks of their own.
Headed by Pacific Rim Conservation and supported by several partnering agencies, the effort is an important step towards creating a safe, high-island (and higher elevation) refugia [sic] for a species that is projected to be heavily affected by climate change and subsequent rising sea levels. Besides a few colonies on volcanically active islands in Japan and one colony on the small islet of Lehua near Kauaʻi, breeding Black-footed Albatross are currently restricted to low-lying islands in the Northwestern Hawaiian Islands. Midway Atoll NWR, Laysan Island, and Tern Island (which support 90% of the world's breeding population) all have very low elevations and are predicted to be highly susceptible to sea-level rise and storm surges in the coming century as global temperatures continue to increase. The chosen translocation site at James Campbell NWR is high enough that these effects should not be an issue. Additionally, birds nesting within the enclosure will be protected from non-native predators that are prevalent in the main islands such as mongooses, rats, and feral cats and dogs.
When choosing the nests on Midway from which to take the chicks from, priority will be given to those located in areas that experience frequent flooding and reduced chick survival under normal circumstances. At approximately 2-3 weeks of age, the chosen chicks will be placed in carriers and transported on a G3 jet to Honolulu, and (if all goes well) will be settled into their new home within just a few hours. They will then be fed a diet of fish and squid slurry for 4-5 months until they are ready to fledge and take to the open seas on their own. Sub-adult Black-footed Albatross will spend at least 5 years at sea before returning to the place they imprinted on as a chick so it will take some time before we might see a breeding colony on Oʻahu start to flourish. This project will build upon two successful years of Laysan Albatross (Phoebastria immutabilis) chick translocations to the same site.
Partners on this project include Papahānaumokuākea Marine National Monument, U.S. Fish and Wildlife Service, the National Fish and Wildlife Foundation, and the David and Lucile Packard Foundation. For more information, please visit www.pacificrimconservation.org."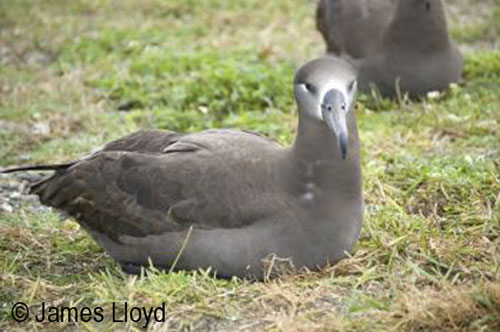 Black-footed Albatross, photograph by James Lloyd
To read more about the efforts to establish a colony of Laysan Albatrosses P. immutabilis in the James Campbell National Wildlife Refuge by translocating eggs from Kauai and hand-rearing the chicks hatched from them click here.
Reference:
Dalton, M. 2016. A new colony as a stronghold for Black-footed Albatross, Midway Atoll NWR becomes the source for a new albatross colony in the main Hawaiian Islands. Gooney Gazette II Winter 2016/2017. p. 12.
John Cooper ACAP Information Officer, 12 December 2016