The Commission for the Conservation of Antarctic Marine Living Resources (CCAMLR) meeting this month in Hobart, Australia has achieved consensus among its 24 members and agreed to create the World's largest Marine Protected Area in the Ross Sea, regarded as one of the very few substantially unaltered large marine ecosystems left in the World (click here).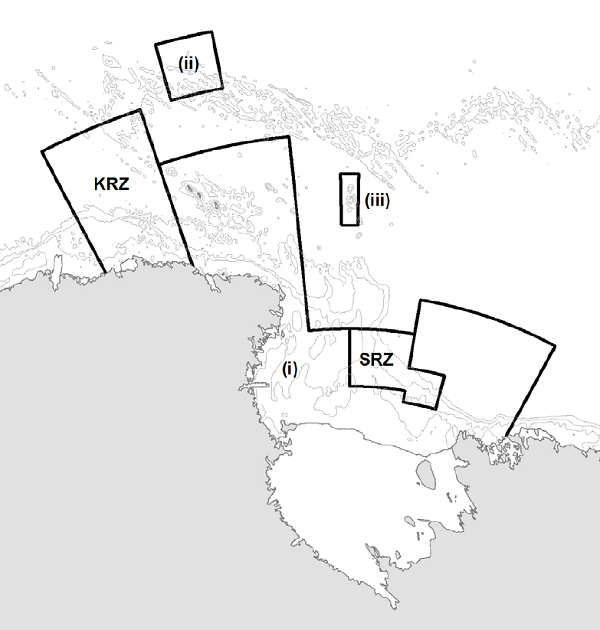 The Ross Sea Marine Protected Area; KRZ and SRZ are research fishing zones, the rest (i - iii) are "no take"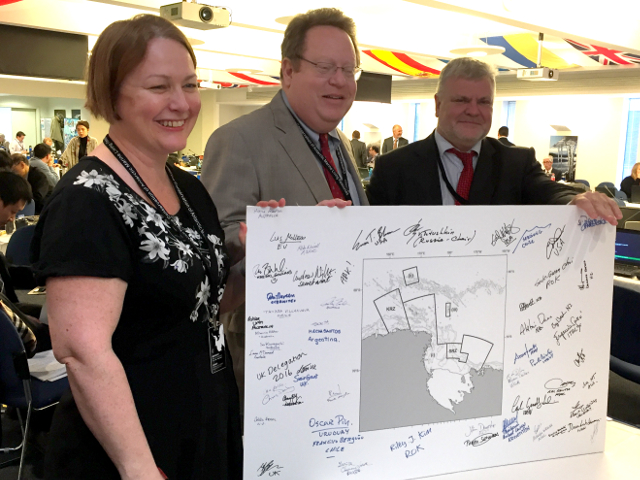 CCAMLR delegates from New Zealand, United States and Russia added their signatures to a map of the Ross Sea MPA
The Ross Sea MPA, to come into force on 1 December 2017, will cover 1.55 million km², of which 1.12 million km², or 72%, will be fully protected with no fishing permitted. The remaining areas will be open for research fishing only. A compromise life of 35 years for the MPA was adopted.
"This year's decision to establish a Ross Sea MPA follows CCAMLR's establishment, in 2009, of the world's first high-seas MPA, the South Orkney Islands southern shelf MPA, a region covering 94 000 km² in the south Atlantic." It followed five years of negotiation on the proposal by New Zealand and the United States which has been regularly reported on in ACAP Latest News (click here).
Only two ACAP-listed species, the Light-mantled Sooty Albatross Phoebetria palpebrata and the Southern Giant Petrel Macronectes giganteus, breed within the Antarctic Treaty area, neither within the Ross Sea region. However, the Ross Sea supports several species of ACAP-listed species in their foraging ranges, notably the Black-browed Thalassarche melanophris and Light-mantled Sooty Albatrosses and the Southern Giant Petrel.
Read the New Zealand and United States official statements on the MPA adoption here:
https://www.beehive.govt.nz/release/agreement-protect-ross-sea-reached
https://www.mfat.govt.nz/en/environment/antarctica/ross-sea-region-marine-protected-area
http://www.state.gov/secretary/remarks/2016/10/263763.htm
Selected publications:
Ainley, D.G. 2002. The Ross Sea: where all ecosystem processes still remain for study, but maybe not for long. Marine Ornithology 30: 55-62.
Ainley, D.G. 2010. A history of the exploitation of the Ross Sea, Antarctica. Polar Record 46: 233-243.
Ainley, D.G., O'Connor, E.F. & Boekelheide, R.J. 1984. The marine ecology of birds in the Ross Sea, Antarctica. Ornithological Monographs 32: 1-97.
Ballard, G., Jongsomjit,D., Veloz, S.D. & Ainley, D.G. 2012. Coexistence of mesopredators in an intact polar ocean ecosystem: The basis for defining a Ross Sea marine protected area. Biological Conservation 156: 72-82.
Smith Jr., W.O., Ainley, D.G., Arrigo, K.R. & Dinniman, M.S. 2014. The oceanography and ecology of the Ross Sea. Annual Review of Marine Science 6: 469-487.
John Cooper, ACAP Information Officer, 31 October 2016