News is in from Stephen Horn, Project Manager for the "Million Dollar Mouse" project to eradicate introduced House Mice Mus musculus on New Zealand's Antipodes Island, that aerial baiting finally commenced on 18 July after having been ready from the 9th. The team arrived on the island on 27 May but spent the first week or so off-loading and setting up camp, which included building a helipad and erecting a hangar for the two helicopters to be used.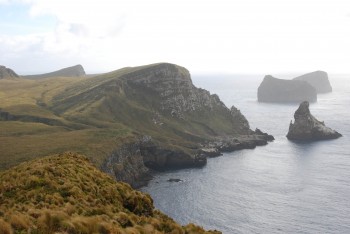 Antipodes Island with mouse-free Bollons Island behind, photograph by Erica Sommer
His on-line report (which contains a video clip of bait loading) follows:
"To eradicate mice we need to ensure bait is available within the small home-range of every mouse on the island. Over the coming weeks we will complete two separate applications of Pestoff 20R Rodent Bait over the entire island. The interval between the two applications will be a preferred minimum of two weeks apart to ensure bait is available to mice for as long as possible. This helps to reduce the risk of any gaps in coverage due to conditions at the time of baiting (wind gusts affecting spread for example) or unexpected bad weather following bait application. Two applications also helps to counter the small risk that some mice may be breeding at this time of year, in which case young mice could be force-weaned from the nest once the adult mice have died but bait may no longer be available or viable if only one application was used.
Saturday dawned much finer than expected with clear skies and even short periods of sunshine breaking the clouds sporadically. The wind was still marginal. We have been ready to commence baiting since the 9th of June and waiting for an opportunity to get started. We walked up the hill to the load site to ground truth the information from the weather station and assess the wind gusts. With some calmer weather forecast for early this week we were keen to identify any possible issues with our systems and equipment as the gear has travelled a long way and been handled multiple times since testing prior to departure. A mechanical failure during a good weather day could result in much time being lost and with the forecast periods of calm weather seemingly slipping further ahead or just missing us we need to be ready to take full advantage of our opportunities.
We decided to bait a small corner of the north east part of the island and got started by 0930. The wind was slowly building rather than easing so we finished by 1030, quickly achieving what we wanted to do. Although we only covered 2.6% (54.7 ha) of the baiting area it was hugely valuable for the team to iron out the kinks."
Antipodean Albatrosses groom in their nest on the Antipodes, photograph by Erica Sommer
Click here to read more about the Million Dollar Mouse campaign.
John Cooper, ACAP Information Officer, 20 June 2016