The Northern Royal Albatrosses Diomedea sanfordi of Taiaroa Head on New Zealand's South Island near the city of Dunedin are noteworthy in that they breed on the mainland and can be viewed by the public from the Royal Albatross Centre's observation building. The colony and its breeding birds are carefully managed to address such conservation issues as alien predators, fly strike and as the following account from last month shows, overheating.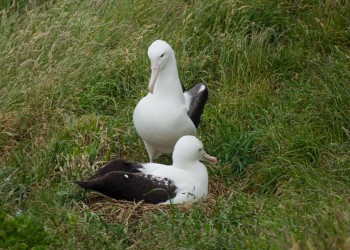 Northern Royal Albatross pair at Taiaroa Head
"All of Dunedin's albatrosses and their incubating eggs survived Monday's [21 December] heat wave thanks to the breeze and an ingenious sprinkler system. Taiaroa Head's 29 nesting pairs and their eggs got through the 34.6° C heat unscathed and are due to hatch on 12 January.
Department of Conservation Head Ranger Lyndon Perriman said the wind was a blessing as, on a 20° C day without wind in November, the ground temperature got up to 38° C. This, combined with the heat of adult birds, created real problems.
The optimal incubation temperature for albatross eggs is 36.4° C, Mr Perriman said. "The heat [on Monday] certainly didn't help. The birds were hot but there was [sic] no major concerns. If there's no wind and the sun is beating down, then that's when the problem comes,'' he said.
A sprinkler system had been devised about five years ago to counter the ground temperature, which was turned on manually when needed. On Monday, the sprinklers were on, but just for one nest tucked away on the southern side of the headland out of the wind. "We had an irrigation sprinkler going for a couple of hours,'' Mr Perriman said. "In the past we've had birds die from heat exhaustion. If there was no wind, it would have been absolutely diabolical out there.''
The colony started [this season] with 35 eggs, of which 32 were fertile. Two eggs were lost due to accidental breaking by the nesting parents and the other was an embryonic death related to temperature or infection."
Source: Otago Daily Times, 23 December 2015.
Last season a total of 32 eggs was laid, resulting in 27 chicks fledging.
John Cooper, ACAP Information Officer, 05 January 2016