Candling of Near Threatened Laysan Albatross Phoebastria immutabilis eggs by Pacific Rim Conservation has commenced to determine which will be selected for translocation next year from the Pacific Missile Range Facility (PMRF) at Barking Sands, Kauai to the James Campbell National Wildlife Refuge on Oahu in the USA's Hawaiian Islands. Twenty of 24 eggs candled so far were deemed to be fertile (click here). This is the second of three planned seasons to establish a new breeding colony. Ten hand-fed chicks hatched from artificially-incubated eggs successfully fledged earlier this year (click here and follow the string backwards).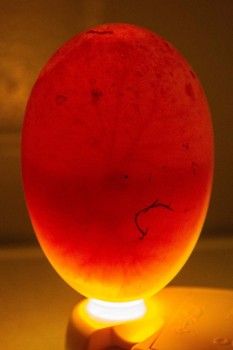 A candled Laysan Albatross egg shows a developing embryo
Photograph by Pacific Rim Conservation
"PMRF's runway area has swift wind conditions and wide, open topography that make for perfect albatross breeding terrain. The problem is that the birds pose a collision hazard in the runway zone, putting themselves, the aircraft and flight crews at risk." Because of this about 70 eggs are removed annually. Some of the fertile eggs have been given to incubating birds elsewhere on Kauai that have infertile eggs, some laid by female-female pairs. Along with removing eggs from the runway area about 200 birds are moved each year to elsewhere on the island. Read more on the translocation of Laysan Albatrosses and their eggs here.
Meanwhile on Kauai the last of 10 translocated Vulnerable Hawaiian Petrel Pterodroma sandvicensis chicks have fledged from the Kilauea Point National Wildlife Refuge. Read more on this exercise here.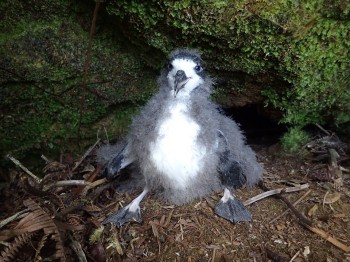 A translocated Hawaiian Petrel chick approaches fledging, photograph by Andre Raine
John Cooper, ACAP Information Officer, 18 December 2015