Minsmere is a nature reserve managed by the Royal Society for the Protection of Birds (RSPB) on the United Kingdom's North Sea coast in the County of Suffolk.
On 12 July a Black-browed Albatross Thalassarche melanophris was photographed swimming in one of the reserve's freshwater pools before flying out to sea shortly thereafter (click here). For more photos of the albatross and a birder's description of the sighting click here.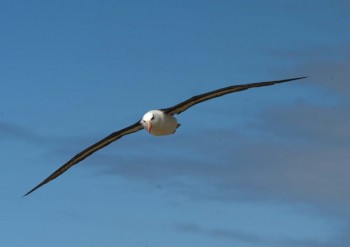 The Minsmere Black-browed Albatross in flight
The albatross may well be the same bird as seen on the German island of Heligoland a few days earlier (click here) – which is also assumed to be the same bird as seen there last year (click here).
Southern-hemisphere albatrosses cross into the North Atlantic from time to time (click here).
Read more on the Mismere bird here.
John Cooper, ACAP Information Officer, 18 July 2015