The Fifth Session of ACAP's Meeting of Parties (MoP5) meeting in Tenerife, Spain, yesterday adopted an amendment to Annex 1 of the Agreement on the Conservation of Albatrosses and Petrels that includes the Pink-footed Shearwater Puffinus creatopus in the list of species covered.
The proposal was made by Chile, the sole breeding range state for the species, with support from Australia. Several Parties then spoke in support of the species' nomination, including range state Ecuador, as well as two other range states, Canada and the USA, who are attending MoP5 as observers. The successful nomination follows a process initiated by ACAP's Advisory Committee.
The Pink-footed Shearwater is included in Appendix I of the Convention on the Conservation of Migratory Species of Wild Animals (CMS) and has a global category of threat of Vulnerable.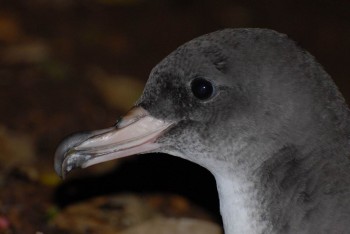 Pink-footed Shearwater, photograph by Peter Hodum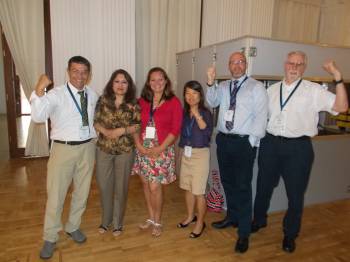 Range states express their delight at the inclusion of the Pink-footed Shearwater on ACAP's Annex 1.
From left: Marcelo Garcia (Chile), Roxana Galindo (Peru), Caroline Icaza Galarza (Ecuador), Mi Ae Kim & Stephen Wilger (USA) and Ken Morgan (Canada)
Photograph by John Cooper
Both national and international efforts have been made to address conservation concerns regarding the new ACAP species, as set out in the North American Action Plan for the Conservation of the Pink-footed Shearwater (Puffinus creatopus), the National Plan for the Conservation of the Pink-footed Shearwater in Chile and the Recovery Strategy for the Short-tailed Albatross and the Pink-footed Shearwater in Canada.
Click here to access these documents and other news on how the Pink-footed Shearwater progressed to ACAP listing.
John Cooper, ACAP Information Officer, 07 May 2015