The Kure Atoll Conservancy has reported on the completion of the most recent counts of breeding albatrosses on Kure Atoll, one of the USA's North-Western Hawaiian Islands.
Whole-island counts of occupied nests have revealed totals of 38 307 Laysan Albatross Phoebastria immutabilis pairs, against 17 604 nests in the previous season.  The previous highest count was of 24 323 in 2012.
The Black-footed Albatross P. nigripes count was of 3671 occupied nests, 817 more than last year's count and close to the 2011 record high of 3766.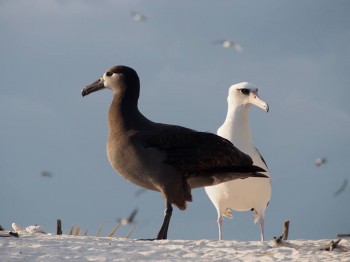 A Black-footed and a Laysan Albatross on Kure Atoll
The Short-tailed Albatross P. albatrus female-female pair is once more present on the atoll; this couple have had a confirmed nest each year on Kure since 2010.  The Hawaiian Department Land and Natural Resources (DNLR) did not have a presence during winter months on Kure Atoll before 2010 so it is possible they had been present earlier but gone undocumented.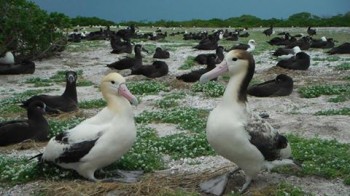 Short-tailed Albatross female-female pair on Kure Atoll
In other Kure news the body of a Black-footed Albatross that was banded on the atoll in June washed up on the Hawaiian island of Moloka'i in late December.  Black-footed Albatrosses are only occasionally seen on the main Hawaiian Islands.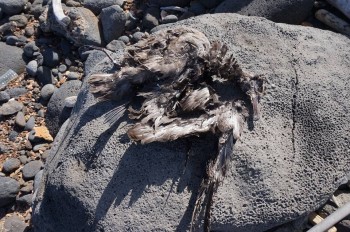 Banded Black-footed Albatross corpse on Moloka'i
Information from the Kure Atoll Conservancy.
John Cooper, ACAP Information Officer, 09 January 2015