Over the last decade every September marine ornithologists have travelled to Gough Island, part of the United Kingdom's Overseas Territory of St Helena, Ascension and Tristan da Cunha in the South Atlantic, to conduct research on its threatened populations of albatrosses and petrels. This year's expedition sails from Cape Town today on South Africa's Antarctic research and supply vessel, the m.v. S.A. Agulhas II.
As in previous years, seabird research and monitoring on Gough will concentrate on globally threatened species, including the near-endemic and Critically Endangered Tristan Albatross Diomedea dabbenena, the Endangered Atlantic Yellow-nosed Albatross Thalassarche chlororhynchos and the Endangered Sooty Albatross Phoebastria fusca. All three ACAP-listed species face fatal attacks on their chicks by Gough's "killer" House Mice Mus musculus (click here). Research will also take place on the two other ACAP-listed species that breed on Gough: the Southern Giant Petrel Macronectes giganteus (Least Concern) and the Grey Petrel Procellaria cinerea (Near Threatened).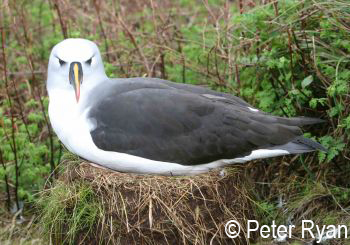 Atlantic Yellow-nosed Albatross, photograph by Peter Ryan
Three field assistants on the expedition will remain on Gough until October 2015, residing in South Africa's weather station on the island: Christopher Jones, Werner Kuntz and Michelle Risi. They will continue monitoring of albatrosses and petrels during their stay, as well as continuing with alien plant control in the vicinity of the weather station. Two field assistants, Delia Davis and Ben Dilley, who have spent a year on the island will return with the ship next month.
The ornithological component of the expedition is being led by Peter Ryan, Director of the University of Cape Town's FitzPatrick Institute, with financial and logistic support from the South African Department of Environmental Affairs and National Science Foundation via the South African National Antarctic Programme, the UK's Royal Society for the Protection of Birds (RSPB), and the Tristan Conservation Department (TCD).
In addition an aerial photographic survey by South African helicopter of Gough's population of Atlantic Yellow-nosed Albatrosses is planned in September by Alex Bond of the RSPB's new Centre for Conservation Science with financial support from the UK's Darwin Initiative and ACAP. This will be the first-ever such survey, also planned for the main island of Tristan da Cunha, filling, if successful, a noticeable gap in the knowledge of the population size of this species, endemic to the Tristan islands (click here and here). Alex and Trevor Glass, Head of the TCD, will join the expedition once the ship arrives at Tristan on its way to Gough.
Unlike for the last eight years ACAP's Information Officer will not take part in this year's expedition to Gough; instead he will be attending ACAP meetings in Uruguay that commence next week in Punta del Este.
Click here for details of the 2013 ornithological expedition to Gough.
With thanks to Peter Ryan for information
John Cooper, ACAP Information Officer, 04 September 2014