A web cam has been following the fortunes of a Laysan Albatross Phoebastria immutabilis chick from hatching to fledging (with a geolocator mounted) on the Hawaiian island of Kauai.
Around 40 pairs of Laysan Albatrosses breed in residential gardens and on golf courses in the Princeville community on Kauai's north shore (click here), one which has been watched by a Cornell Lab of Ornithology-hosted web cam.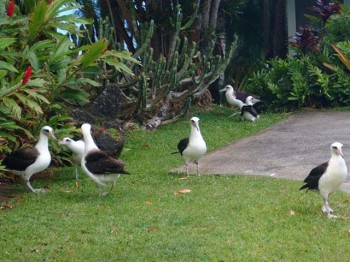 Laysan Albatrosses in Princeville, Kauai, photograph by Bob Waid
Highlights of Kaloakulua's life in the nest are now available for the 2014 season (click here). See Mum K312 and Dad Kaluakane crash land, watch what happens when George the Rooster approaches, and see neighbour chick Mango visit for a chat!
Explore more on the Kauai Albatross Network and view earlier video clips of Kaloakulua growing up.
John Cooper, ACAP Information Officer, 27 August 2014