The Wedge-tailed Shearwater Puffinus pacificus is the only seabird currently known to breed within the James Campbell National Wildlife Refuge on the Hawaiian island of Oahu. Reproductive success is unknown but predation is reported as a limiting factor. An intensive, year-round predator control programme aims to reduce the impact of invasive predators.
Several other seabird species have been identified for introduction by the refuge's 2011 conservation plan because of their habitat preferences at other breeding sites in Hawaii that resemble the conditions at the Refuge. These include Laysan Albatross Phoebastria immutabilis and Black-footed Albatross P. nigripes. These species are currently observed along the Refuge coastline and in the general vicinity. Laysan Albatrosses have attempted to breed near the Refuge in the past but were thought to have been killed by domestic dogs; introduced albatrosses would thus need to be protected by a predator-proof fence.
"As rising sea levels begin to negatively impact important seabird nesting sites in more vulnerable remote Pacific islands, nesting sites on the main Hawaiian Islands (which are generally higher in elevation) will become increasingly important," including for Laysan Albatrosses.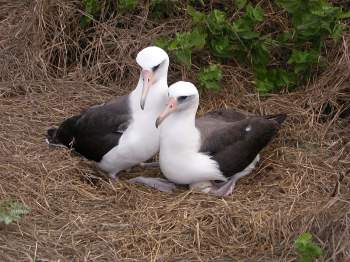 Laysan Albatrosses, photograph by Ross Wanless
One possible source for founders of a new seabird colony could be Laysan Albatross eggs from the exchange programme at the Pacific Missile Range Facility Barking Sands on Kauai where eggs are removed to reduce risks of bird air strikes (click here). The chicks from these eggs could then be hand reared at the refuge and allowed to fledge from the colony site.
Reference:
O'ahu National Wildlife Refuge Complex 2011. James Campbell National Wildlife Refuge Draft Comprehensive Conservation Plan and Environmental Assessment. Honolulu: U.S. Fish & Wildlife Service. 283 pp.
John Cooper, ACAP Information Officer, 18 August 2014