The Conservation Services Programme (CSP) of New Zealand's Department of Conservation works to reduce the impact of commercial fishing on protected species in New Zealand fisheries waters. Direct commercial fishing impacts include species being caught, killed or injured in nets or on lines (bycatch). Impacts may also be indirect through the modification of habitat or food availability. The CSP monitors the effects of commercial fishing on protected species, studies species populations and looks at ways to limit bycatch (click here).
At regular meetings of the CSP's Technical Working Group, reports on ongoing projects are considered, many of which deal with aspects of the biology and conservation of ACAP-listed albatrosses and petrels. At its most recent meeting, held earlier this month, reports were considered for six species of albatrosses (Buller's Thalassarche bulleri on The Snares, Campbell T. impavida and Grey-headed T. chrysostoma on Campbell Island, Gibson's Diomedea antipodensis gibsoni on the Auckland Islands, Salvin's T. salvini at sea and Southern Royal D. epomophora at the Aucklands).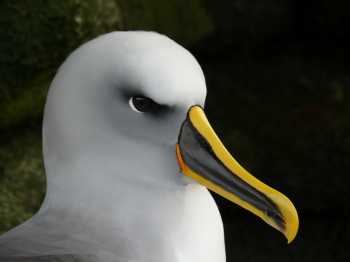 Buller's Albatross at The Snares, photograph by Paul Sagar
Reports and presentations were also given on the Flesh-footed Shearwater Puffinus creatopus, on sea trials of the Kellian Line Setter and on characterising bottom longline operations in relation to risk factors for seabird capture.
Click here to access all the above reports. Reports made to earlier meetings of the CSP on ACAP-listed species and on mitigation activities are also available on-line.
John Cooper, ACAP Information Officer, 18 June 2014