An aerial photographic survey of breeding Wandering Albatrosses Diomedea exulans and King Penguins Aptenodytes patagonicus was undertaken last month on South Africa's uninhabited Prince Edward Island in the southern Indian Ocean.
Flying with the passenger door open to allow for photography, a Bell 212 helicopter of Starlite Aviation Operations flew Peter Ryan, Director of the University of Cape Town's Percy FitzPatrick Institute around the island on 27 April this year. Using two cameras with 17-40-mm and 70-200-mm lenses all the localities where Wanderers were breeding were adequately photographed from a height of about 200 m. A lower altitude may have caused disturbance to the island's three breeding colonies of King Penguins. Wandering Albatross chicks visible on the photographs will now be counted to yield an island total.
Cave Bay, Prince Edward Island from the air, photograph by Peter Ryan
The survey was flown from South Africa's new Antarctic supply and research ship the S.A. Agulhas II while it was visiting nearby Marion Island to support the annual relief of the meteorological and research teams who have been on the island for 13 months (click here).
The survey was undertaken at the end of the albatrosses' brood/guard stage. Breeding success information collected in study colonies on Marion Island will now be used to calculate a correction factor so that the likely number of incubating Wanderers can be estimated for the 2014 season.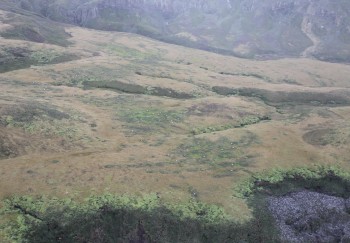 Albatross Valley, Prince Edward Island from the air in 2014...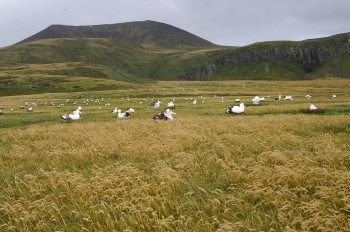 ... and from the ground in an earlier season. Photograph by Bruce Dyer
This was the second aerial survey of Prince Edward's Wanderers aimed to gather data to support the activities of the Albatross and Petrel Agreement. The first survey was undertaken last year. Because of its pristine nature with no introduced mammals, ground visits to Prince Edward Island only occur in terms of the island group's management plan at four-year intervals, hence the need to undertake aerial photography to obtain yearly data.
With thanks to Peter Ryan for information and aerial photographs.
Selected Literature:
Cooper, J. (Ed.). 2003. Seabirds and seals at the Prince Edward Islands. African Journal of Marine Science 25: 415-562.
Ryan, P.G., Cooper, J., Dyer, B.M., Underhill, L.G., Crawford, R.J.M. & Bester, M.N. 2003. Counts of surface-nesting seabirds breeding at Prince Edward Island, summer 2001/02. African Journal of Marine Science 25: 441-451.
Ryan, P.G., Jones, M.G.W., Dyer, B.M., Upfold, L. & Crawford, R.J.M. 2009. Recent population estimates and trends in numbers of albatrosses and giant petrels breeding at the sub-Antarctic Prince Edward Islands. African Journal of Marine Science 31: 409-417.
John Cooper, ACAP Information Officer, 17 May 2014