Three volunteer field technicians are needed from mid-October 2016 to late January 2017 for work on the breeding biology of the Critically Endangered and ACAP-listed Waved Albatross Phoebastria irrorata and on the Nazca Booby Sula granti on Isla Española, Galápagos, Ecuador.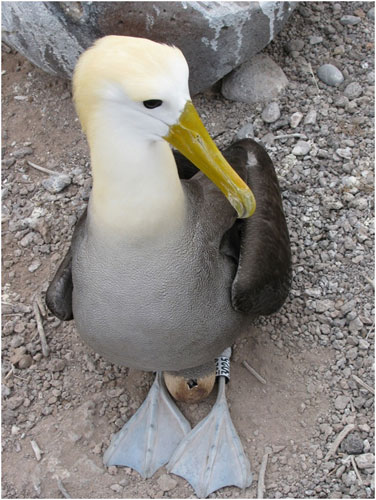 A colour-banded Waved Albatross incubates its hatchng egg, photograph by Kate Huyvaert
The assistants will complete a group totalling five continuing a 33-year study of these species. The majority of the work will be identifying banded parents at nests, marking nests and conducting daily nest monitoring, 7-9 hours per day (sometimes more) of physically taxing and fascinating work in an incredible place. The group will live in tents at a primitive field camp on this uninhabited island, a day's boat ride from the nearest civilization.
Requirements include physical fitness, tolerance of heat and sun, cheerful can-do attitude and attention to detail. Previous field experience required, Spanish desirable. All expenses paid, including travel from your home base. No salary.
To apply e-mail a one-page cover letter and contact information for three references, with c.v. attached, to David Anderson and Jenny Howard of the Department of Biology, Wake Forest University at This email address is being protected from spambots. You need JavaScript enabled to view it..
Review of applications will begin in mid-June, although the closing date for applications is 5 July 2016 (click here).
The Waved Albatross population of Isla Española was given a high priority status for study at this month's Ninth Meeting of ACAP's Advisory Committee in La Serena, Chile following the recommendation of its Population and Conservation Status Working Group.
With thanks to Dave Anderson for information.
Reference:
Huyvaert, K.P., Uzcátegui, G.J. & Favero, M. 2016. Priority Population Assessment – Waved Albatross at Española Island, Galápagos, Ecuador. Third Meeting of the Population and Conservation Status Working Group La Serena, Chile, 5 – 6 May 2016. PaCSWG3 Doc 04. [two-page summary and recommendations].
John Cooper, ACAP Information Officer, 24 May 2016