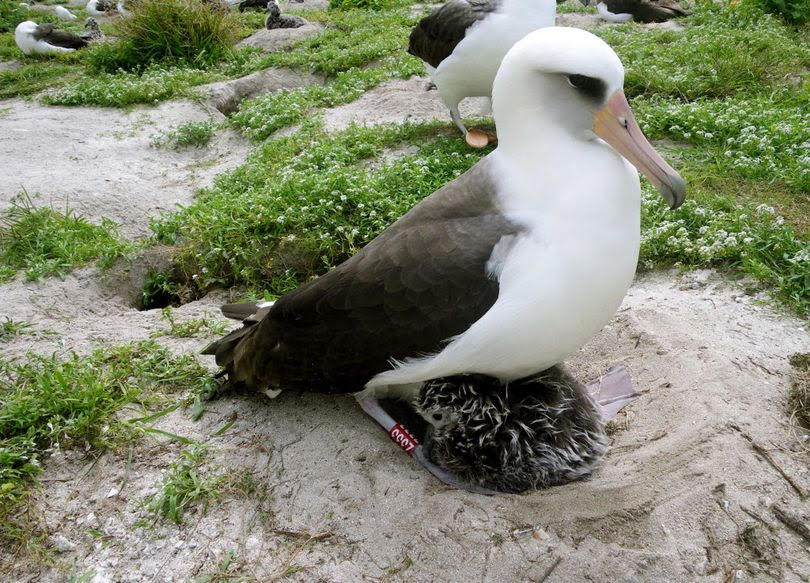 N333 broods its chick; photograph by Daniel Rapp
ACAP Latest News has regularly reported over the last decade or so on Wisdom, the world's oldest-known Laysan Albatross Phoebastria immutabilis, who at the age of at least 70 continues to visit and breed on the Midway Atoll National Wildlife Refuge in the North Pacific. Most recently, we heard not of Wisdom (who is taking a well-earned year off from breeding) but of one of her chicks now breeding on the island (click here).
"Hatched in December of 2010, [Wisdom's] chick was banded with identification number N333 before it took flight in June of 2011. More than a decade later in March of 2022, N333 along with his mate, is now raising a chick of their own!"
Watch this short video of Wisdom's "grandchick" being fed its parents N333 (Wisdom's 2010/11 chick) and mate DH00, produced by USFWS volunteer Daniel Rapp. Enjoy!
And watch an earlier video of Wisdom's grandchick, also by Daniel Rapp.
News from Friends of Midway Atoll National Wildlife Refuge.
John Cooper, ACAP Information Officer, 06 April 2022