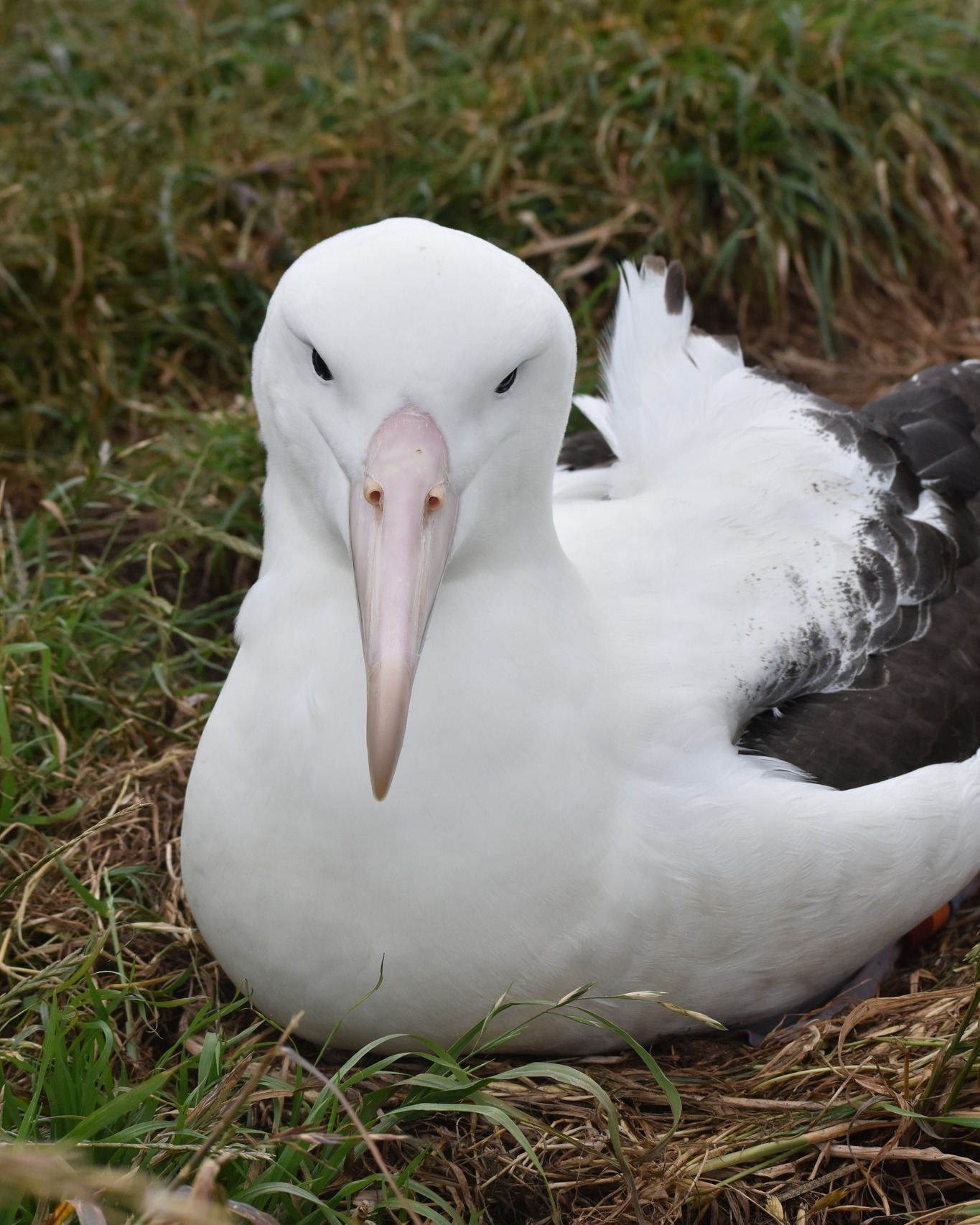 'Buttons' (see text) in incubating position
A total of 36 eggs was laid in November to commence the 2021/22 breeding season for New Zealand's only mainland population of globally Endangered and nationally Naturally Uncommon Northern Royal Albatrosses Diomedea sanfordi on the end of the Otago Peninsula at Pukekura/Taiaroa Head.
Candling of eggs in the closely managed colony has revealed that 33 of the 36 eggs remain viable. One egg was broken, with its parents then having left the headland for the season. One pair laid an infertile egg, and one had an early dead embryo. One of the fertile eggs belongs to the male 'Buttons', colour banded BOR (blue orange red). "Buttons will be turning 33 early next year - let's see if he lives as long as his amazing mum Grandma!" Grandma reached a banded age of 51.5 years and an actual age of at least 60 years, regularly raising chicks until the year she disappeared (click here).
The breeding birds also include OGK and YRK (Orange, Green, Black and Yellow, Red, Black) who are the live-streaming Royal Cam pair for 2021/22, as they were two years' previously when they fledged a chick named Atawhai (click here). Successfully breeding Northern Royal Albatrosses take a year off and so only breed every second year. In addition to the live-streaming service, the Royal Cam pair is on view to the COVID-19-vaccinated public from the Richdale Observatory; its fertile egg was laid on 9 November 2021.
Information from The Royal Albatross Centre Facebook page.
With thanks to Sharyn Broni, Department of Conservation Wildlife Ranger at Taiaroa Head. Read her photo essay on the birds she monitors here.
John Cooper, ACAP Information Officer, 09 December 2021