The Marsh Award for Marine Conservation Leadership is made by the Marsh Christian Trust (MCT) in partnership with Fauna and Flora International (FFI) and "recognises people and organisations who are having a profound impact on marine conservation activities in the areas where they operate".
The Award celebrates those who have been active in their communities, highlighting local leaders or organisations making a particularly special contribution to marine conservation through FFI's organisational aims: securing the future of key threatened habitats and species; addressing root causes of biodiversity loss; assisting others in delivering conservational gains.
One of the two Marsh Marine Conservation Leadership Award recipients for 2018 is Leandro (Leo) Tamini of Albatross Task Force - Argentina, who has invented the Tamini Tabla (Tamini Table), a device that has the potential to reduce seabird mortality due to collision with trawl cables or warps.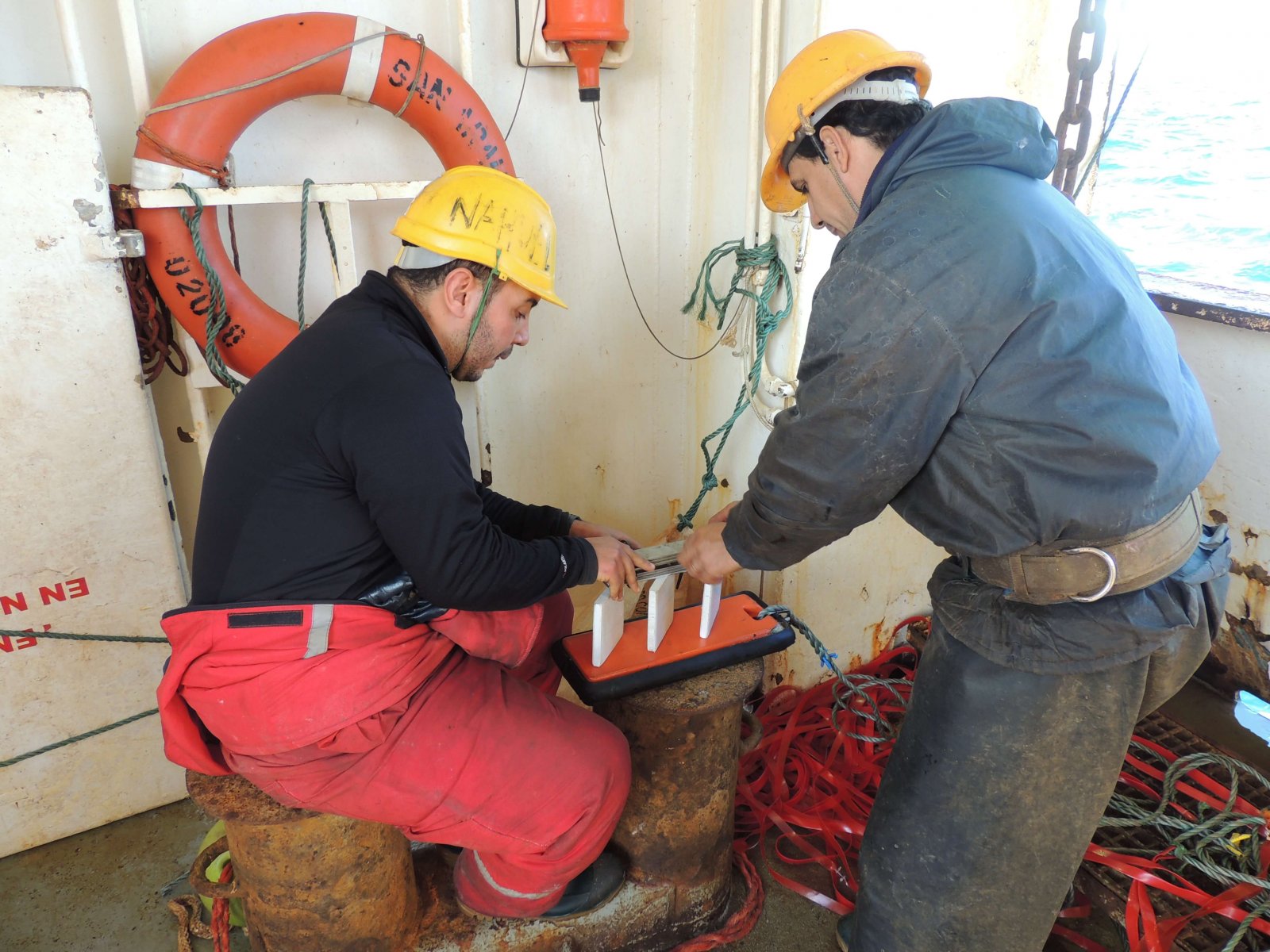 A Tamini Tabla gets fitted for deployment on a bird-scaring line aboard a trawler, photograph by Leo Tamini
Luis reports in a BirdLife International news item: "One of my goals when I began working with the Albatross Task Force was to increase the usage of bird-scaring lines. This method [which involves using colorful streamers to ward birds away from trawl cables or longline hooks] is one of the simplest and most economical ways to reduce the instances of birds crashing into trawling cables. However, these lines can become tangled in the trawl cables, wearing them out and causing problems for fishing crews. The solution was to design something that would weigh the bird-scaring lines down, to maintain the tension and keep the lines separated from the trawl cables. After pondering on the question for a while, and discarding a few ideas that wouldn't work for technical reasons, I thought that we should try doing something like a miniature surfboard, with a keel at about 45 degrees to make sure the board stayed even. With the help of some crew I was able to put together a prototype from materials found on board the vessel. We tested it, and incredibly, it worked great! The lines were more taut and went out at about a 20 degree angle away from the vessel" (click here).
John Cooper, ACAP Information Officer, 12 November 2018