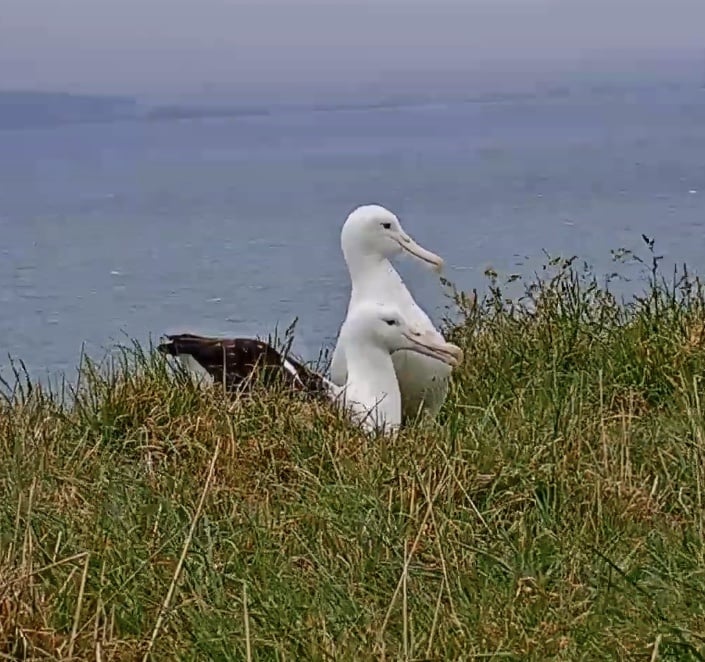 "Mr & Mrs Lime" interact at their nest site
Globally Endangered and nationally Naturally Uncommon Northern Royal Albatrosses Diomedea sanfordi have been returning to breed at New Zealand's Pukekura/Taiaroa Head on the mainland of South Island and egg laying has commenced. For the sixth time, since 2015/16, the fortunes of a breeding pair will be followed through the season by 'Royal Cam', a 24-hour live-streaming camera operated by the Department of Conservation with the Cornell Lab for Ornithology.
Northern Royal Albatrosses female LGL (lime-green-lime colour leg bands) and male LGK (lime-green-black) or "Mr & Mrs Lime" to their avid cam followers, form an established pair that last bred in the 2018/19 season, and are now making their third attempt. They were then also watched by the Royal Cam, raising their chick, named Karere ('messenger' in Te Reo Māori), which successfully fledged last year on 23 September, 243 days after hatching (the egg was laid on 6 November 2018). The pair has now built a reasonably substantial nest which is currently hidden from the camera by long grass.
The female hatched in 2008 (2007/08 season); the male is from the following season (2008/09). They were first-time breeders in the 2017/18 season when their egg failed, allowing them to change demi-populations and breed the next year (see the family histories of all the Royal Cam pairs here). If breeding successfully royal albatrosses miss a year as biennial breeders.
The Royal Cam
According to Sharyn Broni a decision as to which breeding pair will be followed by the Royal Cam through the season will only be made once egg laying in the colony is completed (as of today eight eggs had been laid in the colony). Might it be Mr and Mrs Lime in front of the camera for a second time?
Click here for the outcome of the 2019/20 breeding season.
"Relive the marathon breeding season of a Northern Royal Albatross family nesting at the Taiaroa Head Nature Reserve in 2019–20. Join male "OGK" and female "YRK" as they raise their star chick "Atawhai" from a big-billed fluffball into a giant ocean wanderer during an 8-month nesting period on New Zealand's South Island"
With thanks to Sharyn Broni, Ranger, Biodiversity, New Zealand Department of Conservation.
John Cooper, ACAP Information Officer, 06 November 2020