The Marine Stewardship Council (MSC) first certified the South African trawl fishery for hake Merluccius spp. in 2004. The MSC has now reported how certification has not only helped lead to a reduction in albatross and petrel mortality by the adoption of mitigation measures as previously featured in ACAP Latest News but has led to economic gains to the industry and the protection of up to 12 000 jobs (click here).
"Ten years after it was first certified as sustainable … one of South Africa's oldest commercial fisheries has not only proved its environmental credentials, but has also demonstrated that sustainability can provide long-term economic gains.
"The SA hake fishery has also seen some significant environmental improvements as a result of conditions set at certification. This includes the introduction of bird-scaring lines. "According to a recent seven-year study by BirdLife South Africa this practice has resulted in a 90% reduction in seabird mortalities, and up to a 99% reduction in accidental albatross deaths in South Africa's hake trawl fishery.
"A condition on the certification led to the discovery that each year around 10,000 seabirds (70% of which were albatrosses) were being killed accidentally. BirdLife South Africa recommended the use of bird-scaring lines, to address this problem, and in collaboration with the fishing industry, and with support from the government, conducted scientific research into the effectiveness of this measure.
"Bronwyn Maree, who leads the Albatross Task Force of BirdLife South Africa says: "We've worked closely with the certified fishery to demonstrate that avoiding seabird by-catch is good for the environment and good for business. MSC certification has certainly been instrumental in the successes we've seen."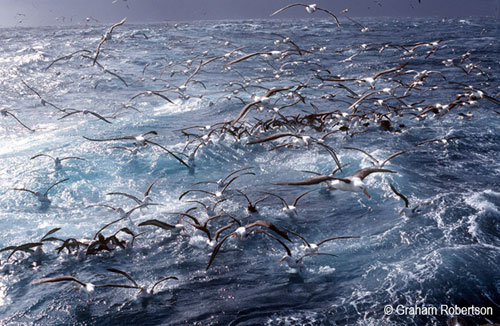 Black-browed Albatrosses follow a trawler, photograph by Graham Robertson
"Bronwyn recently received recognition for her work on seabird conservation by being named one of the recipients of the prestigious 2014 Future for Nature (FFN) international award." (click here).
Selected Literature:
Field, J.G., Attwood, C.G., Jarre, A., Sink, K., Atkinson, L.J. and Petersen, S. 2013. Cooperation between scientists, NGOs and industry in support of sustainable fisheries: the South African hake Merluccius spp. trawl fishery experience. Journal of Fish Biology 83: 1019-1034.
Maree, B.A., Wanless, R.M., Fairweather, T.P., Sullivan, B.J. & Yates, O. 2014. Significant reductions in mortality of threatened seabirds in a South African trawl fishery. Animal Conservation doi:10.1111/acv.12126.
John Cooper, ACAP Information Officer, 08 September 2104