The South Georgia Heritage Trust (SGHT) announced last week that South Georgia (Islas Georgias del Sur)* is deemed to be free of rodents after a long campaign "with some bird species already showing very dramatic signs of recovery" (click here).
The Habitat Restoration Project to eradicate Norway Rats Rattus norvegicus and House Mice Mus musculus was conducted over three separate summer seasons, starting in 2011 and concluding in 2015, as has been detailed in many postings to ACAP Latest News (click here).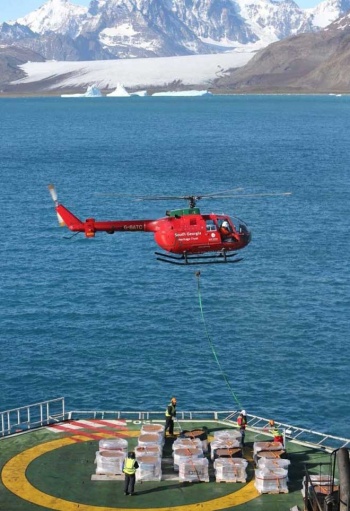 Poison bait gets flown ashore by helicopter; photograph from Tony Martin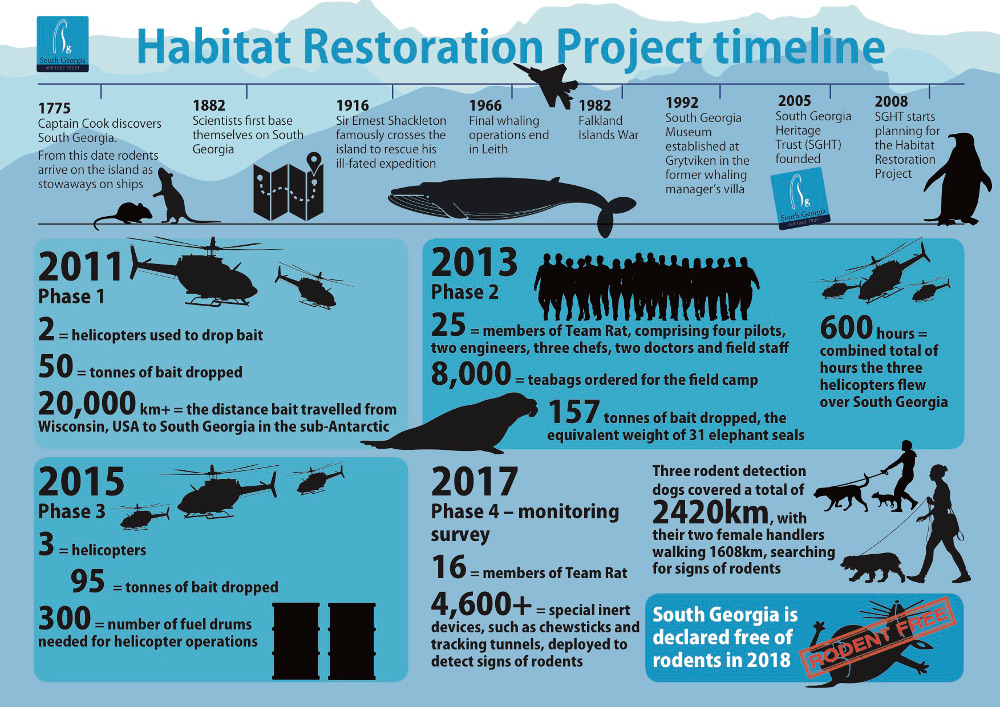 Infographic courtesy of South Georgia Heritage Trust: 8000 teabags!
Following the aerial baiting by helicopter of a total of 108 723 ha, a monitoring survey was carried out this last austral summer, searching for signs of surviving rodents using 4600 chewsticks and tracking tunnels, and three trained sniffer dogs and their two handlers – with many hundreds of kilometres walked. No signs of rats or mice were detected after six months in the field.
Two low-lying, vegetated areas in the north-west of the island, Cape Rosa and Nunez Peninsula that are separated by a rodent-proof glacier, supported only House Mice – the only mice occurring on the island. Their areas of sheer rock were not poison baited. Baited areas were 1754 ha for Cape Rosa and 3178 ha for the Nunez Peninsula. The latter appears to be the largest "island" so far from which mice as the only predator have been successfully eradicated. Previously in the Southern Ocean, the largest "mouse-only" island that has been successfully treated was New Zealand's 2100-ha Antipodes Island, announced as mouse free in March this year (click here).
The success with eradicating mice from an area of over 3000 ha gives hope to developing plans to eradicate House Mice on 6500-ha Gough Island next year – another "mouse-only" island (click here).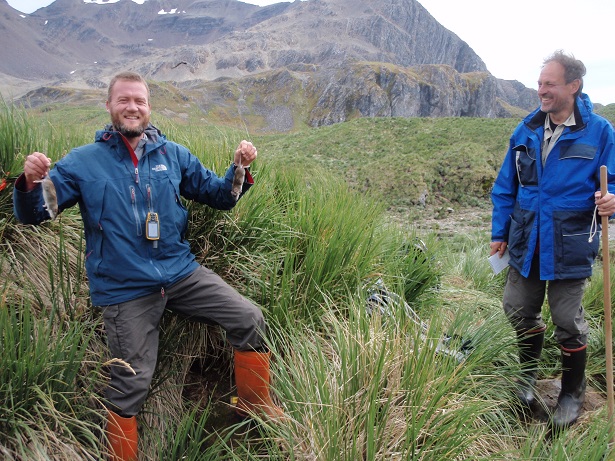 Anton Wolfaardt holds up two rats as Mark Tasker looks on, 8 January 2012; photograph by Sally Poncet
The news was also announced by the UK Delegation to the Sixth Session of the ACAP's Meeting of Parties in South Africa last week – to general acclaim.
Read more and view photos of the eradication success here and here.
With thanks to Tony Martin and Mark Tasker.
John Cooper, ACAP Information Officer, 15 May 2018
*A dispute exists between the Governments of Argentina and the United Kingdom of Great Britain and Northern Ireland concerning sovereignty over the Falkland Islands (Islas Malvinas), South Georgia and the South Sandwich Islands (Islas Georgias del Sur y Islas Sandwich del Sur) and the surrounding maritime areas.