South Africa's Department of Environmental Affairs has posted on-line a new management plan for its Prince Edward Islands, a Special Nature Reserve and a Ramsar Wetland of International Importance in the southern Indian Ocean. The management plan has had a long history with the final version being dated 2010, but only being officially approved and made publicly available this month (click here). It replaces an earlier management plan for the island group, adopted in 1996. The new plan has been produced under section 39(2) of South Africa's National Environmental Management: Protected Areas Act of 2003 and covers biodiversity and historical conservation issues as well as biosecurity and waste management.
The weather station on Marion Island, photograph by Tara van Niekerk
Marion and Prince Edward that make up the island group together support nine species of ACAP-listed albatrosses and petrels, notably including significant percentages of the global populations of Wandering Diomedea exulans and Indian Yellow-nosed Thalassarche carteri Albatrosses.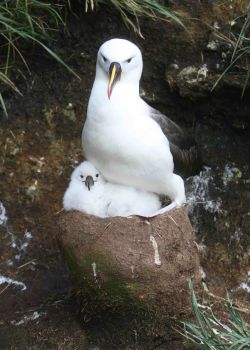 Indian Yellow-nosed Albatross on Prince Edward Island, photograph by Peter Ryan
The specific objectives of the Prince Edward Islands Special Nature Reserve as set out in the new management plan are to:
Ensure the protection, survival and biological diversity of the islands' indigenous plant and animal species;
Maintain the integrity and healthy functioning of the total ecosystem;
Maintain diversity at every level, including the islands' biological, species and genetic diversity as well as the ecological processes; and
Protect geological and geomorphologic features, natural landscapes and wilderness attributes.
The new management plan was prepared by the DST-NRF Centre of Excellence for Invasion Biology at Stellenbosch University, with major contributions by Steven Chown, Sarah Davies, Leonie Joubert and Marienne de Villiers.
The Prince Edward Islands are surrounded by a large Marine Protected Area, declared in 2013.
An illustrated Conservation Handbook that summarizes the new manplan was produced for visitors, including team members, in 2011.
With thanks to Floyd Chauke for information.
Reference:
DST-NRF Centre of Excellence for Invasion Biology 2010 [2014]. Prince Edward Islands Management Plan Version 0.2. [Department of Environmental Affairs]. 202 pp.
John Cooper, ACAP Information Officer, 25 August 2014