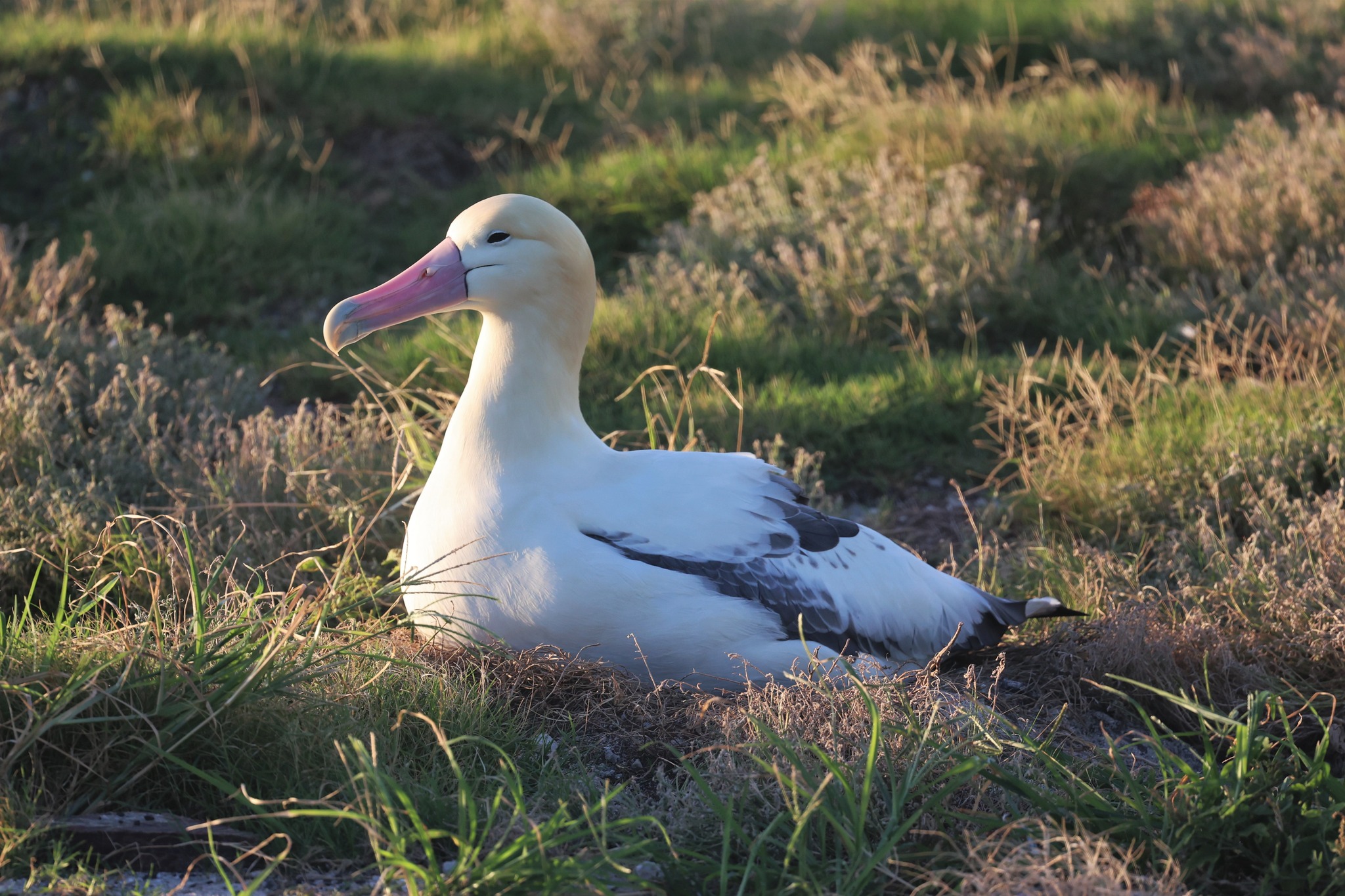 George incubating this month, photograph by Jon Plissner/USFWS
Geraldine, the Vulnerable Short-tailed Albatross Phoebastria albatrus was seen back on Midway Atoll's Sand Island on 20-21 October and since then her mate George has been incubating. A field camera captured their rendezvous moment on the 20th. On 14 November the pair exchanged incubation duty for the first time this season. They have shown up together on the Midway Atoll National Wildlife Refuge since 2016 (although "Lonesome George" had been seen regularly on the atoll since 2006).. To date the famous pair of "Golden Goonies" has successfully fledged three chicks since their first known meeting in 2016, but had been unsuccessful in the 2021/22 breeding season as the egg did not hatch (click here).

Reunited: Field camera photograph of George and Geraldine on 20 October 2022, photograph from the Friends of Midway Atoll National Wildlife Refuge
In addition to the famous pair, two more Short-tailed Albatrosses have been seen on Sand Island this month. George and Geraldine's 2019 chick (banded red AA08) was sighted again, following previous visits in 2021 and earlier this year (click here). AA08 was the pair's first chick. A sub-adult banded as a chick on Japan's Torishima, one year after Geraldine fledged from there in 2008, was spotted in a "nearby forest along West Beach". George is also from Torishima, fledging in 2003.

USFWS biologists Keely Hassett (left) and Kelly Goodale band the downy Short-tailed Albatross chick with Red AA08 on 6 May 2019, photographs by Jon Pilssner
Follow the fortunes of George and Geraldine on Midway since 2018 in 18 separate posts to ACAP Latest News.
News from the Facebook page of
the Friends of Midway Atoll Natonal Wildlife Refuge.
John Cooper, ACAP News Correspondent, 29 November 2022