The Expert Group on Birds and Marine Mammals (EGBAMM) of the Scientific Committee on Antarctic Research (SCAR) held a tracking workshop in Delmenhorst , Germany last month. Five species of ACAP-listed albatrosses that breed at islands in the Southern Ocean were among the 15 seabird and marine mammal species considered at the workshop.
A news release by EGBAMM on the workshop follows:
"A recent meeting in Delmenhorst, Germany brought together a team of scientists specialising in tracking of Antarctic marine mammals and birds. The Southern Ocean is a remote, hostile environment where conducing marine biology is challenging, so we know relatively little about this important region, which is critical as a habitat for breeding and foraging of many marine endotherms. But this team use[s] animals to help them find Areas of Ecological Significance – or biological hotspots in the Southern Ocean. Scientists from around the world have been tracking seals, penguins, whales and albatrosses for more than two decades to learn how they spend their time at sea. In the Retrospective Analysis of Antarctic Tracking Data (RAATD), this team has brought together tracking data from 38 biologists from 11 different countries to accumulate the largest animal-tracking database in the world, containing information from 15 species, containing over 3400 individual animals and almost 2.5 million at-sea locations. Analysing a dataset of this size brings its own challenges and the team is developing new and innovative statistical approaches to integrate these complex data. The meeting in Delmenhorst enabled the RAATD team to complete the daunting task of compiling and checking this enormous dataset, and to develop and run the statistical models that will lead to the identification of the hotspots. When complete RAATD will provide a greater understanding of fundamental ecosystem processes in the Southern Ocean, help predict the future of top predator distribution and help with spatial management planning."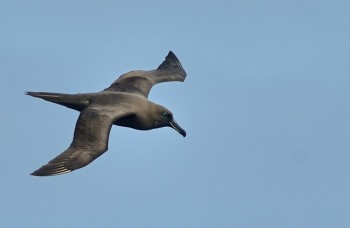 Sooty Albatross, one of the tracked albatross species reviewed, photograph by Kirk Zufelt
With thanks to Yan Ropert-Coudert, SCAR-EGBAMM Secretary for information, who reports to ACAP "RAATD's future workshops are already a certainty as the working group of RAATD has secured a French-based grant to fund two workshops a year for the next 2.5 years."
Reference:
Anon. [2016]. Report on the Second SCAR Retrospective Analysis of Antarctic Tracking Data Workshop. 18 pp.
John Cooper, ACAP Information Officer, 26 May 2016