The 2015 Eskom Red Data Book of Birds of South Africa, Lesotho and Swaziland is the fourth edition of a regional account of threatened avian species for the three named countries within southern Africa. Other than for the first Red Data Book, published in 1976, South Africa's sub-Antarctic Prince Edward Islands have also been included.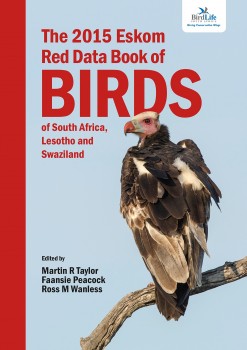 As for its predecessors, the latest Red Data Book for the major part of southern Africa is based on the IUCN threatened categories and criteria for assessment, but at a regional, rather than at a global scale.
Nine of 16 ACAP-listed albatross and petrel species covered by the book breed within the region only at the Prince Edward Islands in the southern Indian Ocean, which are legally protected as a Special Nature Reserve, with the added status as a Ramsar Wetland of International Importance and is surrounded by a large Marine Protected Area. Because these species breed at only two regional localities (Marion Island and Prince Edward Island) they have all been categorized as threatened or Near Threatened. Additionally, although improvements have occurred largely through the work of BirdLife South Africa's Albatross Task Force (click here) they remain at risk to at-sea mortality from longline and trawl fisheries, as well as recently shown from introduced House Mice Mus musculus on Marion Island (click here).
A further seven species of ACAP-listed albatrosses and petrels that breed outside the region but face threats at sea within it are included. Each of the 16 regionally breeding and non-breeding species has an individual account of two to four pages which includes a detailed and annotated map that shows breeding locations and at-sea distributions, and in most cases a pleasing pen and ink drawing of the bird by Fransie Peacock.
All but four of the 16 ACAP-listed species keep their global threatened status at the regional level. A notably difference is for the globally Near Threatened (since 2013) Black-browed Albatross Thalassarche melanophris (incorrectly cited in the regional RDB as T. melanophrys – click here), which is accorded a regional threatened status of Endangered, due to fishery-induced mortality within the Benguela Upwelling System off the Atlantic coast of southern Africa. A further error for this species is it being listed as globally Endangered (as it was in 2012) in its account, although correctly as Near Threatened in the index on page 26. The globally Near Threatened Grey Petrel Procellaria cinerea, previously affected by the now exterminated feral Domestic Cats Felis catus but now at risk to mice on Marion Island, is accorded a regional status of Vulnerable. However, this species could be due for relisting to Vulnerable at the global level in a future revision (click here).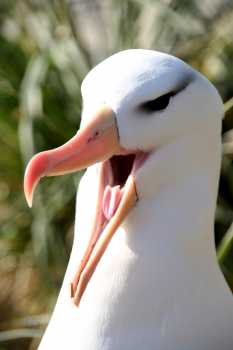 Black-browed Albatross, photograph by Oli Yates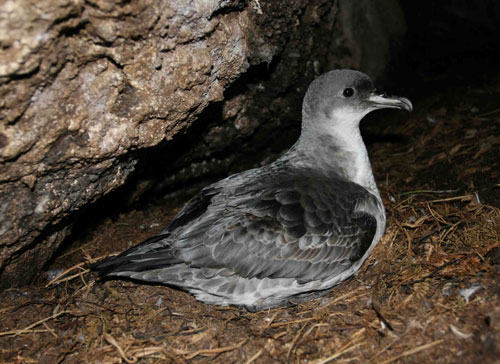 Grey Petrel at Marion Island, photograph by Peter Ryan
Well referenced, well written and well laid out this new regional RDB is an essential addition to any southern African ornithological library. However, for those working internationally on the conservation of procellariform tubenoses, and more particularly with the relatively few ACAP-listed species covered, an on-line version (as exists at the global level – click here for albatrosses) would be a boon, both for convenience and to save on international postage for what is a weighty book.
With thanks to Martin Taylor.
References:
Barnes, K.N. (Ed.). 2000. The Eskom Red Data Book of Birds of South Africa, Lesotho and Swaziland. Randburg: BirdLife South Africa. 169 pp.
Brooke, R.K. 1984. South African Red Data Book – Birds. South African National Scientific Programmes Report No. 97. 213 pp.
Siegfried, W.R., Frost, P.G.H., Cooper, & Kemp, A.C. 1976. South African Red Data Book – Aves. South African National Scientific Programmes Report No. 7. 108 pp.
Taylor, M.R., Peacock, F. & Wanless, R.M. (Eds) 2015. The 2015 Eskom Red Data Book of Birds of South Africa, Lesotho and Swaziland. Johannesburg: BirdLife South Africa. 464 pp.