.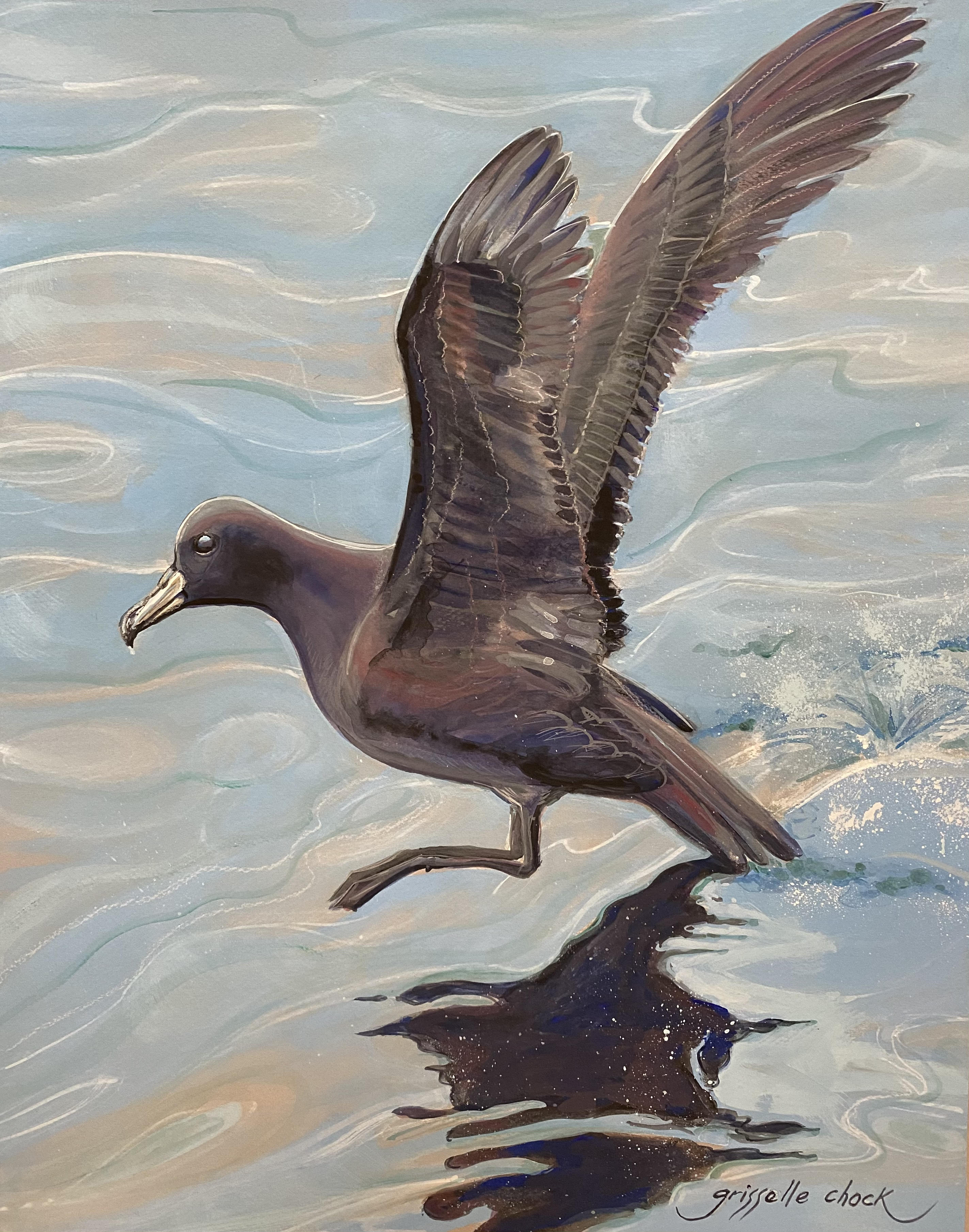 One of the species in the study: Black Petrel at sea by Griselle Chock in gouache, from a photograph (see below) by Virginia Nicol
Martin Beal (Marine and Environmental Sciences Centre, University of Lisbon, Portugal) and many co-authors from 16 countries have published open access in the journal Science Advances showing from at-sea tracks of 39 species of albatrosses and large petrels breeding at 87 localities that their conservation is dependent on international action on the high seas. The data used in the analysis came from BirdLife International's Seabird Tracking Database that facilitates collaboration between researchers working on the conservation of seabirds.
"Migratory marine species cross political borders and enter the high seas, where the lack of an effective global management framework for biodiversity leaves them vulnerable to threats. Here, we combine 10,108 tracks from 5775 individual birds at 87 sites with data on breeding population sizes to estimate the relative year-round importance of national jurisdictions and high seas areas for 39 species of albatrosses and large petrels. Populations from every country made extensive use of the high seas, indicating the stake each country has in the management of biodiversity in international waters. We quantified the links among national populations of these threatened seabirds and the regional fisheries management organizations (RFMOs) which regulate fishing in the high seas. This work makes explicit the relative responsibilities that each country and RFMO has for the management of shared biodiversity, providing invaluable information for the conservation and management of migratory species in the marine realm."
With thanks to Martin Beal and Richard Phillips.
Read media articles on the publication from New Zealand and the United Kingdom.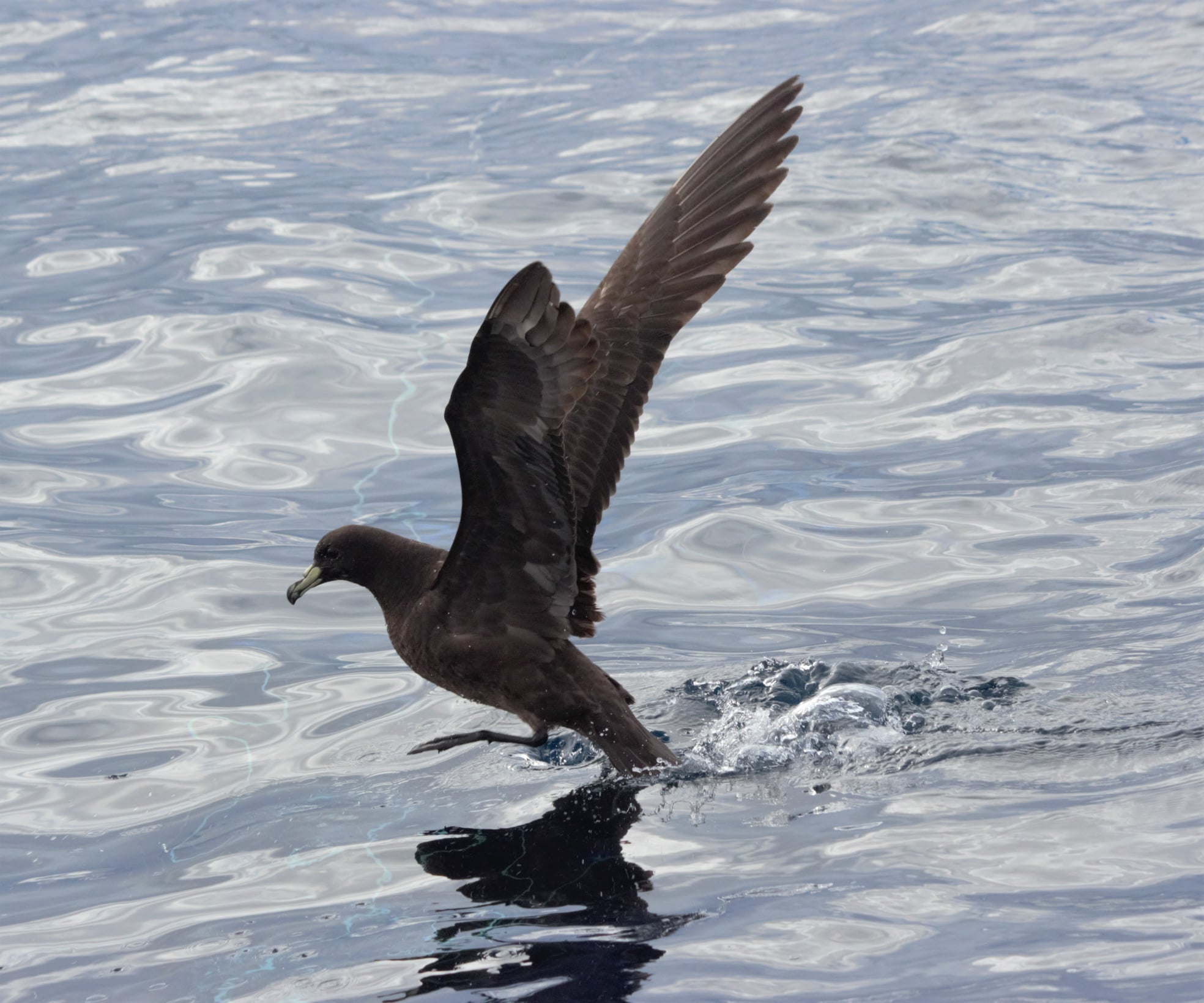 A Black Petrel takes off, photograph by Virginia Nicol
Beal, M., M.P. Dias, R.A. Phillips, S. Oppel, C. Hazin, E.J. Pearmain, J. Adams, D.J. Anderson, M. Antolos, J.A. Arata, J.M. Arcos, J.P. Arnould, J. Awkerman, E. Bell, M. Bell, M. Carey, R. Carle, T.A. Clay, J. Cleeland, V. Colodro, M. Conners, M. Cruz-Flores, R. Cuthbert, K. Delord, L. Deppe, B. J. Dilley, H. Dinis, G. Elliott, F. De Felipe, J. Felis, M.G. Forero, A. Freeman, A. Fukuda, J. González-Solís, J.P. Granadeiro, A. Hedd, P. Hodum, J. M. Igual, A. Jaeger, T.J. Landers, M. Le Corre, A. Makhado, B. Metzger, T. Militão, W.A. Montevecchi, V. Morera-Pujol, L. Navarro-Herrero, D. Nel, D. Nicholls, D. Oro, R. Ouni, K. Ozaki, F. Quintana, R. Ramos, T. Reid, J.M. Reyes-González, C. Robertson, G. Robertson, M.S. Romdhane, P.G. Ryan, P. Sagar, F. Sato, S. Schoombie, R.P. Scofield, S.A. Shaffer, N.J. Shah, K.L. Stevens, C. Surman, R.M. Suryan, A. Takahashi, V. Tatayah, G. Taylor, D.R. Thompson, L. Torres, K. Walker, R. Wanless, S.M. Waugh, H. Weimerskirch, T. Yamamoto, Z. Zajkova, L. Zango & P. Catry 2021. Global political responsibility for the conservation of albatrosses and large petrels. Science Advances 7(10). DOI: 10.1126/sciadv.abd7225.