Kaikoura Wildlife Rescue has reported that a globally Endangered and nationally Vulnerable Hutton's Shearwater Puffinus huttoni crash landed from artificial light disorientation and then succumbed to a cat attack. The species breeds only at two sites high up in the mountain range inland from the town of Kaikoura on the east coast of New Zealand's South Island. Birds commuting to their breeding sites are at risk of being downed in the town, especially on misty or foggy nights when they can become disorientated by street lights.
Kaikoura lies in the Hutton's Shearwater inland flight path
"At this stage it's difficult to tell whether this individual will make it. The head was mauled and the left eye is potentially permanently damaged. Puncture wounds are difficult to find amongst feathers. Pain relief and anti-inflammatories have been administered, the eye rinsed with saline, and the head disinfected. The bird has also been rehydrated. Later it will be fed with blended sardines and electrolytes. Rest overnight will give a good indication of where the bird is at in the morning. Hopefully it makes it and can be fully rehabilitated for release, else humane euthanasia will be the only option" (click here).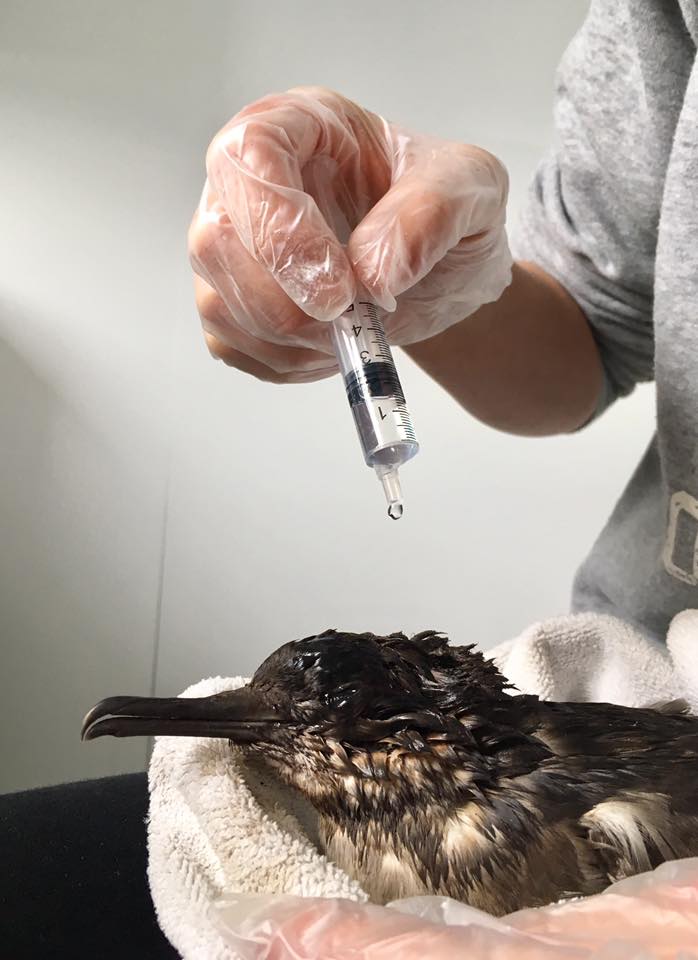 The rescued shearwater gets its damaged eye rinsed, photograph from the Kaikoura Wildlife Rescue
Kaikoura Wildlife Rescue operates a facility dedicated to the treatment and rehabilitation of injured and ill native New Zealand birds.
Earlier this month "about a dozen" adult birds flying inland to commence their breeding season were killed by cars after crash-landing on Kaikoura's roads following cloudy and wet weather. "Obviously … there were a lot of adults that came down with the low cloud and fog and got run over by the early morning traffic. When the roads are wet they look like water to the birds so the roads attract the birds to land on it thinking it is water." Kaikoura residents are being asked to dim or turn off outside lights and keep their cats indoors at night. Calls are also being made for more road signage and the redesign of street lights to reduce light pollution (click here).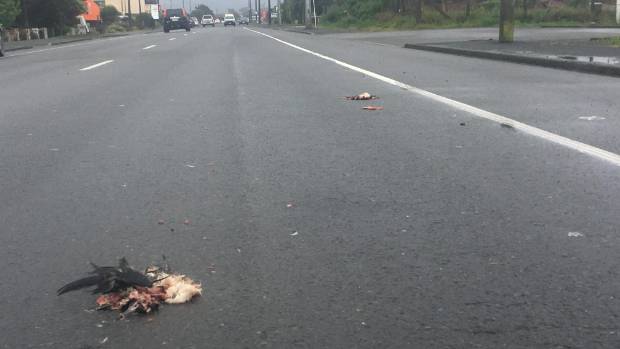 Corpses of Hutton's Shearwater killed by cars in Kaikoura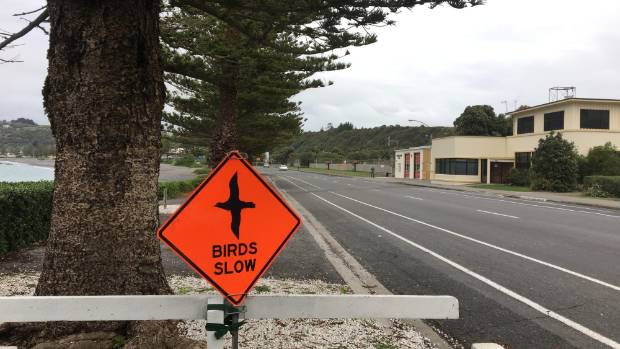 Read a related news story here and follow the Hutton's Shearwater Charitable Trust website and on Facebook to learn more of the species' needs.
ACAP has reviewed a book recently published on the Hutton's Shearwater (click here).
John Cooper, ACAP Information Officer, 24 October 2017