Following fund raising from the public by the Million Dollar Mouse campaign, along with other support, in July 2016 New Zealand's sub-Antarctic Antipodes Island was aerially treated with poison bait in an endeavour to rid it of introduced House Mice Mus musculus.
A return expedition has been on the island this year searching for signs of mice, using trained dogs and other techniques such as ink-tracking cards, wax tags and chew cards. The expedition has recently returned from the island with the news that it found no mice or signs of them.
As a consequence the island has been formally declared as mouse free by New Zealand's Conservation Minister Eugenie Sage on the advice of the Department of Conservation's Island Eradication Advisory Group. "Special plants and wildlife, including 21 species of breeding seabirds [including seven ACAP-listed species of albatrosses and petrels), more than 150 species of insects - 17 per cent of them only found on the Antipodes; 21 uncommon plant species and four unique land birds are found on the Antipodes Island. They can now thrive with mice no longer preying on the insects or competing with the land birds".
This adds the Antipodes to a steadily growing list of seabird islands in the Southern Ocean where alien mammals have been eradicated: chapeau New Zealanders!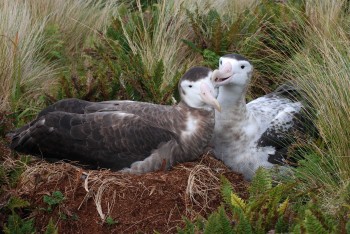 A pair of globally Endangered Antipodean Albatrosses Diomedea antipodensis on Antipodes Island, photograph by Erica Sommer
The next task for New Zealand will be to remove the suite of alien mammals (domestic pigs Sus scrofa, feral cats Felis catus and mice) on its sub-Antarctic Auckland Island. Planning for this has already commenced (click here).
Read more and view photographs of the successful eradication exercise here and access previous postings to ACAP Latest News on the eradication project here.
John Cooper, ACAP Information Officer, 27 March 2018