The Eleventh Meeting (AC11) of the Agreement's Advisory Committee is being held on the island of Santa Caterina in Brazil this week. As well as nine of the 13 Parties to the Agreement represented at the meeting, attendees have come from three "range-state nations" which are not Parties but which have breeding populations of, or are visited by, ACAP-listed species. These are Canada, Namibia and the USA, all of which have been represented at ACAP meetings for some years. At the meeting both Namibia and the USA gave updates on their progress towards becoming ACAP Parties; the USA reporting on a hearing this year in its House of Representatives (click here).
A new observer is Chinese Taipei, a member economy of the Asia-Pacific Economic Cooperation forum (APEC). Chinese Taipei has a high-seas fishing fleet which can venture into the at-sea ranges of ACAP-listed species.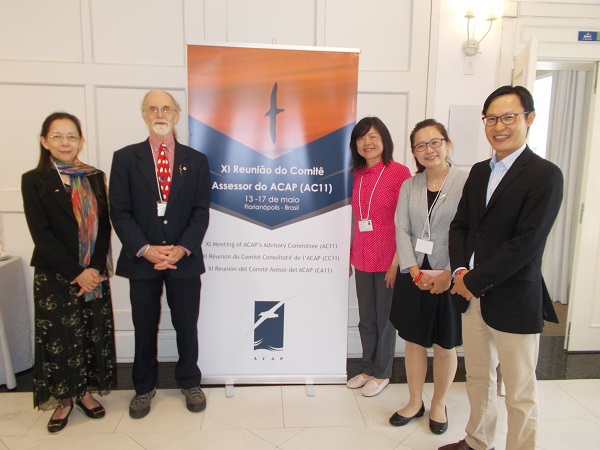 Observers from Chinese Taipei with ACAP's Information Officer. From left: Julia Hsian-Wen Huang, John Cooper, Ling-Ling Chen, Yi-Chun Fan & David Lai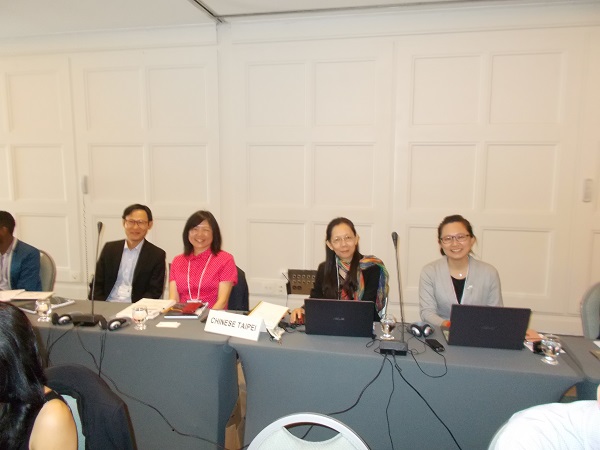 Chinese Taipei takes up its observer seats at the opening of ACAP's Advisory Committee
Another new observer is The Commonwealth of The Bahamas, represented by Ebone Blyden of the Ministry of Environment and Housing. The Bahamas is a range state for a number of species of shearwaters, petrels and storm petrels (click here).
NGO observers at the meeting include Humane Society International and Brazil's Projeto Albatroz. Unlike at previous Advisory Committee meetings, BirdLife International is not attending AC11, although it did attend last week's working group meetings.
John Cooper, ACAP Information Officer, 15 May 2019