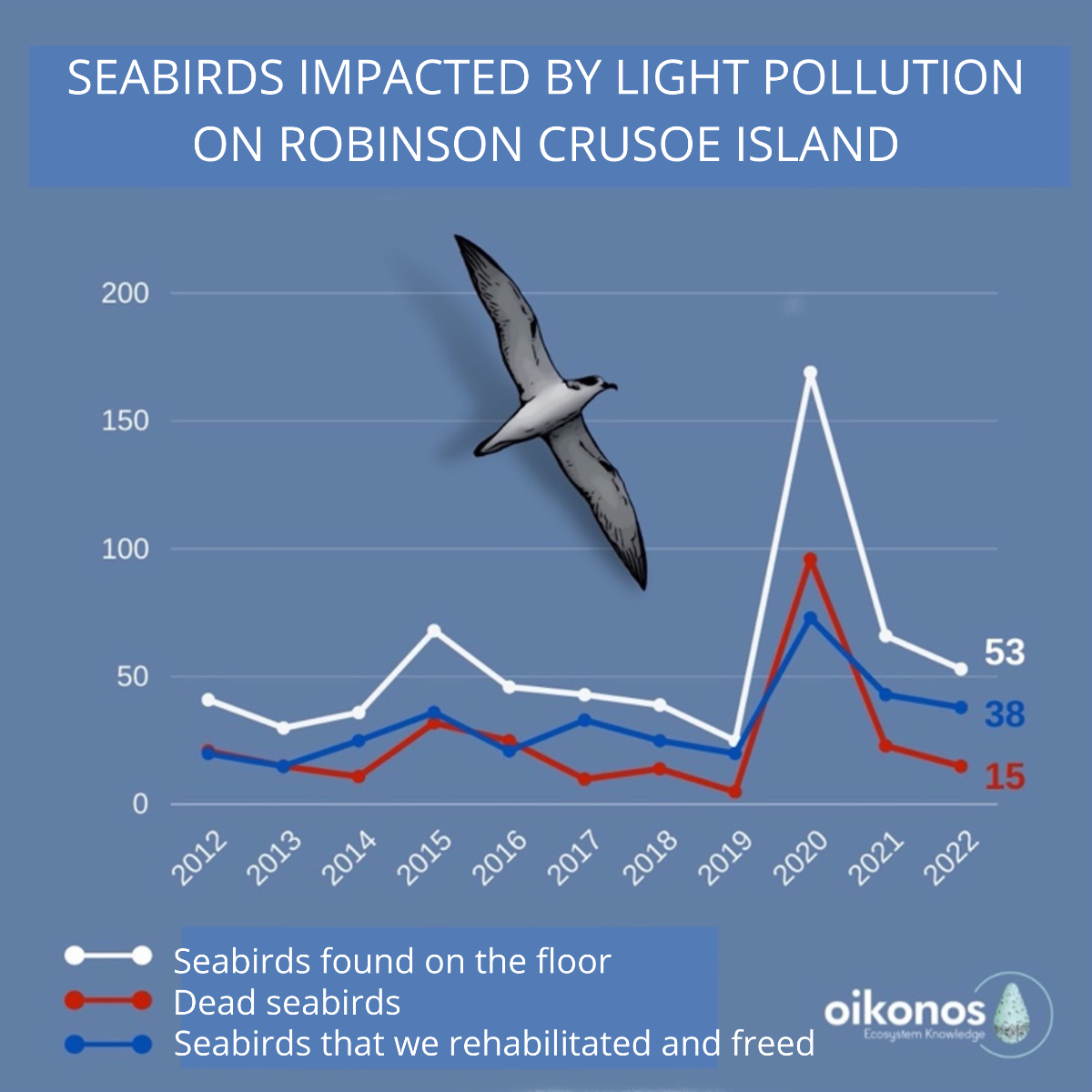 Shearwater species that breed on inhabited islands or mainland sites are affected by light pollution, notably fledglings leaving their breeding sites and heading out to sea at night for the first time. These naïve birds can become dazzled, lose their way, collide with structures and become grounded – where they are at risk to vehicle traffic and mammalian predators, such as cats. Two ACAP-listed shearwaters, the Critically Endangered Balearic Puffinus mauretanicus and the Vulnerable Pink-footed Shearwater Ardenna creatopus, are no exception, as previously reported in ACAP Latest News (click here and here). At least a further nine shearwater species, all not listed by ACAP, are notably affected by land-based light pollution during breeding. These are Cory's Calonectris borealis, Hutton's P. huttoni, Manx P. puffinus, Newell's P. newelli, Scopoli's C. Diomedea, Short-tailed A. tenuirostris, Streaked C. leucomelas, Wedge-tailed A. pacifica and Yelkouan P. yelkouan (click here and reference below).
Gabriela Lamanna has written an article on the website of the environmental NGO Oikonos Ecosystem Knowledge that describes light pollution affecting the Chilean endemic Pink-footed Shearwater on Robinson Crusoe Island. Her edited text follows.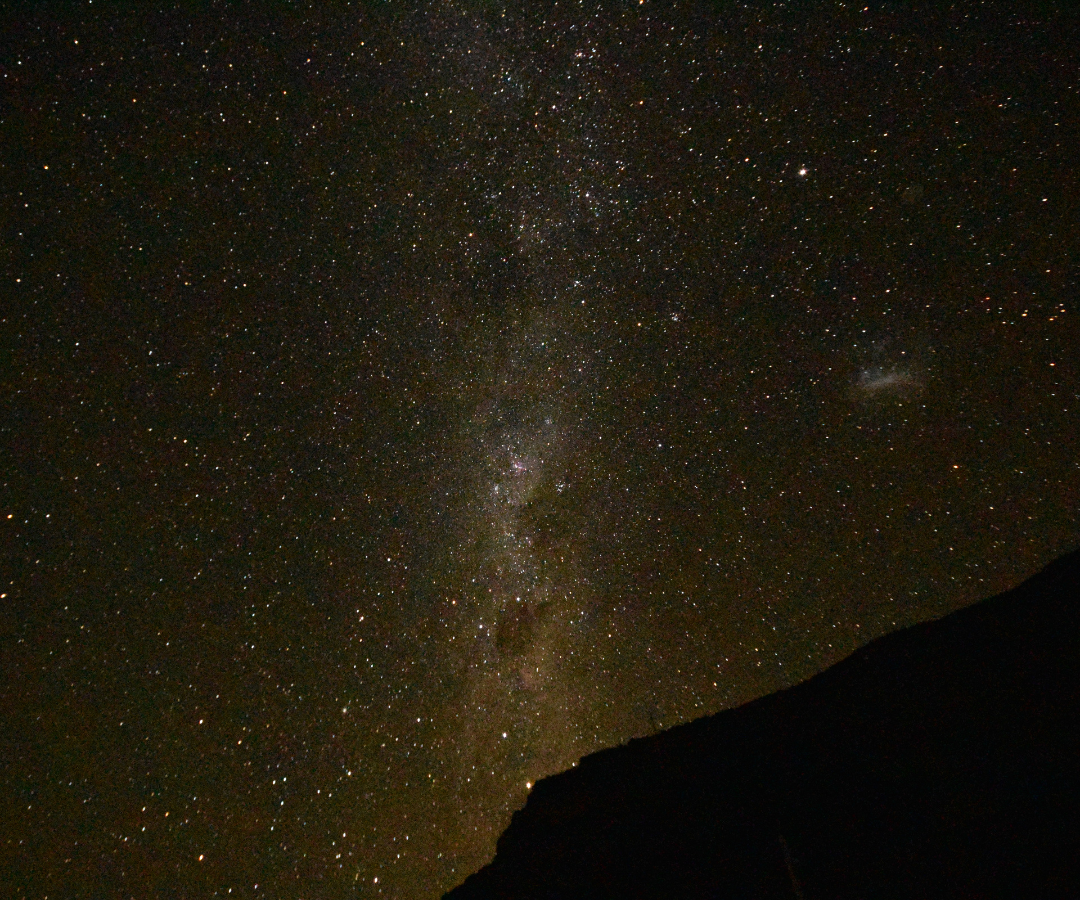 Sky without light pollution, photograph by Héctor Gutiérrez Guzmán
"Pink-footed Shearwater chicks are raised in dark burrows, and when the time comes to undertake their first flight to the ocean, instead of finding a sky like the one in the photo above, they find artificial lights that disorient them. When they fall to the ground, they become prey to dogs and cats. Robinson Crusoe Island is one of the three islands that form the Juan Fernández Archipelago. Located 700 miles [1125 km] off central Chile, about 900 people live in the only year-round town of San Juan Bautista.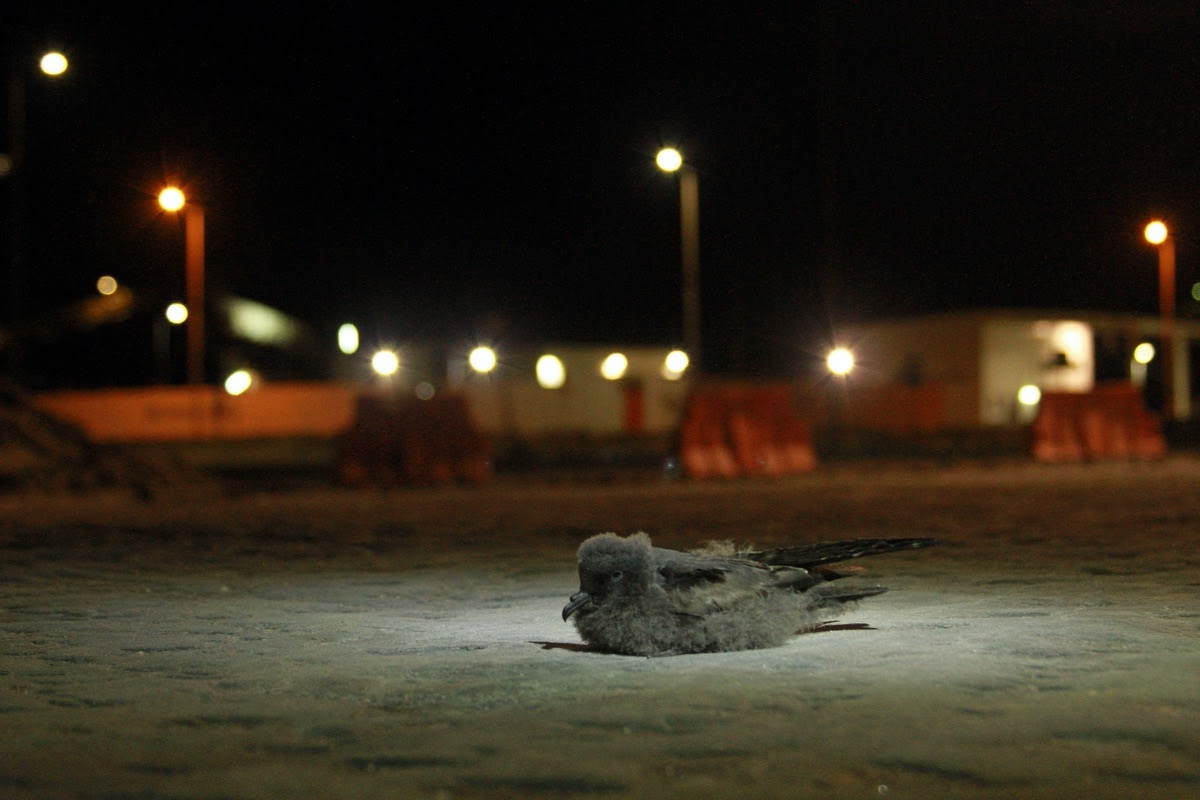 Fallen Wilson's Storm Petrel disoriented due to the artificial lights; photograph by Red de Observadores
In 2020, due to the installation of bright streetlights on the waterfront at Robinson Crusoe, where seabirds and humans co-exist, a high number of shearwater chicks [was] found grounded and vulnerable during night surveys. The Pink-footed Shearwater is not only an endangered species, but also has a national action plan (RECOGE) developed by the Ministry of the Environment of Chile. To reduce this problem, multiple actions were taken that helped the following nesting season (2021-22).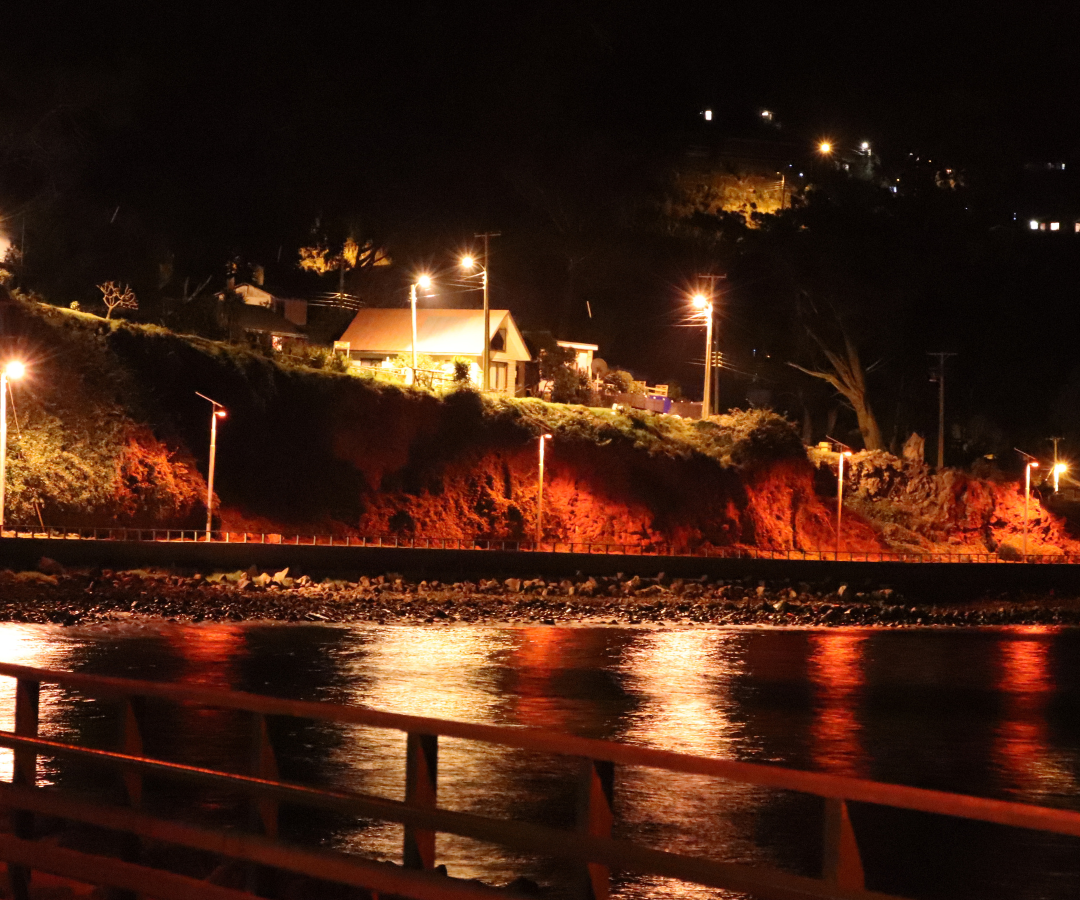 Streetlights with filters on the coast of Robinson Crusoe Island; photograph by Rolando Recabarren
We collaborated with the Municipality of Juan Fernández, the Office of Sky Quality Protection of Northern Chile, and Aladdin Lighting in the installation of 23 streetlight filters along the coast, with the goal of minimizing the number of seabirds disoriented on the ground. These filters reduce the blue light spectrum that affects biodiversity and people. The [above graph] shows that the number of grounded seabirds increased significantly when the bright coastal lights were newly installed in 2020 and reduced when actions to reduce light pollution started in 2021 and filters were added in 2022.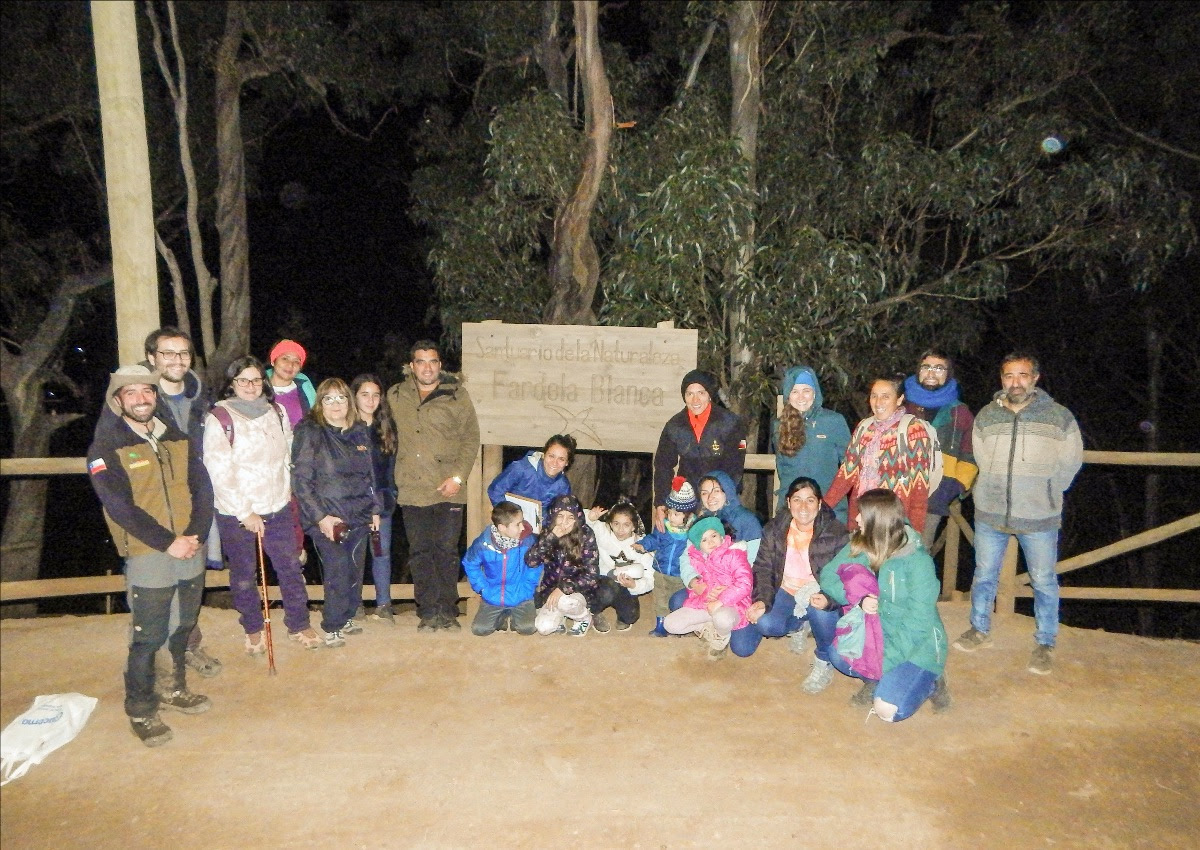 Night tour with members of the Robinson Crusoe community; photograph by Florencia Olivares
We joined ROC [Red de Observadores de Aves y Vida Silvestre de Chile] and the Office for the Protection of Sky Quality in Northern Chile to develop the "Guide for Friendly Lighting with Seabirds in Chile", which provides guidance for outdoor lighting projects that may affect seabirds. In addition, it provides practical recommendations for designing suitable lighting projects and examples of real case studies, hoping that project developers, evaluators and territorial planners will use it to mitigate light pollution in the development of their projects. We also carry out activities such as night tours with the Robinson Crusoe community [photograph above] where they can learn about light pollution and what to do if they find fallen chicks on the ground."
ACAP has announced that its theme for next year's World Albatross Day on 19 June will be "Plastic Pollution". However, other types of pollution affecting procellariform seabirds will also be featured, such as from street lighting reported here. Additionally, this year's World Migratory Bird Day, held on 14 May and again on 08 October has as its theme light pollution under the slogan "Dim the Lights for Birds at Night!".
The Australian Department of the Environment and Energy in collaboration with the Western Australian Department of Biodiversity, Conservation and Attractions has developed National Light Pollution Guidelines for Wildlife including Marine Turtles, Seabirds and Migratory Shorebirds. The guidelines aim to raise awareness of the potential impacts of artificial light on wildlife and provide a framework for assessing and managing them. See also Guidelines for Ecologically Responsible Lighting produced in Malta.
Reference:
Rodríguez, A., Holmes, N.D., Ryan, P.G., Wilson, K.-J., Faulquier, L., Murillo, Y., Raine, A.F., Penniman, J., Neves, V., Rodríguez, B., Negro, J.N., Chiaradia, A., Dann, P., Anderson, T., Metzger, B., Shirai, M., Deppe, L., Wheeler, J., Hodum, P., Gouveia, C., Carmo, V., Carreira, G.P., Delgado-Alburqueque, L., Guerra-Correa, C., Couzi, F.-X., Travers, M. & Le Corre, M. 2017. A global review of seabird mortality caused by land-based artificial lights. Conservation Biology DOI: 10.1111/cobi.12900.
John Cooper, ACAP News Correspondent, 20 September 2022