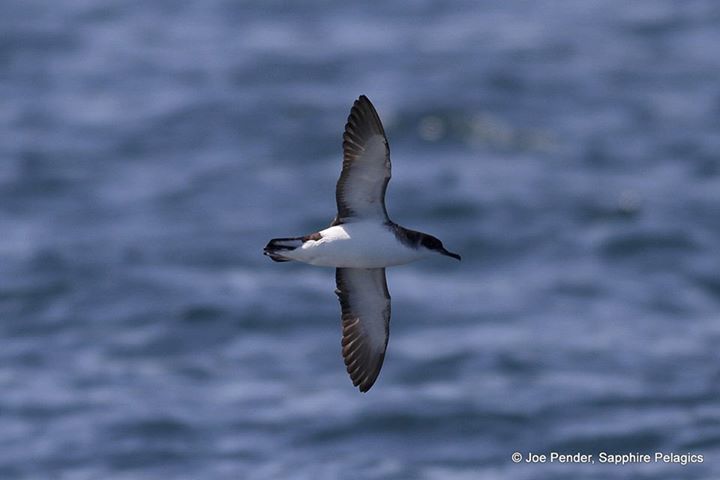 Manx Shearwater at sea, photograph by Joe Pinder
Martyna Syposz and Oliver Padget (Department of Biology, Oxford University, UK) have published early view in the journal Seabird on the fate of banded Manx Shearwaters Puffinus puffinus grounded by unfavourable weather conditions or exposure to artificial light.
The paper's abstract follows:
"Manx Shearwaters Puffinus puffinus, like other procellariiform seabirds, spend most of their lives at sea and are encountered on land only when breeding at colonies or if they are grounded due to unfavourable weather conditions or exposure to artificial light. Here, we used historical ringing data to explore the age class structure and spatial patterns of Manx Shearwater groundings and examined ringing and recovery data to identify records of post-grounding survival for first-year and adult birds. We noted 35 cases, out of 6,381 ringed grounded shearwaters, where a bird went on to be recaptured, including two individuals that were later recorded as having successful breeding attempts. While this constitutes only a small number of birds confirmed to have survived following grounding, it is likely to be a considerable underestimate of survival considering the low probability of recapturing a surviving shearwater. Finally, we found that a greater proportion of grounded birds were first-years compared to adult shearwaters, and that adults were found to be grounded further away from colonies than first-year birds. This may be indicative of differential impacts of light pollution at different life stages."
Reference:
Syposz, M & Padget, O. 2023. The fate of rescued Manx Shearwaters following grounding. Seabird 35 16 pp.
See also:
Syposz, M., Gonçalves, F., Carty, M., Hoppitt, W., & Manco, F. 2018. Factors influencing Manx Shearwater grounding on the west coast of Scotland. Ibis 160: 846-854. [click here for ACAP report]
01 June 2023