Carly Summers (School of Agricultural, Forest, and Environmental Sciences, Clemson University, South Carolina, USA) and colleagues have looked at lead and cadmium levels in Wandering Diomedea exulans, Light-mantled Sooty Phoebetria palpebrata and Sooty P. fusca Albatrosses and Northern Macronectes halli and Southern M. giganteus Giant Petrels at South Africa's sub-Antarctic Marion Island, publishing in the Bulletin of Environmental Contamination and Toxicology.
The paper's abstract follows:
"Levels of lead (Pb) and cadmium (Cd) were investigated as potential stressors in nine species of breeding seabirds on Marion Island, South Africa. The majority of blood Pb levels (95 %) were below background exposure levels. Species was a significant factor in ranked means analysis for mean blood Pb levels. Fewer individual blood Cd levels (<60 %) were within background exposure levels and species was not significant. Elevated levels of Cd have been documented in other seabird species without apparent outward effects, which suggests that seabirds may be adapted to high cadmium environments, particularly from their diets. Overall, the results suggest Pb and Cd are not primary causes for concern in these seabirds."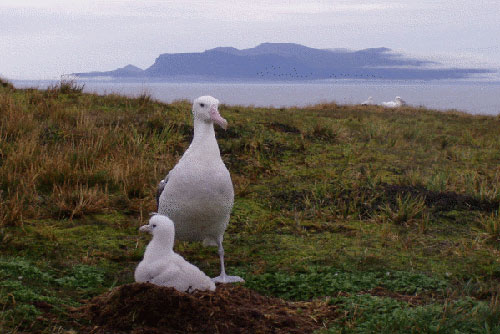 Wandering Albatross and chick on Marion Island, photograph by John Cooper
Reference:
Summers, C.F., Bowerman, W.W., Parsons, N., Chao, W.Y. & Bridges Jr., W.C. 2014. Lead and cadmium in the blood of nine species of seabirds, Marion Island, South Africa. Bulletin of Environmental Contamination and Toxicology DOI 10.1007/s00128-014-1359-6.
John Cooper, ACAP Information Officer, 02 September 2014