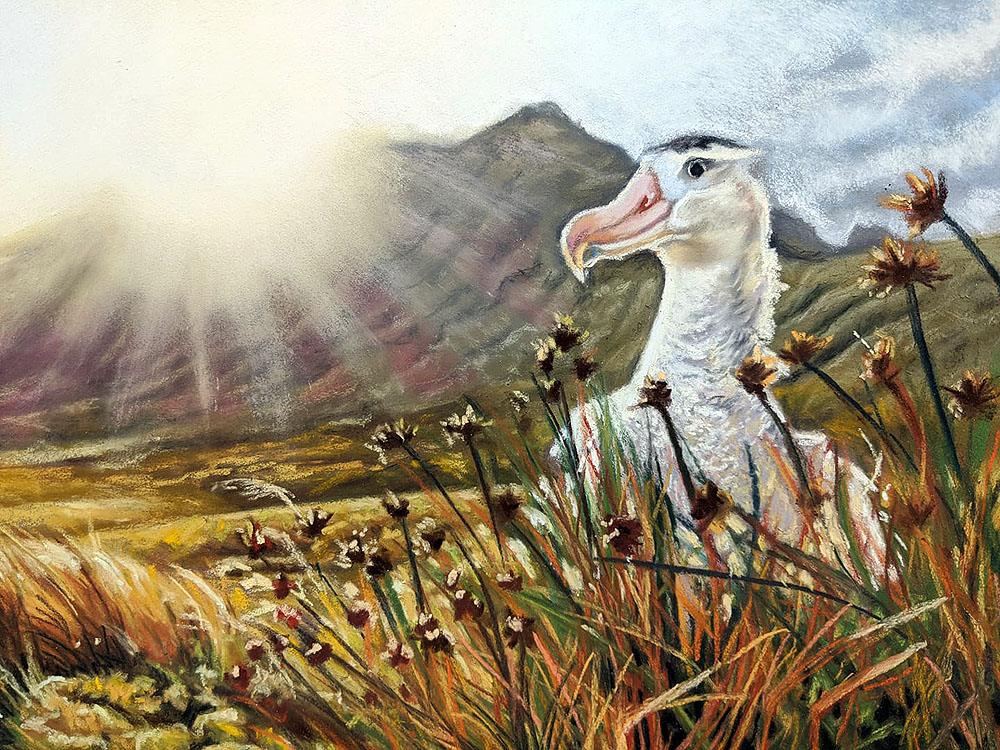 Gough Island's Critically Endangered Tristan Albatrosses are at serious risk to introduced House Mice
Artwork by Sam Greenhill‎, Artists & Biologists Unite for Nature, from a photograph by Michelle Risi
This austral winter the Gough Island Restoration Programme was set to attempt to eradicate House Mice on the island that kill large numbers of seabirds every year. The project had started last month with the first field team being taken to the island on a yacht, with the second team due to depart from South Africa at the beginning of this week. Now, because of restrictions placed on non-South Africans visiting the country (which would include essential team members transiting to Gough) due to the COVID-19 pandemic the Royal Society for the Protection of Birds (RSPB) has postponed the eradication until next year.
The statement by Martin Harper, RSPB's Director of Global Conservation, follows in shortened form:
"One area of work where we have had to make an incredibly difficult but essential decision is with our Gough Island Restoration Programme. Given the rapidly evolving COVID-19 pandemic and the increasing travel restrictions, it has clearly become impossible to complete the operation this season.
The decision to postpone was not easy but it is the right one. The amazing team behind the work are understandably hugely disappointed after the massive effort and hard work that has got us to this point. However, given the circumstances it has become logistically impossible, and contrary to government guidance, for our specialist team to travel to South Africa and onto Gough during the pandemic. We know that after all the years of planning that the project could save two million seabirds each year and prevent the extinction of a number of species. But we only have one shot, and to get it right in such a remote place and at such a scale, all the stars must be aligned. And for this year they are not.
We are committed in our mission to restore Gough to the seabird paradise it once was. A great many people and organisations have joined and helped us on this project and we owe it to them as well as to our ourselves to make sure that we give ourselves the best chance of success. We also owe it to our funders and all the people who have generously donated to the project to do the same.
The team on the island have already made great inroads on the initial project set up. This progress will stand us in good stead for next year. We now need to concentrate on getting our people back home safely and planning for the return visit."
With thanks to Pete McClelland, Operations Manager, Gough Island Restoration Programme
John Cooper, ACAP Information Officer, 20 March 2020