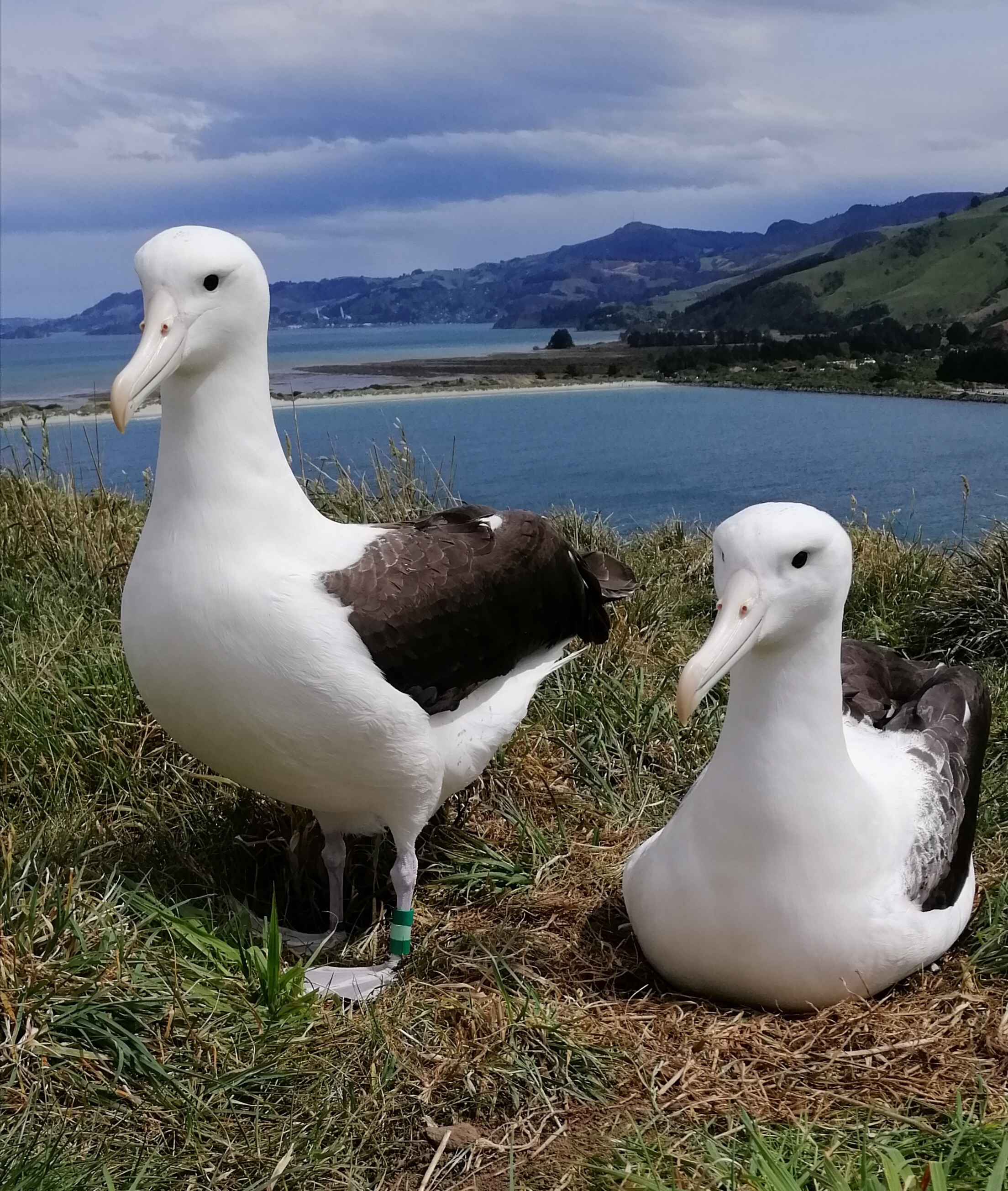 "A colour-banded Northern Royal Albatross pair at the start of the breeding season"
NOTE: This is the fifth in an occasional series that aims to feature photographs of the 31 ACAP-listed species, along with information from and about their photographers. Here, Sharyn Broni, a Department of Conservation Wildlife Ranger at Pukekura/Taiaroa Head, New Zealand, writes about the globally Endangered and nationally Naturally Uncommon Northern Royal Albatrosses Diomeda sanfordi she has been caring for and monitoring for many years in a mainland colony.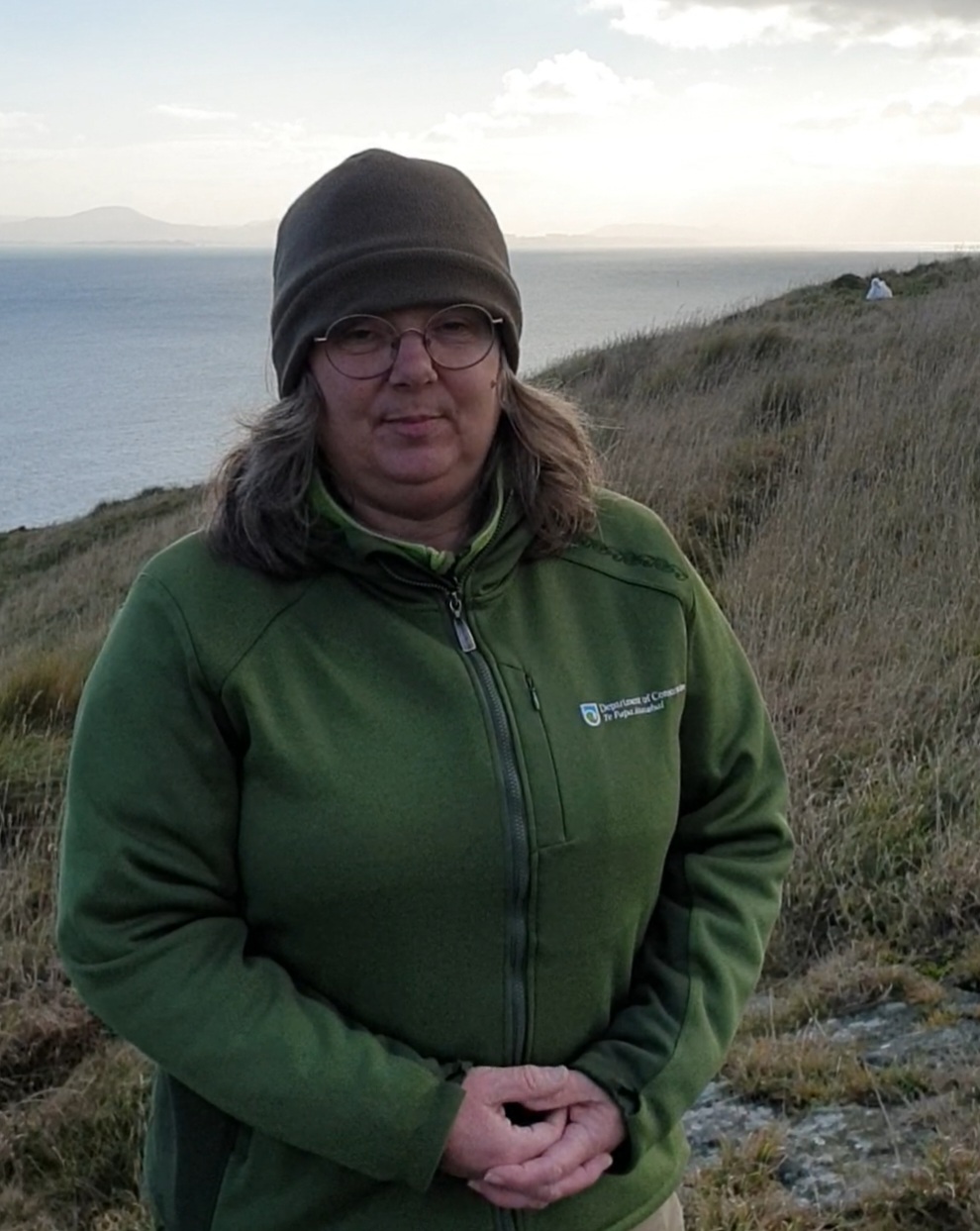 Sharyn Broni, Wildlife Ranger, Pukekura/Taiaroa Head
My start in conservation work occured in 1990 when on a youth development conservation programme in the Catlins area of New Zealand's South Island. I discovered a passion for marine mammals and penguins and spent much time helping out as a volunteer for the Department of Conservation. Prior to working with albatrosses I had spent three summers working at the Burwood Takahē Breeding Centre with the globally Endangered and nationally Vulnerable South Island Takahe Porphyrio hochstetteri (click here). Although they are not a seabird, they are seriously cool! I was travelling overseas during 1997 when offered position at Pukekura/Taiaroa Head; I came back and have been there ever since.

"Adolescent Northern Royal Albatrosses spend the summer months looking for a mate. The process takes three years before they mate for life"
I have been a wildlife ranger with the Taiaroa Head albatross team for 24 years. The team is typically three to five people on a seven-day roster with overlap for two-person work and additional shifts during chick hatching. Our tasks with the Northern Royal Albatrosses include banding, egg incubation, fostering, weighing, supplementary feeding, introduced pest trapping and irrigation of hot albatrosses to prevent heat stroke. Hatching of chicks is completely carried out in incubators these days to protect the vulnerable hatching chicks from almost certain and fatal fly strike. Egg candling and DNA sampling also help us get the best results out of each nest, being able to foster eggs or young chicks increases chick fledging numbers.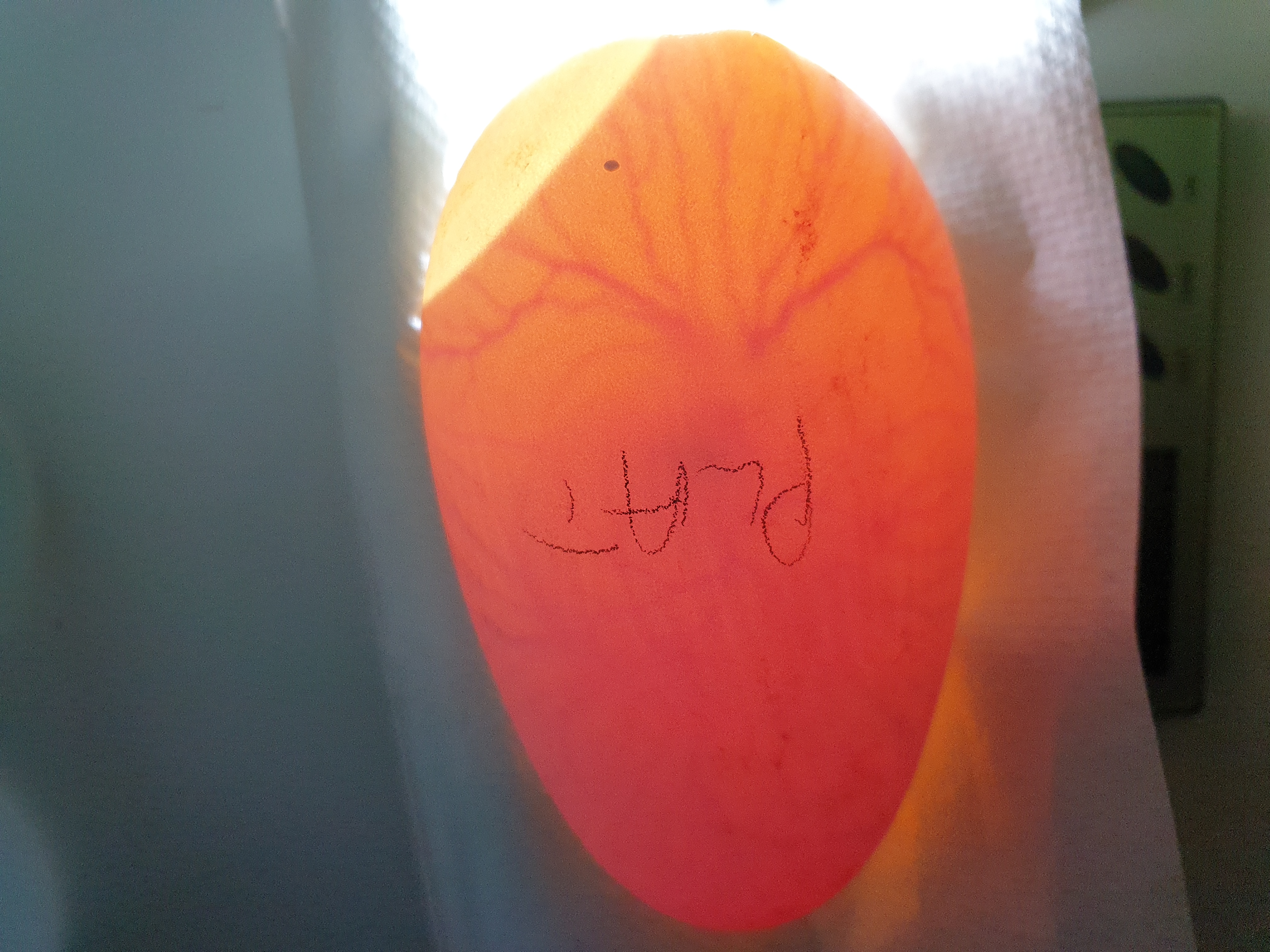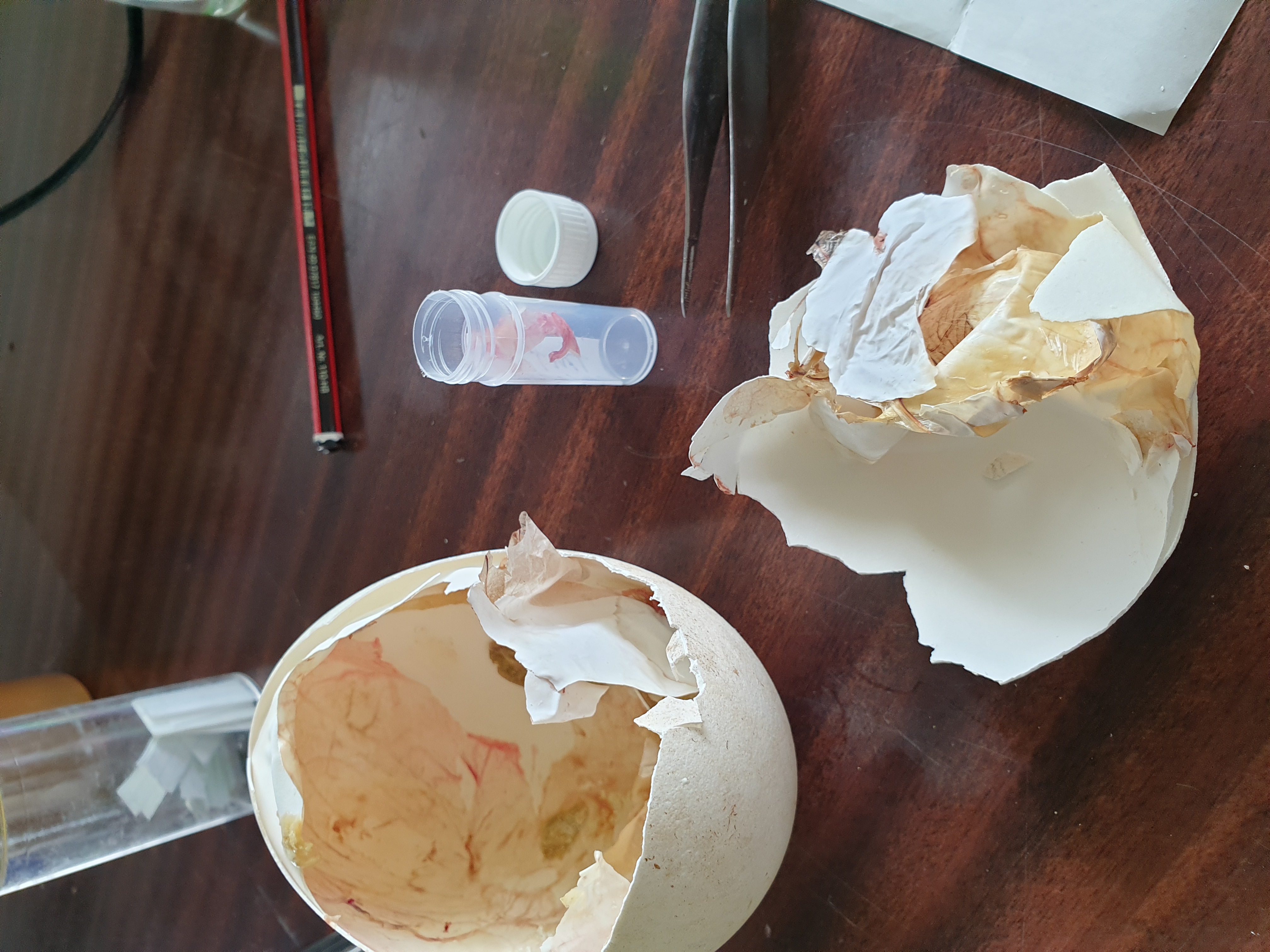 "Eggs are candled to determine fertility and viability. A failed egg is replaced with a dummy egg so the pair can be held as a potential foster pair" [LEFT]
"DNA is collected from egg shells to determine the sex of each chick. This is helpful when supplementary feeding as male chicks will be up to 2 kg heavier than females during winter" [RIGHT]
In 2016 the live streaming event, Royalcam, was set up. The world can now see a nest of a Northern Royal Albatross, close up, and in real time. As breeding takes nearly a year there is nearly always some albatross activity to watch on the live stream. In 2019 the Department of Conservation partnered with the Cornell Bird Lab who provided a camera with panning options and night vision which has increased the advocacy for the Northern Royal Albatross hugely. Big news this season is the GPS tracking of the Royalcam parents: click on the Interactive map tab and scroll down for LGK and LGL [named for their lime, green and black colour bands] at Taiaroa Head under 'Choose a Bird'.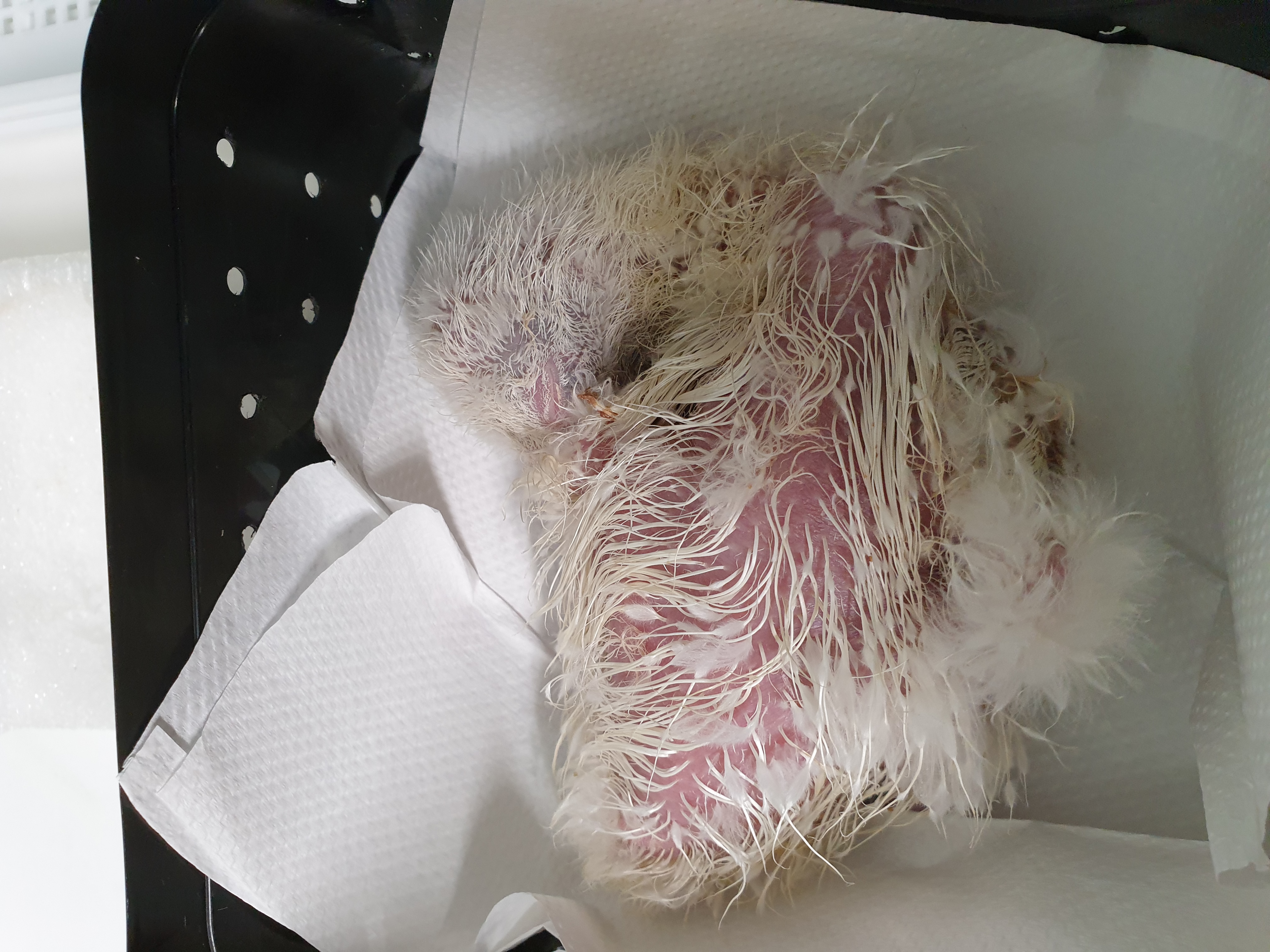 "A newly hatched chick ready to be returned to the nest. Hatching in the incubator prevents fly strike"
I had spent seven years on the Education Team at the Royal Albatross Centre delivering albatross education programmes to school groups from ages three to 20. This work and the sheer length of time spent working at Taiaroa Head has meant that by 2018 I had become the Royalcam spokesperson on the team. You can find the Royalcam discussion page here. where I provide regular updates of the featured Royalcam family as well as occasional 'Colony' news.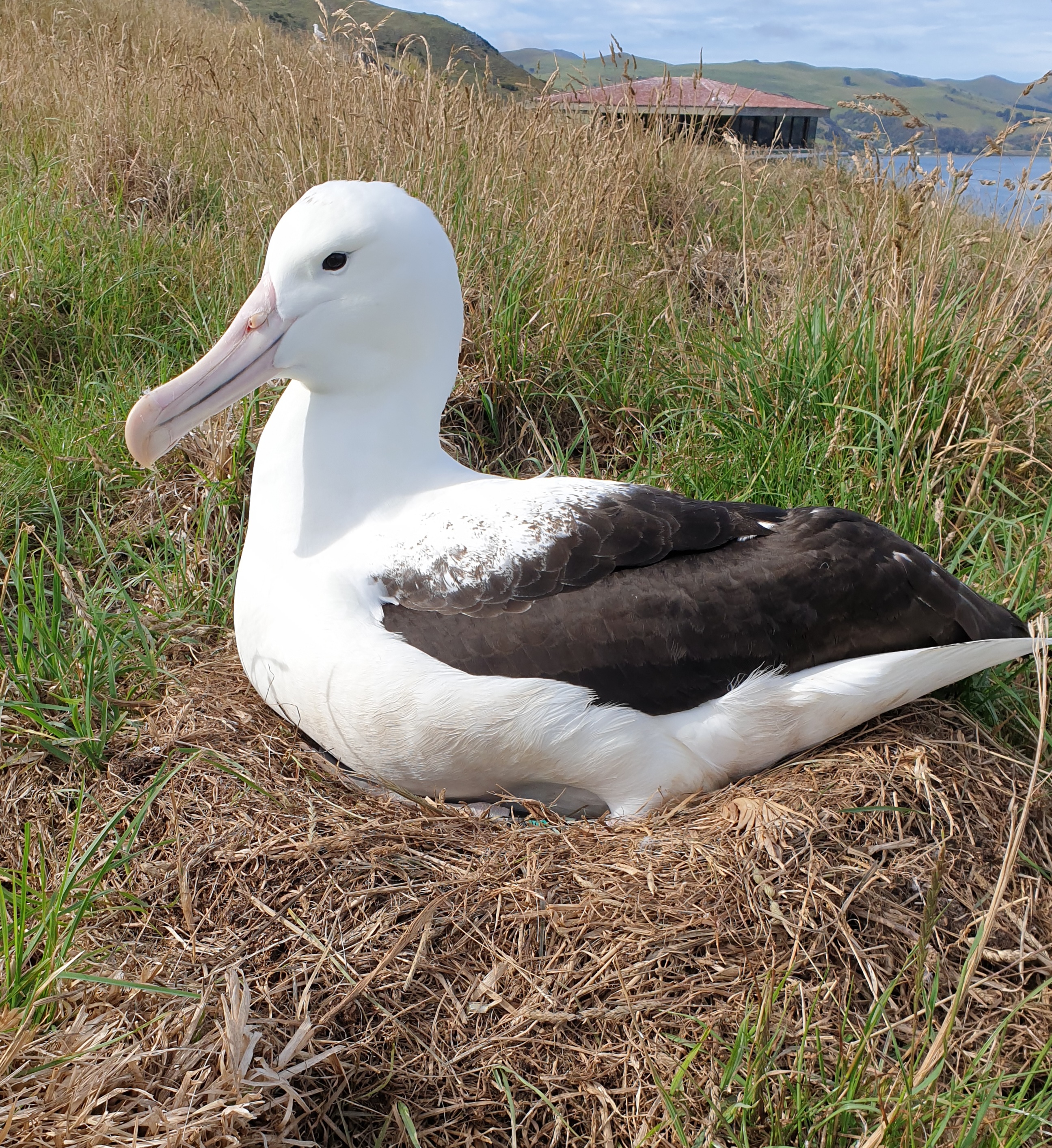 "The Richdale Observatory overlooks part of the albatross colony. Here is where visitors can take a tour with the Royal Albatross Centre"
Photographs by Sharyn Broni
The Northern Royal Albatross colony and its history are quite unique in the albatross world as it is situated on a mainland not too far from Dunedin, a sizable city. This led to early research which greatly improved the understanding of albatrosses at a time when most colonies had huge accessibility issues. The population at Pukekura/Taiaroa Head has grown from seven adults and one fledging chick in 1938 to over 250 adults and 30 chicks due to fledge in September 2021. This colony growth would not have been possible without the protection they received in 1938 (prior to this there had been 20 years of complete breeding failure due to human interference) and the ongoing conservation efforts, first by the New Zealand Wildlife Service and then by the Department of Conservation.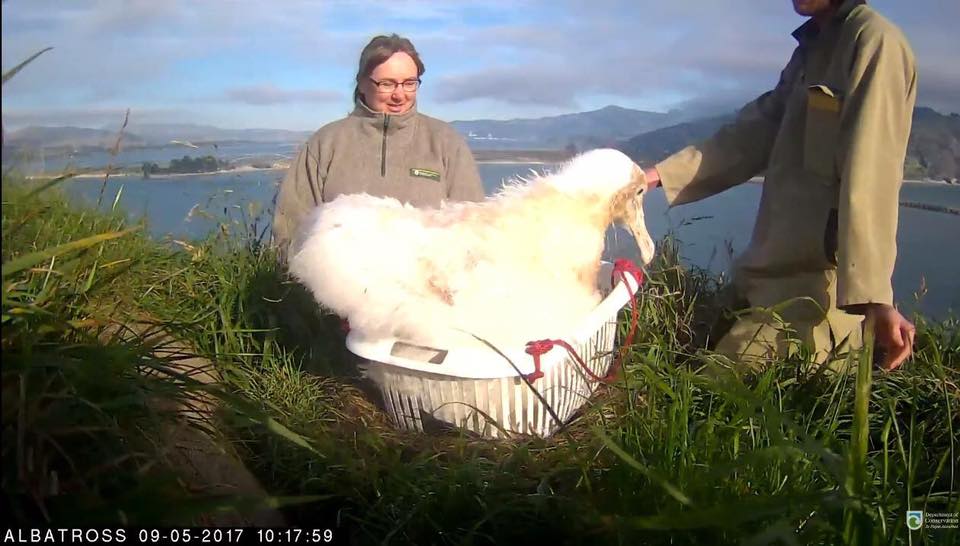 Outgrowing the laundry basket? Sharyn Broni helps weigh a Royalcam chick at Pukekura/Taiaroa Head
Department of Conservation webcam photograph

South Island, New Zealand, 09 September 2021