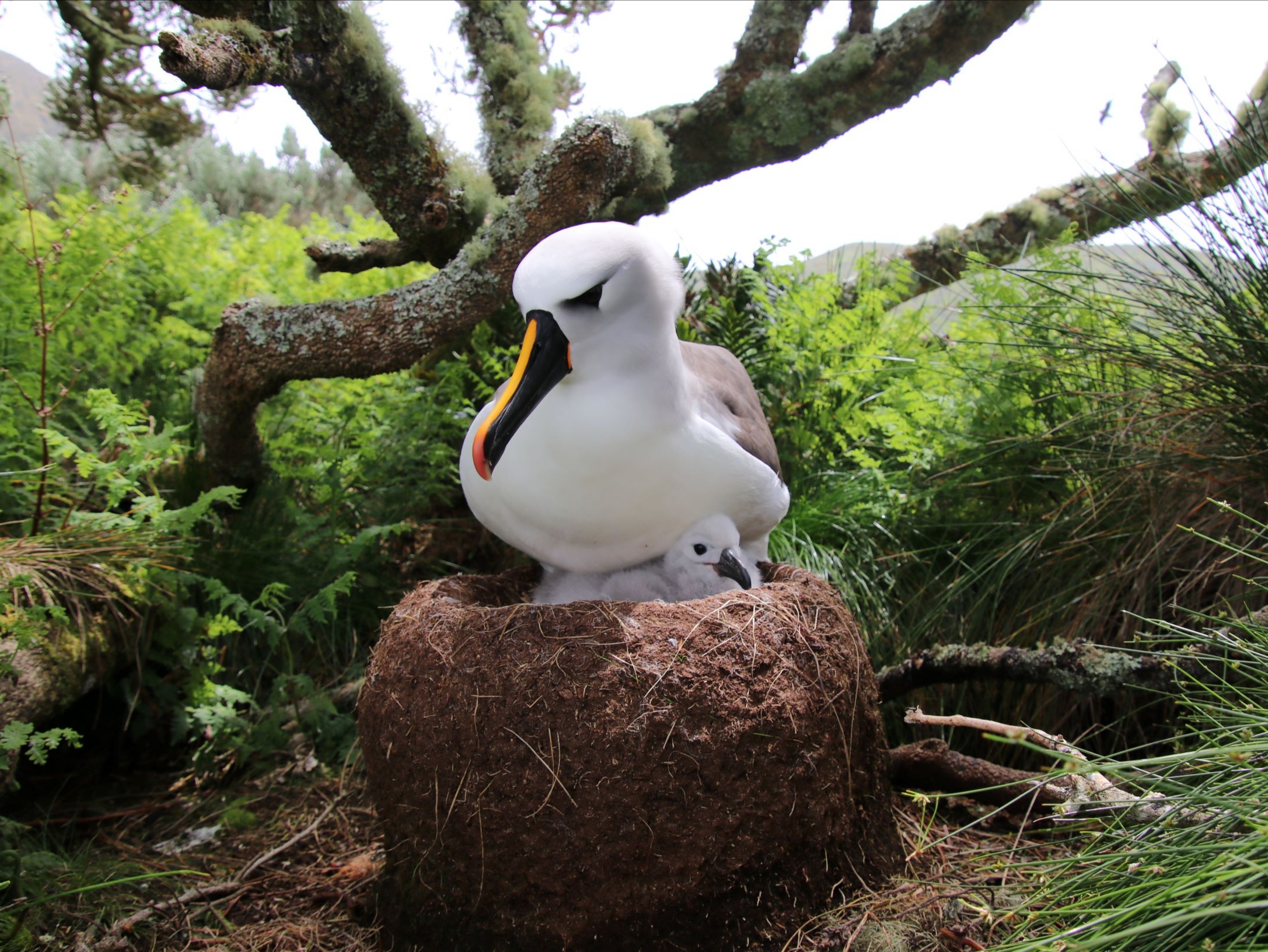 An Atlantic Yellow-nosed Albatross broods its chick under a Phylica tree on Gough Island
NOTE: This is the fourth in an occasional series that aims to feature photographs of the 31 ACAP-listed species, along with information from and about their photographers. Here, Christopher Jones writes about the ACAP-listed and globally Endangered Atlantic Yellow-nosed Albatross, a species he has studied on Gough Island in the South Atlantic.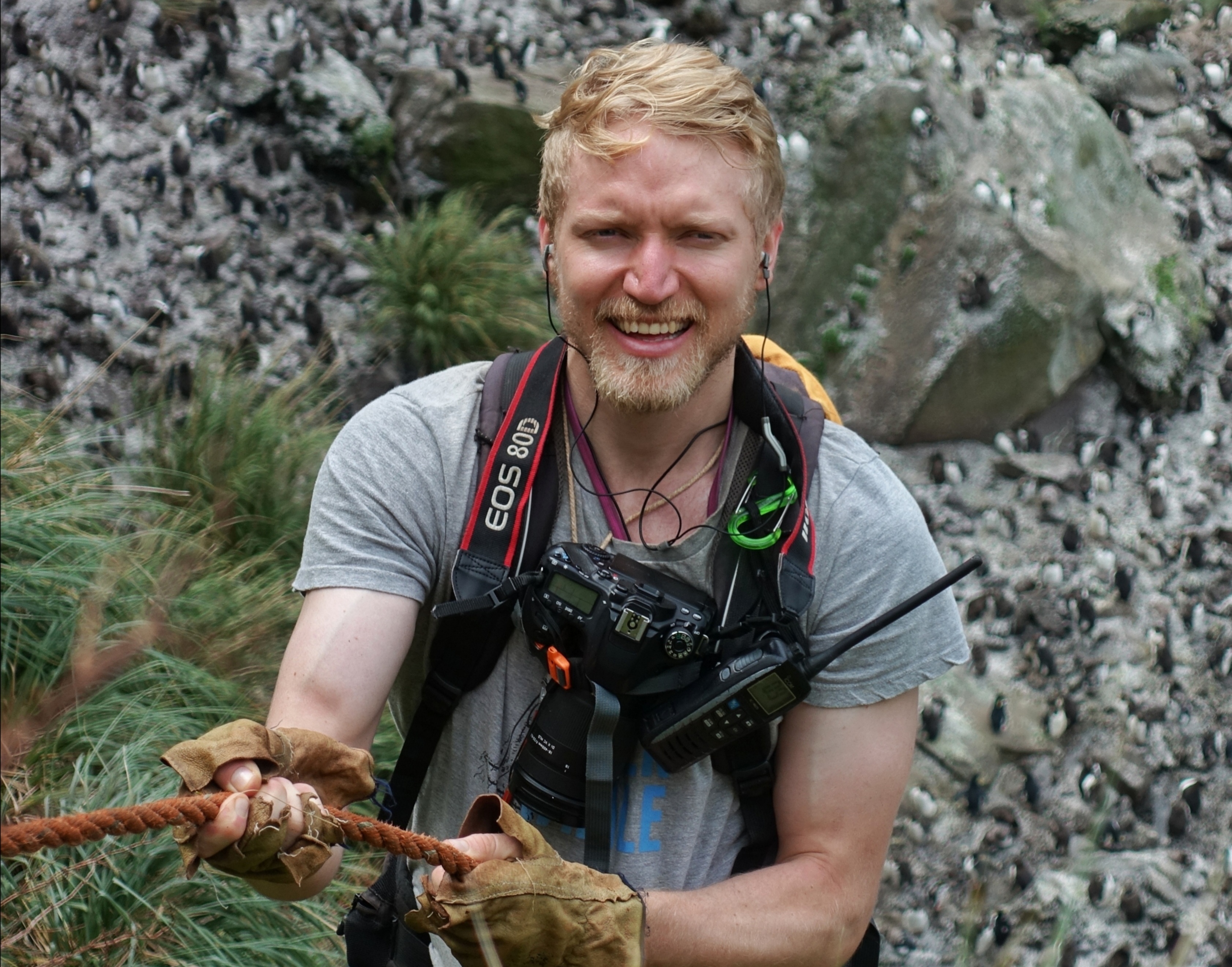 Chris Jones descends a coastal cliff on Gough
I grew up in KwaZulu-Natal, South Africa, spending a good chunk of my formative years visiting national parks where I developed an appreciation of the natural world. This drove me to study Zoology and Ecology at the Universities of Pretoria and KwaZulu-Natal. I did not really know much about pelagic seabirds until one of my lecturers, Prof. Marthan Bester, gave a presentation about Marion and Gough Islands, where South Africa operates weather stations. After learning about these far-flung places, I was determined to visit them as a researcher.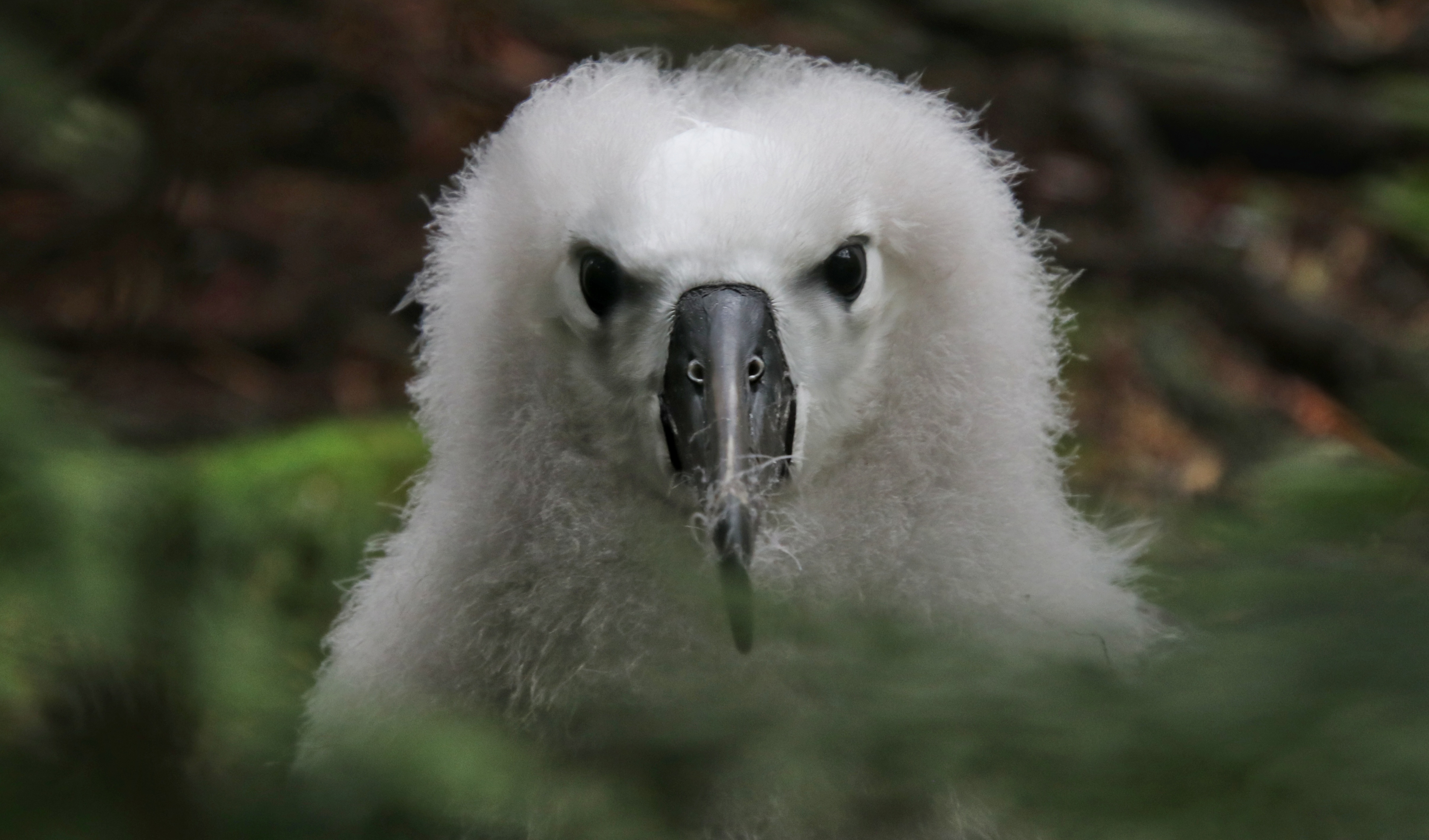 Losing its down: an Atlantic Yellow-nosed Albatross chick
Once I completed my undergraduate studies, I was very fortunate to take up a position as a field biologist on Gough Island from 2014 to 2015. I must admit that before heading down to Gough for the first time, I was most excited about penguins and seals. But during my first walkabout on the island, the very first animal I encountered was an Atlantic Yellow-nosed Albatross. My first albatross up close on land! Seeing their exceptional beauty, I soon became far more interested in albatrosses and petrels. This first year on Gough was a life-changing experience for me. During this time, part of my job was to closely monitor the breeding cycle of several seabird species, including Atlantic Yellow-nosed Albatrosses, from egg laying to chicks fledging. It was an incredible experience being able to follow their cycles over a whole year. Amidst this fieldwork, I also collected data for my M.Sc. dissertation, supervised by Prof. Peter Ryan (FitzPatrick Institute, University of Cape Town), on the comparative ecology of Broad-billed Pachyptila vittata (Least Concern) and globally Endangered MacGillivray's P. macgillivrayi Prions breeding sympatrically on Gough Island.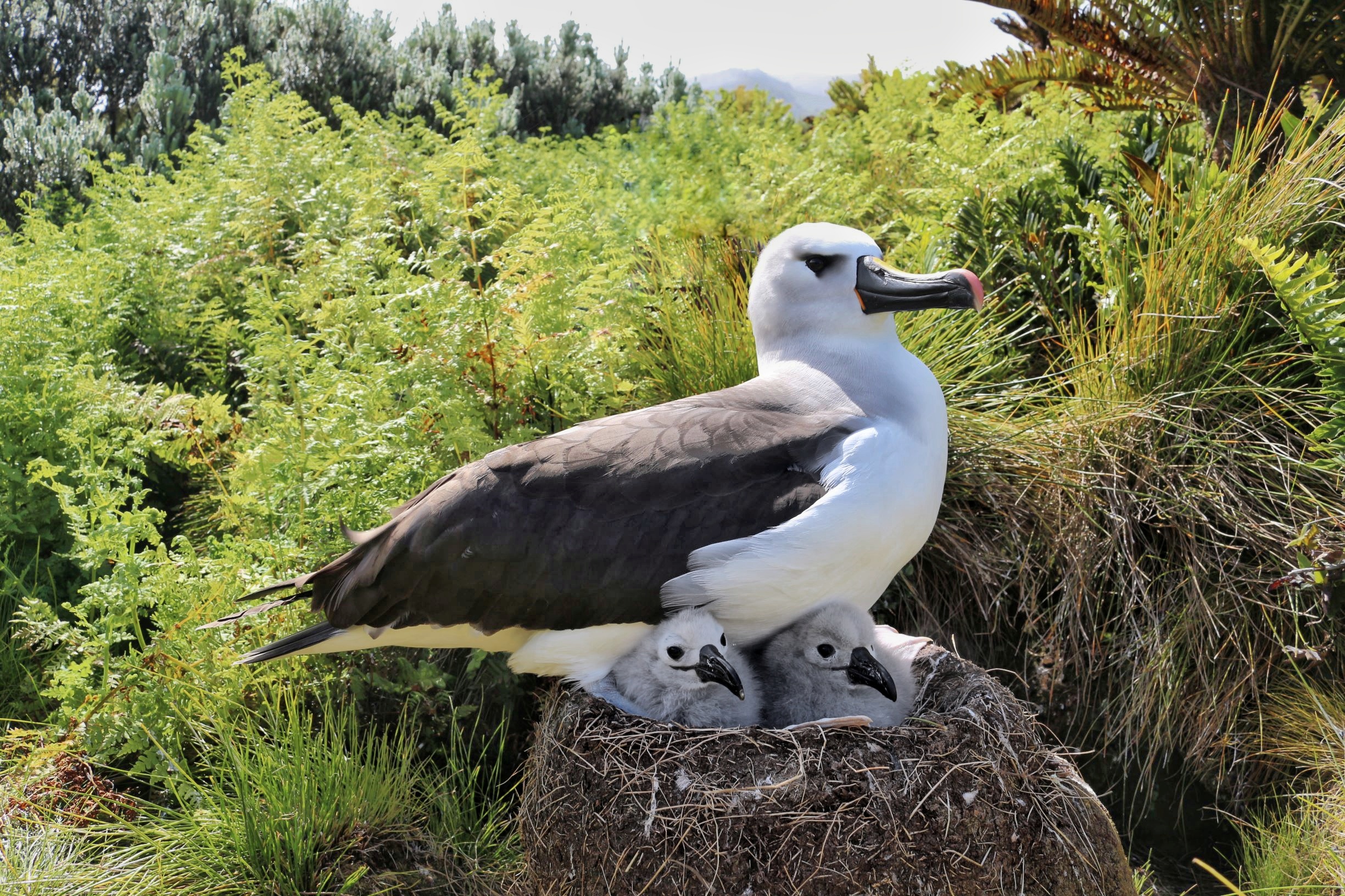 A rare occurrence: attempting to raise two chicks
While writing up my M.Sc. I also worked on several remote islands in the Seychelles from 2015 to 2017 and as a seabird researcher on Marion Island from 2017 to 2018. Then in 2018 I returned to Gough Island as Senior Field Biologist for the Gough Island Restoration Programme (GIRP); a mouse-eradication project run by the UK's Royal Society for the Protection of Birds (RSPB). This time I spent two years on Gough until 2020, focusing on collecting pre-eradication baseline demographic data for seabirds, land birds and terrestrial invertebrates. The eradication project was planned to be completed in 2020 but was unfortunately postponed by the COVID-19 pandemic. So, I re-joined the project in 2021, involved with establishing captive founder populations for the endemic Gough Finch or Bunting Rowettia goughensis (Critically Endangered) and Gough Moorhen Gallinula comeri (Vulnerable), which were at risk to non-target poisoning, as well as being involved in the baiting phase of the operation. I hope to re-visit Gough in a few years' time as see the ecosystem flourishing in the absence of invasive House Mice. Until then I plan to continue island hopping around the world and contributing to the conservation of these special ecosystems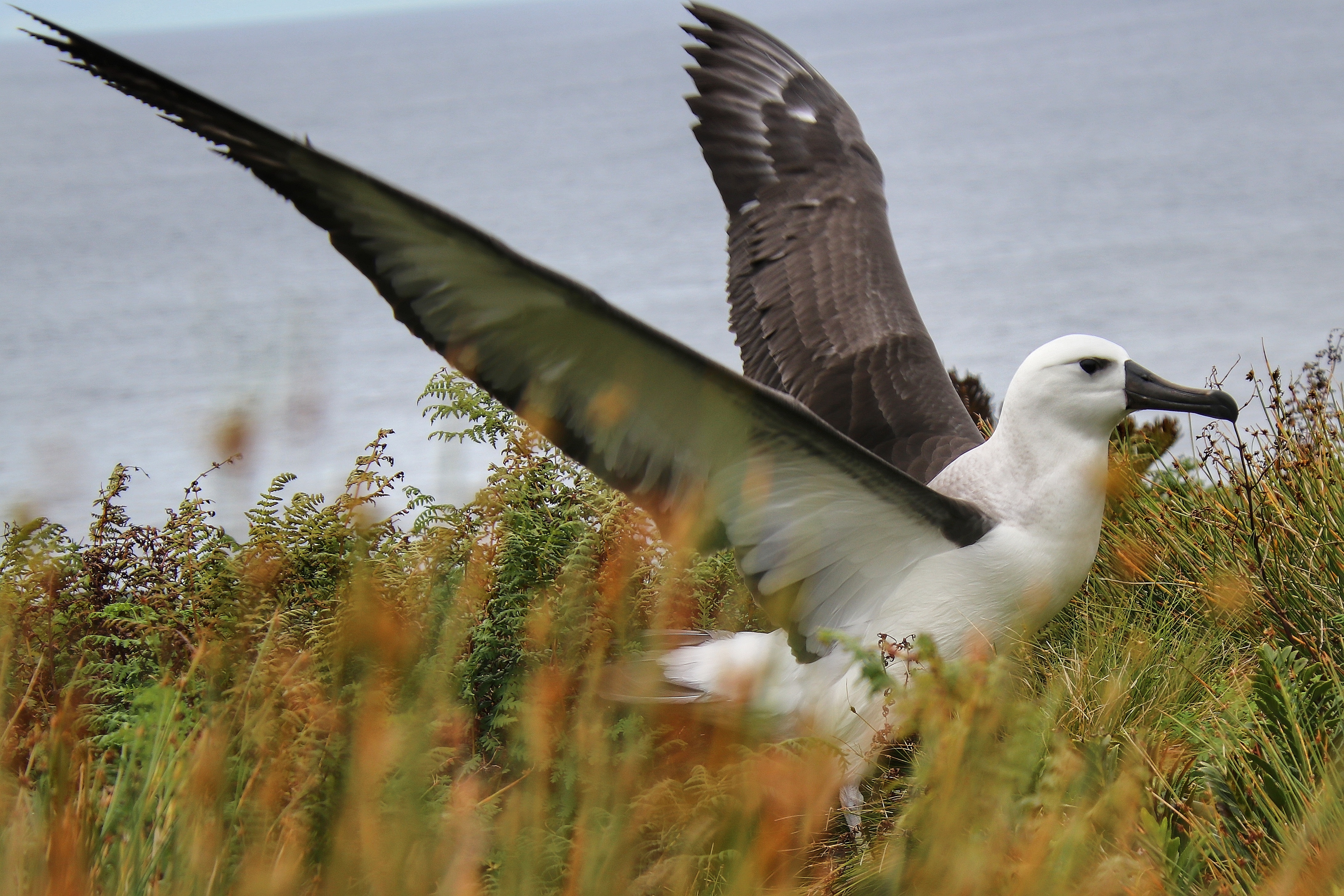 Close to departure: an Atlantic Yellow-nosed Albatross fledgling spreads its wings close to the cliff edge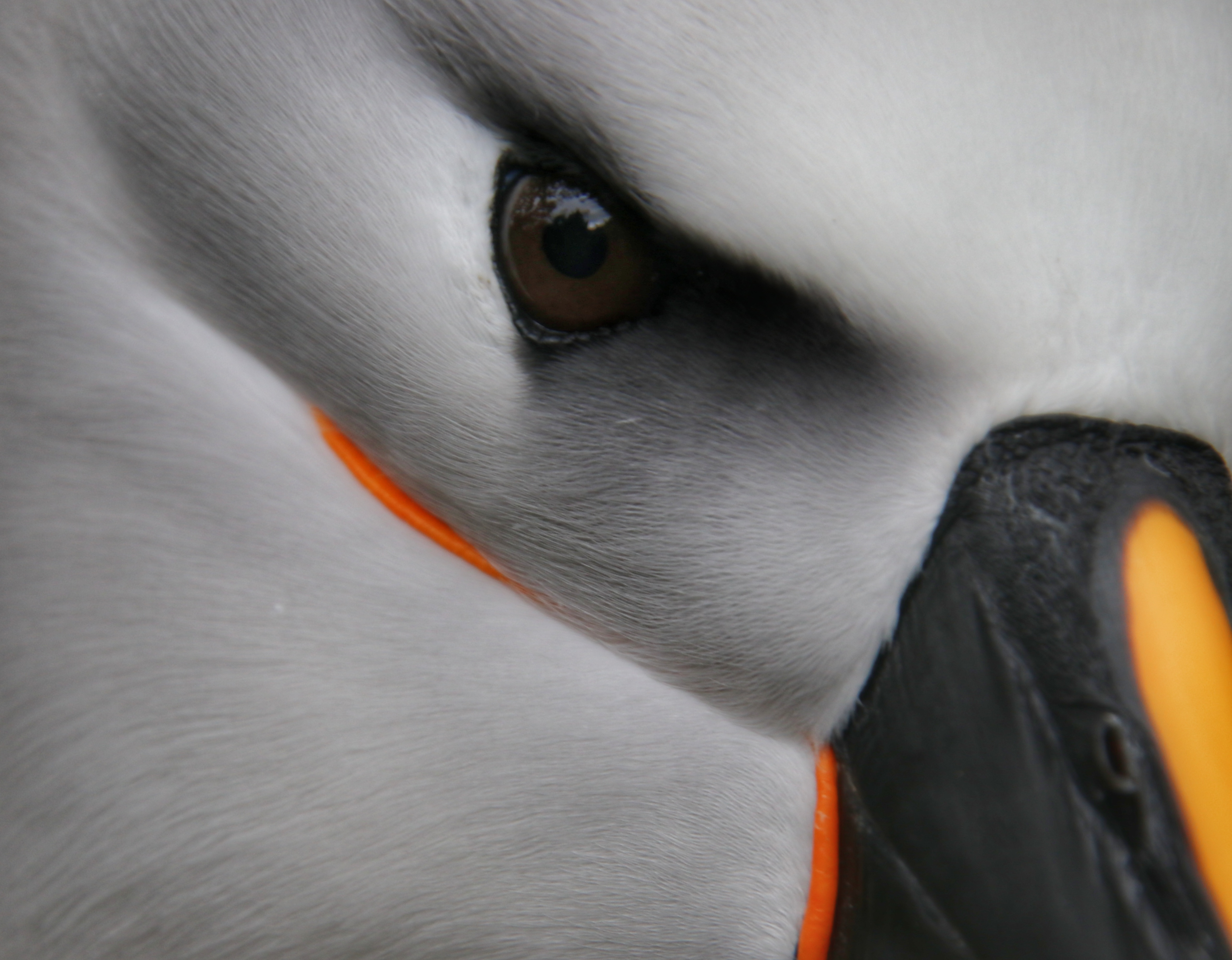 Atlantic Yellow-nosed Albatrosses are truly beautiful birds
Photographs by Chris Jones
Selected Scientific Publications:
Jones, C.W. P. 2018. Comparative ecology of Pachyptila species breeding sympatrically at Gough Island. M,Sc. thesis. University of Cape Town. 81 pp.
Jones, C.W., Phillips, R.A., Grecian, W.J. & Ryan, P.G. 2020. Ecological segregation of two superabundant, morphologically similar, sister seabird taxa breeding in sympatry. Marine Biology 167:167: 1-16.
Jones, C.W., Risi, M.M. & Bester, M.N. 2020. Local extinction imminent for southern elephant seals Mirounga leonina at their northernmost breeding site, Gough Island – South Atlantic Ocean. Polar Biology 43: 893-897.
Jones, C.W., Risi, M.M., Cleeland, J. & Ryan, P.G. 2019. First evidence of mouse attacks on adult albatrosses and petrels breeding on sub-Antarctic Marion and Gough Islands. Polar Biology 42: 619 -623.
Jones, C.W., Risi, M.M., Osborne, A.M. et al. 2020. Abundance, distribution and breeding success of the endemic Gough Island Finch Rowettia goughensis between 2009 and 2018. Emu - Austral Ornithology 120: 230-238.
Jones, C.W., Risi, M.M., Osborne, A.M., Ryan, P.G. & Oppel, S. 2021. Mouse eradication is required to prevent local extinction of an endangered seabird on an oceanic island. Animal Conservation 24: 637-645.
Risi, M.M., Jones, C.W., Osborne, A.M., Steinfurth, A. & Oppel, S. 2021. Southern Giant Petrels Macronectes giganteus depredating breeding Atlantic Yellow-nosed Albatrosses Thalassarche chlororhynchos on Gough Island. Polar Biology 44: 593-599.
Christopher Jones, 07 September 2021