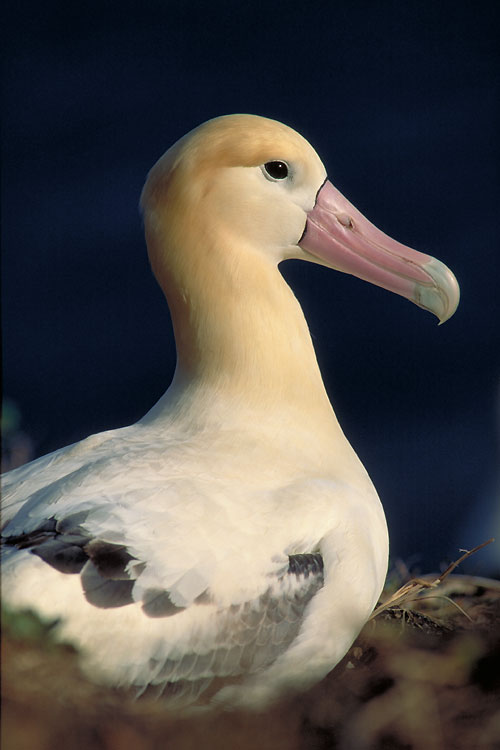 Short-tailed Albatross, photograph by Hiroshi Hasegawa

Nigel Brothers (Marine Ecology & Technology, Wonga Beach, Queensland, Australia) and colleagues have published in the open-access journal Marine Ornithology on using satellite imagery to count Vulnerable Short-tailed Albatrosses breeding on the Senkaku Islands.
The paper's abstract follows:
"Accurate monitoring of vulnerable albatross populations is essential to their conservation. Herein, we explore the prospect of monitoring one particular remote albatross population with a view to promoting accurate worldwide monitoring of vulnerable albatross populations. We used very high-resolution (VHR) satellite images to count nesting Short-tailed Albatrosses Phoebastria albatrus on two islands of the Senkaku group, western North Pacific Ocean, where conventional monitoring has not occurred for 19 years due to a geopolitical territory dispute. Despite count uncertainties across rocky terrain, many birds were clearly discernible using the highest resolution image available of Minami-kojima. The result was a count of 132 (109­-162) nesting pairs in the 2020/21 breeding season (the timing of the count indicates the presence of nesting birds); this compares to a count of 52 when the population was last surveyed in 2002. On Kita-kojima, no birds were counted in images available for the 2019/20 and 2020/21 breeding seasons; one bird (a chick) was counted in 2002. If accurate, these counts are inconsistent with existing projections of increasing abundance of this species at the Senkakus (190 breeding pairs by 2018/19). Based on our findings, we suggest that reliable satellite image-based counts, independent of ground verification, is an achievable goal for albatrosses. Images must be of the highest possible resolution, with angle and timing optimized appropriately for the breeding site. There is a need for standardization of specific procedures and methodologies, a task that is well-suited to The Working Group of the Agreement on the Conservation of Albatrosses and Petrels."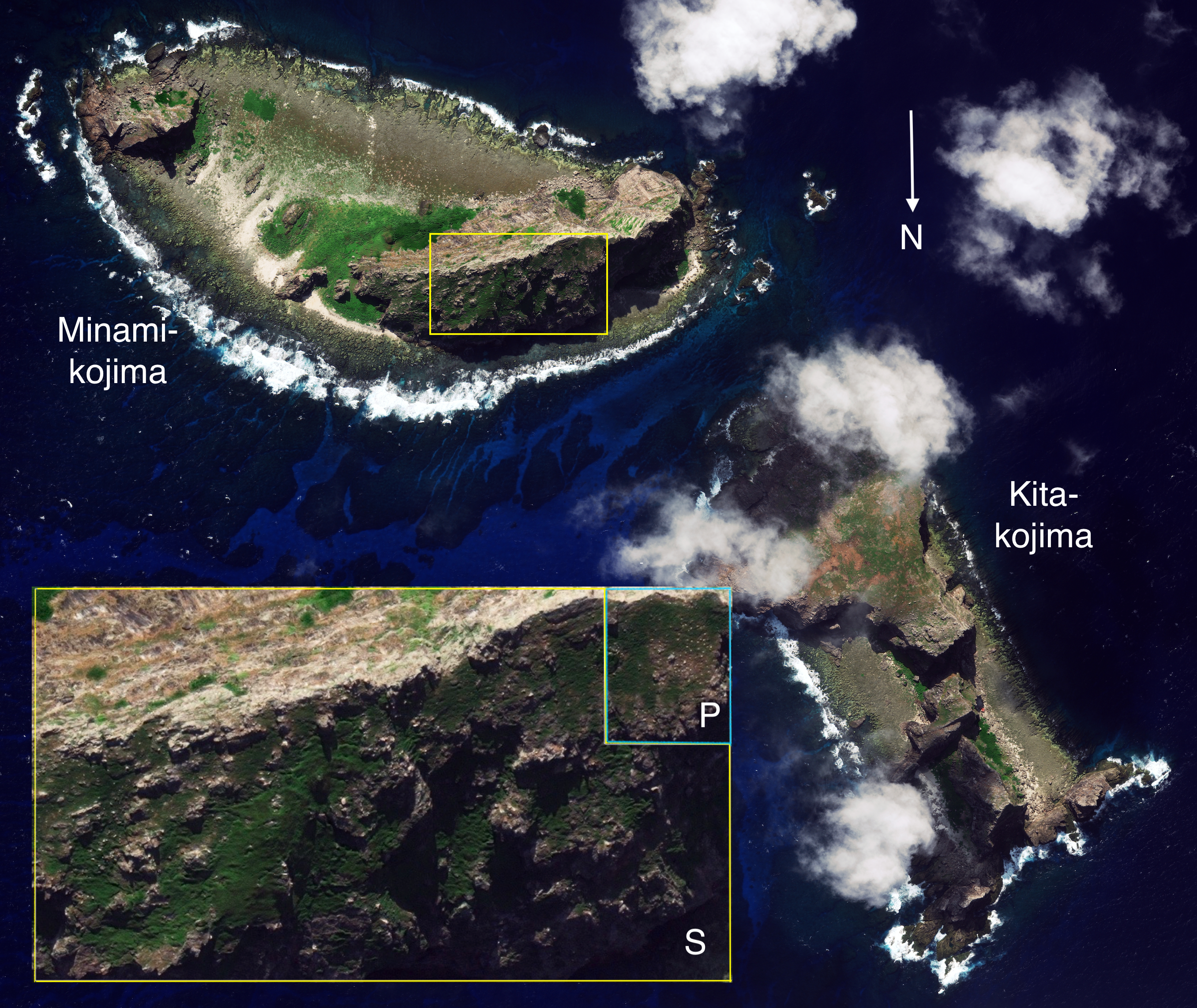 WorldView-3 30-cm resolution satellite image of Minami-kojima and Kita-kojima, Senkaku Islands, western North Pacific Ocean on 27 November 2020, with inset showing primary (P) and secondary (S) nest count areas of Short-tailed Albatrosses; ©2020 Maxar Technologies
Read about the taxonomic status of the Senkaku Short-tailed Albatrosses here.
With thanks to Nigel Brothers.
Reference:
Brothers, N., Bone, C. & Wellbelove, A. 2022. Albatross population monitoring using satellite imagery, a case study:. Marine Ornithology 50: 7-12.
John Cooper, ACAP Information Officer, 21 February 2022