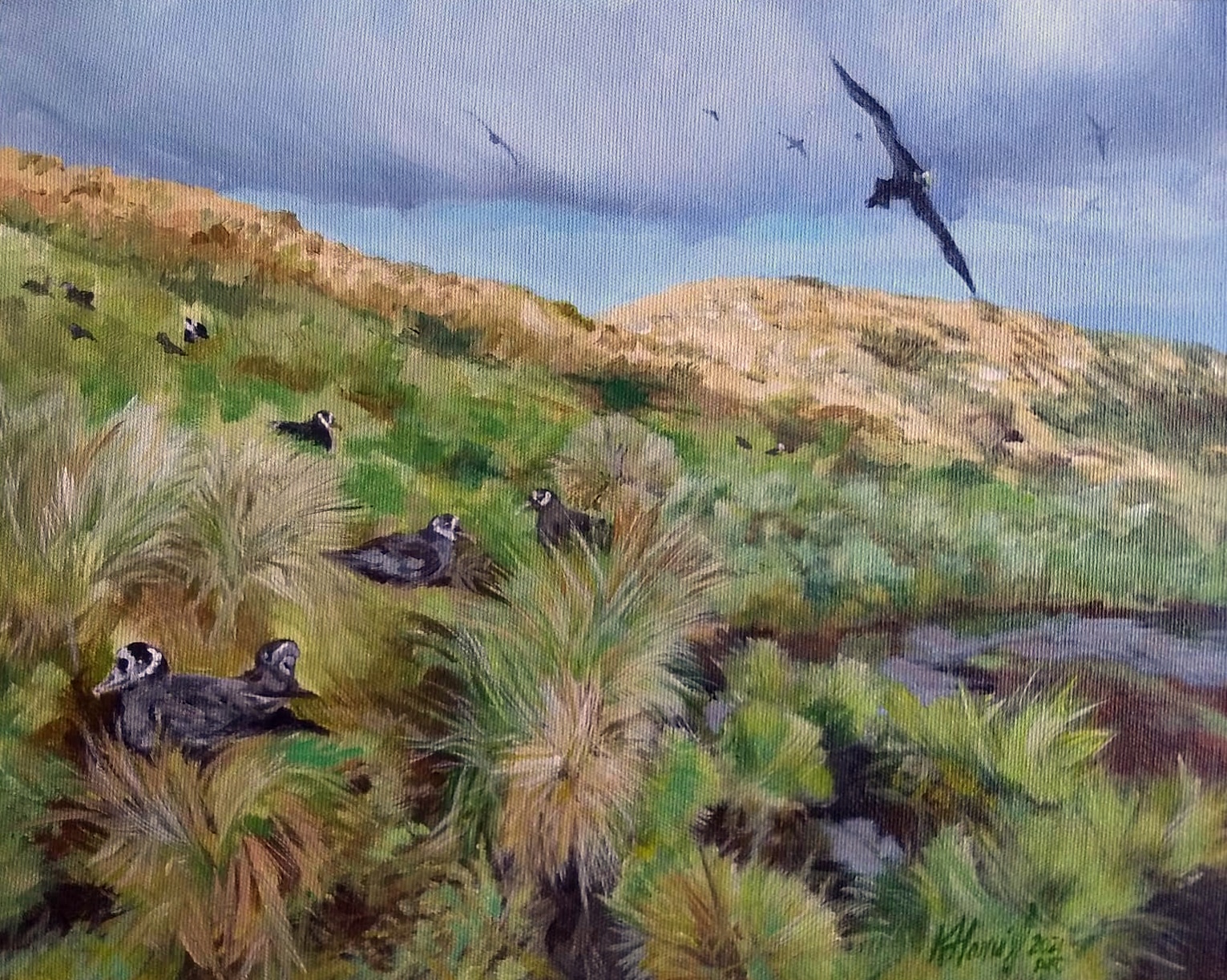 Spectacled Petrels on Inaccessible Island, by ABUN Co-founder Kitty Harvill, after a photograph by Peter Ryan
Peter Ryan (FitzPatrick Institute of African Ornithology, University of Cape Town, South Africa) & Steffen Oppel have published open access in Afrotropical Bird Biology: Journal of the Natural History of African Birds on winter observations on Gough Island seabirds, including ACAP-listed albatrosses and petrels. The report of the Vulnerable single-island endemic Spectacled Petrel Procellaria conspicillata flying over Gough seems to be of particular interest. "Fairly common offshore from Gough, and occasionally flying over the island, especially from mid-April to mid-May. Previous field workers on Gough have reported Spectacled Petrels flying over the island in April (D. Fox and C. Taylor, pers. comm.), possibly exploring for new breeding sites as the population on Inaccessible Island continues to expand (Ryan et al. 2019). However, it is unclear why such prospecting would not occur earlier in the year, as the species lays in late October (Ryan 2007)."
The paper's abstract follows:
"Relatively little has been reported about the seabirds of Gough Island, central South Atlantic Ocean, from autumn and winter. We report ad hoc observations on the abundance, phenology and moult of seabirds at Gough Island from March to June 2021, and during the voyages between the island and Cape Town, South Africa. At least 43 species of seabirds were recorded: 1 penguin, 8 albatrosses, 5 southern and 1 northern storm petrel, 22 petrels and shearwaters, 1 gannet, 3 terns and 2 skuas. The results are presented as an annotated species list as well as a daily log of species for the voyages to and from the island. More species were seen per day at sea in June than in March, but fewer individuals were recorded in oceanic waters, mainly due to the large numbers of Great Shearwaters Ardenna gravis in March."
Reference:
Ryan, P., & Oppel, S. 2022. Notes on the seabirds of Gough Island and at sea between Gough and Cape Town, March–June 2021. Afrotropical Bird Biology: Journal of the Natural History of African Birds doi.org/10.15641/abb.v2i.1090.
John Cooper, ACAP Information Officer, 21 June 2022