Maria Gill and Gavin Mouldey have produced a children's book telling the story of Toroa, the 500th Northern Royal Albatross Diomedea sanfordi chick to hatch on Taiaroa Head, New Zealand's mainland breeding site on South Island. ACAP Latest News has reviewed a number of books written about albatrosses for children in the last few years. This is one I particularly like.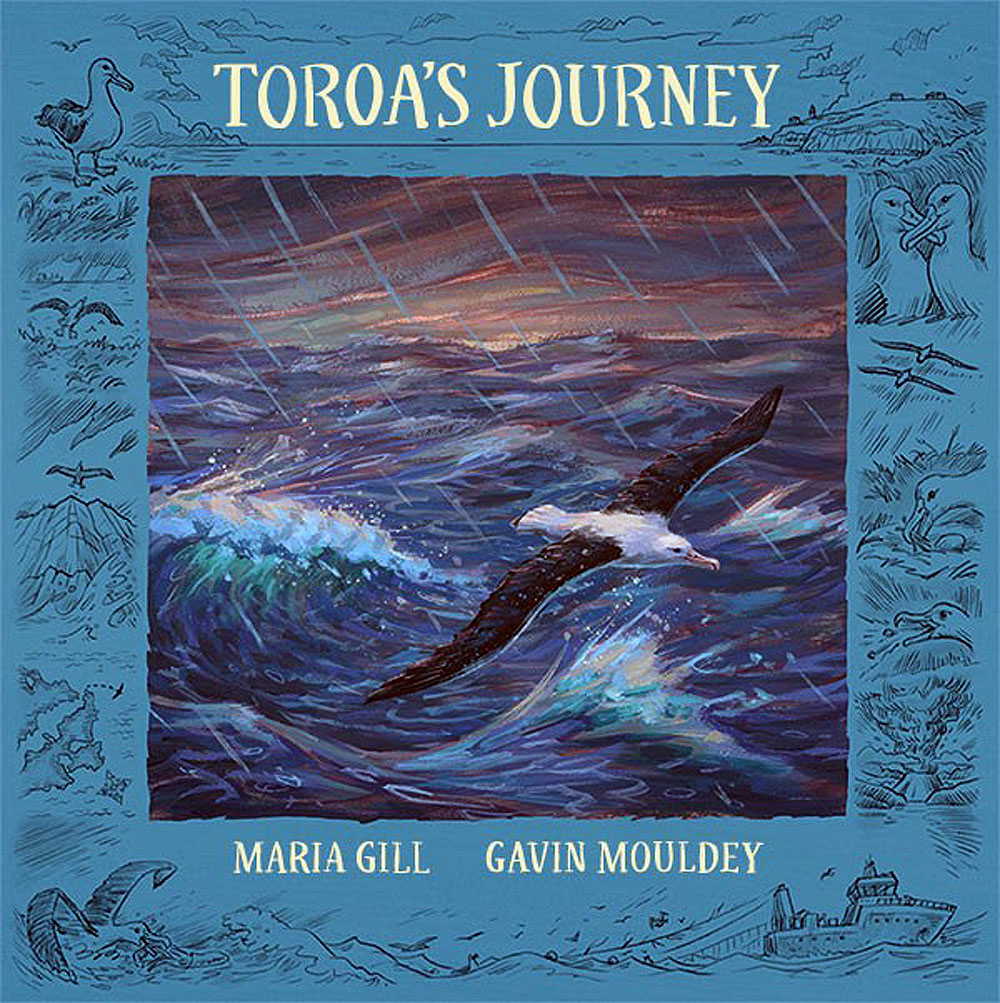 Maria Gill, the book's award-winning author with no less than 62 children's books to her name and Gavin Mouldey, the illustrator, tell Toroa's story, starting from a downy chick being fed by his mother, fledging "on a blustery morning" and his subsequent wanderings at sea as a juvenile. On his at-sea journeying he is frightened away by bird-scaring lines deployed behind a longline fishing vessel. He flies on to reach the coast of South America, coming close to the vicinity of a volcanic eruption when in Chilean waters. He then encounters a floating plastic "garbage patch" but escapes after swallowing and then regurgitating a red plastic bottle top.
After five years at sea the Toroa (which means 'albatross' in the Maori language) of the book returns to Taiaroa Head, where he finds and courts a partner, and after two years breeds and produces his own chick that successfully fledges. The story is told in short sentences suitable to be read out aloud to a child or for older children to read to themselves. Gavin Mouldey's evocative paintings fill each page. Novel to my growing collection of albatross books for children, is a four-page wide centre fold with a large illustration of Toroa in flight; a drawing of a human with his arms spread to scale is included to show just how big a royal albatross is.
The real Toroa (click here) hatched in February 2007 and was fitted with a satellite transmitter before fledging in September that year and was then tracked on its at-sea travels for a year (when the instrument stopped reporting) as a juvenile, free-flying albatross. Toroa, like his namesake of the book, is now a successful breeder on Taiaroa Head, returning for the first time in February 2104 and rearing its first chick to fledging in September 2017, keeping the cycle of life continuing and adding to the health of an iconic colony that is accessible to public viewing from an observation centre. This factual information is given in boxes, adding greatly, in my mind, to the book's value: a parent can use this extra information to add to the illustrated storyline on each page. To me the only partially fictionalized account of a real albatross that is still alive and was breeding successfully less than a year ago adds to the book's charm and interest.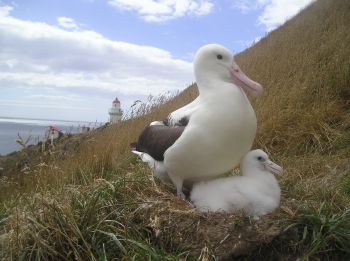 Toroa as a chick in 2007, photograph by Lyndon Perriman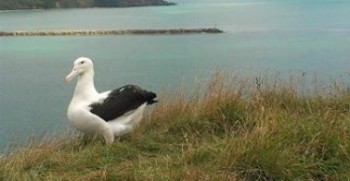 Toroa returns to Taiaroa Head as an adult for the first time in 2014
An intriguing fact is that one of Toroa's grandparents was Grandma (all the Taiaroa Head birds carry unique colour bands to allow for individual recognition), the famous Northern Royal Albatross which lived for over 60 years. Perhaps Toroa also has longevity genes (or luck!) and will live a long life.
So, parents – if you want your children to grow up to be albatrossphiles (like this reviewer) then this is the book to get to start them off.
Additional notes for parents and teachers can be found here. Previous information on the real Toroa in ALN here.
Toroa is not the first real albatross to have a children's book written about it. Wisdom the famous 60-something Laysan Albatross Phoebastria immutabilis of Midway Island was the first (click here for the ALN review).
Reference:
Gill, Maria & Mouldey, Gavin 2017. Toroa's Journey. Nelson: Potton & Burton. 32 pp. with an eight-page gatefold. ISBN 978 0 947503 53 6. NZ$ 29.99 hardback, NZ$ 19.99 paperback.
John Cooper, ACAP Information Officer, 10 May 2018