Tony Martin's new book (authored along with "Team Rat") tells the stirring story of ridding South Georgia (Islas Georgias del Sur)* of introduced rodents by aerial bombardment of a thousand square kilometres with 12 500 bags of poison bait from three vintage helicopters. It relates, in word and image, the baiting work that took place on the island in three phases (in 2011, 2013 and 2015) that has been regularly reported in in ACAP Latest News (click here). The book has been produced to help raise funds for the final and crucial phase of the project that will conduct monitoring next year to confirm - or not - that the island's Norway Rats Rattus norvegicus and House Mice Mus musculus are finally gone.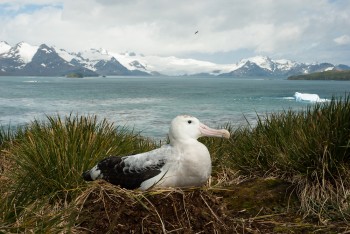 Snow- and ice-clad mountains rear behind a Wandering Albatross on Prion Island, photograph by Anton Wolfaardt
The three phases of the eradication, depicted in green (Phase One) and red (Phase Two top, Phase Three bottom)
The Author's Preface says the book "is a story of highs and lows, excitement and frustration, fear and astonishment, and lots of plain hard graft." It also shows how such a big island, far larger than any previously treated, could be successfully baited in phases due to glaciers impenetrable to rats dividing the island into zones. Retreating glaciers, presumed due to climate change, were putting rat-free areas at risk so it was essential the eradication was not delayed.
I much enjoyed reading Tony's book – and admiring the stunning scenery it depicts. The achievement it portrays should be a welcome boost to developing plans to eradicate rodents at other infested islands in the Southern Ocean, notable the United Kingdom's Gough and South Africa's Marion, both overrun with predatory House Mice that have taken to killing albatrosses and petrels.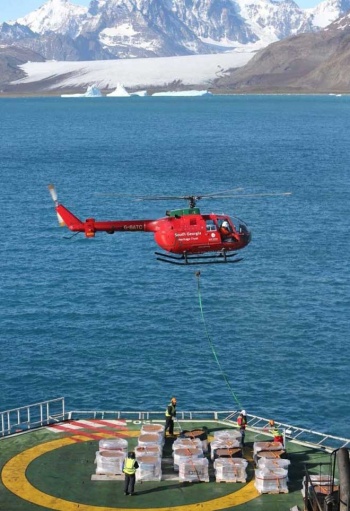 Flying loaded bait pods ashore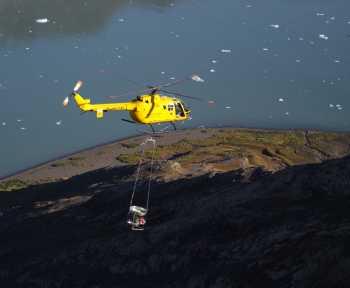 Flying a bait drop, photographs courtesy of Tony Martin
Anthony Martin is Director of the South Georgia Heritage Trust's Habitat Restoration Project, as well as being Professor of Animal Conservation at the Centre for Remote Environments, University of Dundee in Scotland. The South Georgia Heritage Trust seeks to undertake projects that will conserve and protect the island's important natural habitat, such as restoring large areas of habitat that threatened species of birds are unable to use to breed because of the presence of rats introduced some 150 years ago.
Professor Martin has previously published a book on albatrosses; click here for its review in ACAP Latest News. His latest book, reviewed here, comes with a Forward by HRH The Princess Royal, Patron of the SGHT, who has been a great supporter of the eradication project.
With thanks to Tony Martin.
Reference:
Martin, T. with photographs by members of Team Rat. undated*. Reclaiming South Georgia. The Defeat of Furry Invaders on a Sub-Antarctic Island. [Dundee]: South Georgia Heritage Trust. 144 pp. ISBN 978-0-9564546-3-8. Hardcover, profusely illustrated in colour. UK£ 25.00.
*Published October 2015.
John Cooper, ACAP Information Officer, 07 April 2016
*A dispute exists between the Governments of Argentina and the United Kingdom of Great Britain and Northern Ireland concerning sovereignty over the Falkland Islands (Islas Malvinas), South Georgia and the South Sandwich Islands (Islas Georgias del Sur y Islas Sandwich del Sur) and the surrounding maritime areas.