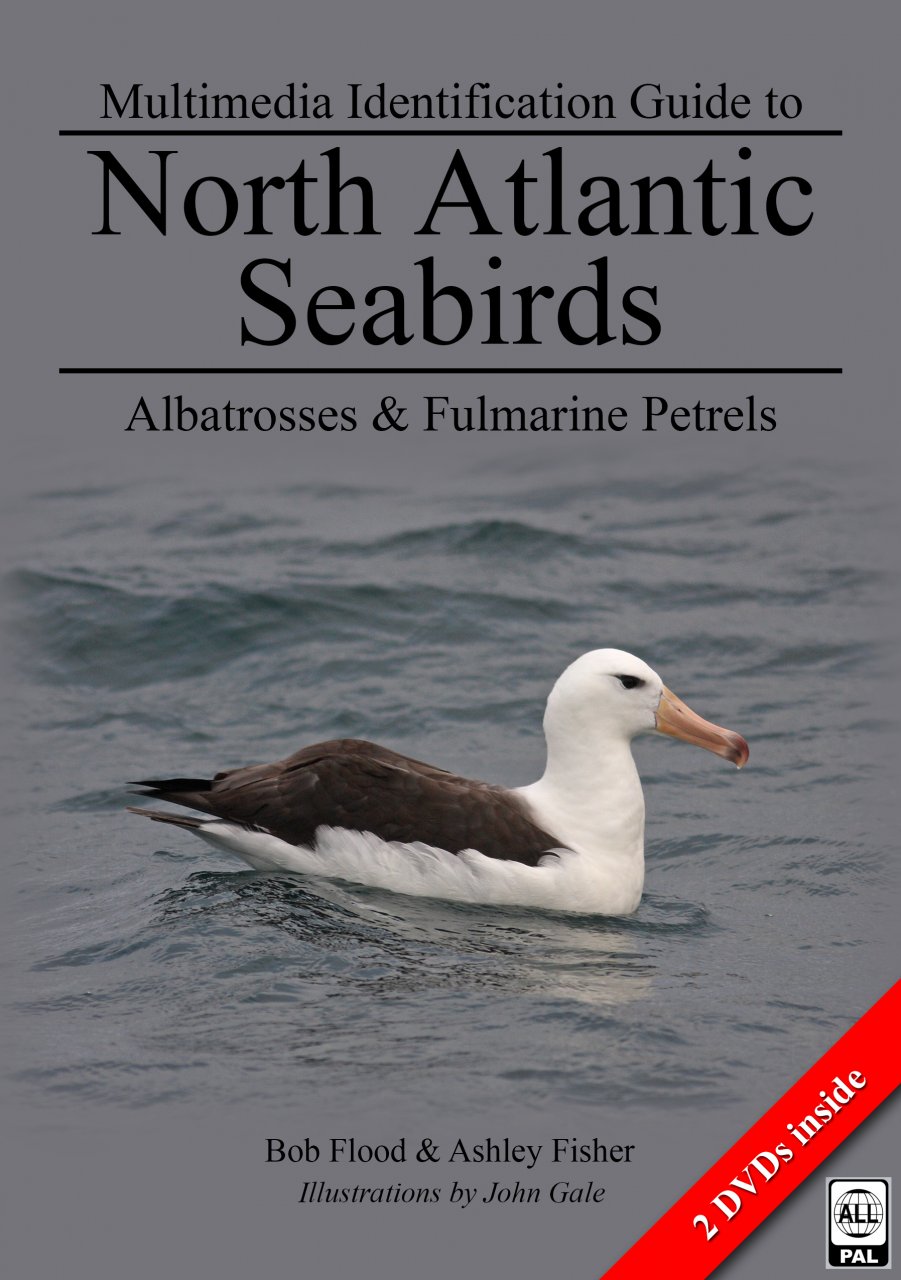 Flood, B. & Fisher, A. 2016. Multimedia Identification Guide to North Atlantic Seabirds. Albatrosses & Fulmarine Petrels. [Isles of Scilly]: Pelagic Birds & Multimedia Identification Guides. Illustrations by John Gale. 278 pp. + two CDs. ISBN 978-0-9568867-2-9. Hard cover, illustrated with paintings, photographs and maps. www.scillypelagics.com.
A field guide and as described by the authors a "mini handbook" par excellence! This book covers just 11 species in its 278 fact-filled and profusely illustrated pages. At an average of 25 pages a bird this must be some sort of record for a guide. The 11 species include five albatrosses (Atlantic Yellow-nosed, Black-browed, Grey-headed, Shy, Indian Yellow-nosed and Tristan), along with both giant petrels, the Northern or Arctic Fulmar (as two species) and the Pintado or Cape Petrel. The geographical scope is stated to be the North Atlantic and Western Palaearctic. Checking the accounts (and past posts on trans-equatorial albatrosses in ACAP Latest News) only three of the six albatrosses (Atlantic Yellow-nosed, Black-browed and - surprisingly to me - Tristan) have been so far recorded within the region. The other three are included as "potential vagrant confusion species", mainly due their presence in the South Atlantic. The Northern Giant Petrel also falls into this category. The single Tristan Albatross record regarded by the authors as substantiated is from Palermo, Sicily deep into the Mediterranean. As my favourite albatross and a record I'd not previously known about, I quickly turned to the 18 pages devoted to the bird to find out more. Among the 11 large – all excellent - photos and the 19 equally excellent paintings, I read that the Palermo record is of an immature male taken in 1957 and preserved. All the sight records (around 20) of great albatrosses Diomedea north of the Equator in the Atlantic that are covered in the book cannot with certainty be assigned to either Tristan or Wandering. The same problem occurs with the closely related pairs of Atlantic Yellow-nosed and Indian Yellow-nosed Albatrosses, and with Southern and Northern Giant Petrels. In each case only the former of each pair has got across the Atlantic equator; the other two are in as "confusion" species.
So what do you get for your 11 species? A lot! Information on alternative names, population size and trends, distribution (with a map), a detailed description (size, soft parts, feather tracts in exhaustive detail, plumage succession by age, and tips for field identification on appearance and flight. The captions for the sometimes near full-page photos are really paragraphs describing each bird depicted in detail, particularly helpful for the age classes of the Tristan Albatross.
But the book has more. Seventeen pages in their own chapter describe the intricacies – and pitfalls - of identification and ageing, a section on "confusion pairs (why that albatross is not a gannet, with expletives deleted, is worth a second read), references, detailed acknowledgements, a list of what's on the two DVDs and an "ID Jogger" described as "a complete bullet-point summary of essential facts" that's nearly 40 pages long. There's really too much to cover in a single review.
The book is the third in a series of four, the first, Storm-petrels and Buller's Petrel; the second, on Pterodroma Petrels, were both published in 2013 by the same two authors. Their fourth and last, expected soon, will be on shearwaters and the White-chinned Petrel, along with an index to all four volumes. With eight ACAP-listed albatrosses and giant petrels in the review book, and two to follow in the fourth (Balearic Shearwater and White-chinned Petrel), just under a third of the current 31 ACAP-listed species will get the Flood & Fisher treatment. A few other species identified in the past as possible candidates for ACAP listing should also appear in the last book, notably the Yelkouan Shearwater of the Mediterranean.
Sturdily bound with stitching, so I'm not expecting loose pages anytime soon (field guides can get a hammering). It's a hard cover with glossy pages that do the paintings and photos service and should hopefully stand up to a little dampness.
One seeming idiosyncracy. The publisher is UK-based. Why then American spelling with "Gray-headed" and "program" (when not referring to a computer program)? Just the authors' preference or the publisher aiming for a lucrative market across the pond?
A final thought comes to mind. In my study library I have a few valued seabird and island books that are a 100-years old or approaching that age. Most are in good to fair condition and all are perfectly readable. I also have stored in a cupboard three old laptops, none of which work properly – or at all - and are sadly destined to become e-waste one day. My current laptop, like the one before it, has no built-in CD drive. Instead I'm required to use an external drive to spin CDs. Will some as-yet unborn marine ornithologist who comes across North Atlantic Seabirds Albatrosses & Fulmarine Petrels in a second-hand bookshop or university library have to hand a device that can read its two CDs? Perhaps she might even be uncertain quite what they are? Guess this is one reason why I like the certainty of the printed word, but then I do date back to a different millennium.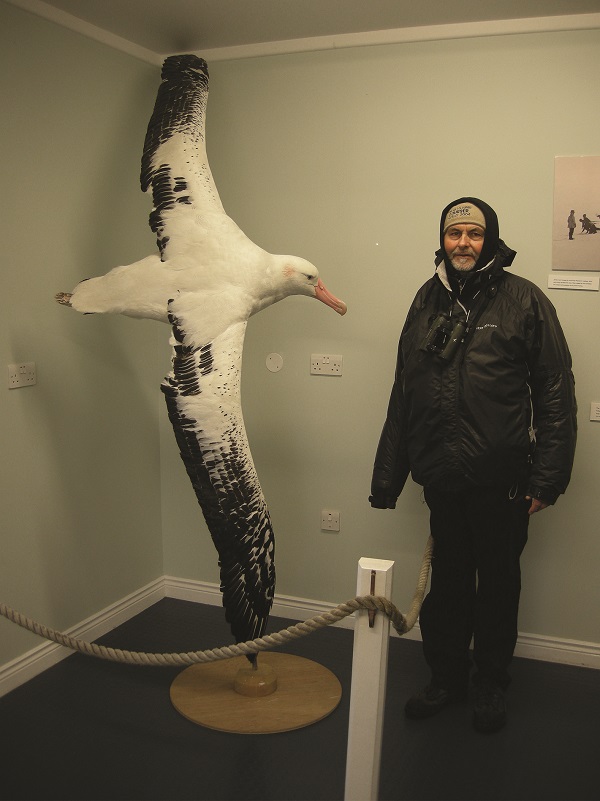 In the book! Bob Flood with a mounted Wandering Albatross in the Grytviken Museum in the South Atlantic
The senior author tells me he is recently back from having been "at sea much of [the] last six weeks". More books to be expected? A self-styled "lifetime birder" Bob Flood has written to ACAP Latest News in support of World Albatross Day come 19 June: "As a child, I dreamt of sailing the southern oceans in the company of the seemingly ever wandering giant albatrosses. My dreams became reality and throughout my adult life I have garnered so much pleasure simply by observing the magnificent albatrosses. Nowadays, that pleasure is tainted by a deep concern of mine that the children of today will live through the extinction of some albatross species, leaving nothing but their avian ghosts crying out in the howling winds of the stormy southern oceans. Surely we cannot let this happen". Amen!
John Cooper, ACAP Information Officer, 09 March 2020