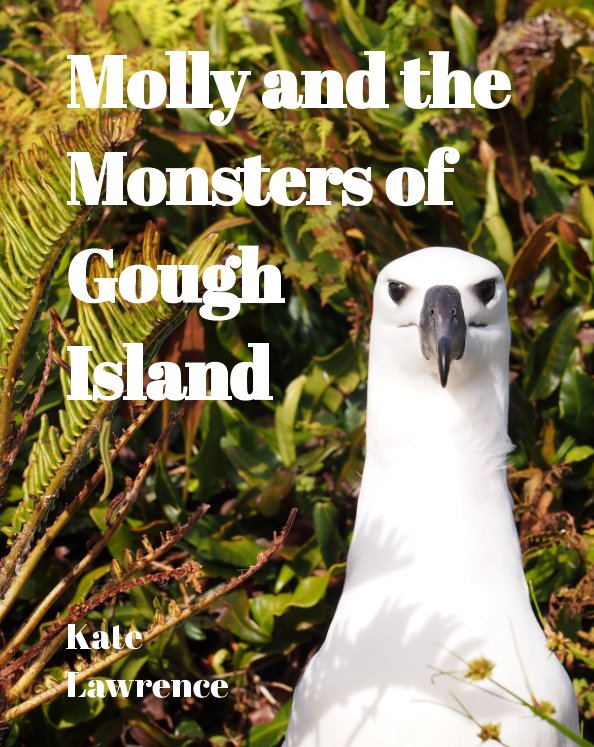 Book review: Molly and the Monsters of Gough Island. Written and published for children by Kate Lawrence. 2019. Illustrations and photographs by Jaimie Cleeland and Kate Lawrence. Hard cover and in full colour, 20×25 cm, 30 pp.
This book is about an albatross named Molly. She lives on an island called Gough. It starts with her as a chick. Then her dad tells her about the monsters that eat the chicks. These are the mice which arrived a long time ago. Molly fears the mice, but she overcomes this and grows up. The story goes on about how she fledges and discovers the thrill of flying. In five years she will return and she hopes that by then the monster mice are gone and she can have chicks of her own.
There is more information after the story that talks about where Gough Island is. Included is information on the deaths of albatross chicks and the research that the author did with Jaimie Cleeland during the 13 months she spent on the island in 2017/18.
I found the pictures very pretty and informative. The style of writing is very good and the story had a nice flow to it; it is a page turner. It is also very educational. So overall I liked the book very much.
Kate Lawrence records the co-ordinates of a Critically Endangered Tristan Albatross Diomedea dabbenena on its nest on Gough Island
Alen Angel Wanless, Cape Town, South Africa, 10 April 2020
Editorial Notes:
Alen Angel Wanless is the teenage son of Andrea Angel, Albatross Task Force Leader, BirdLife South Africa. Andrea spent a year conducting seabird research on Gough Island over 2003/04, including working with the globally Endangered Atlantic Yellow-nosed Albatross Thalassarche chlororhynchos, the species to which Molly belongs, as did Kate Lawrence and Jaimie Cleeland 14 years later.
Prior to her year on Gough Island Kate Lawrence worked with albatrosses as a Field Biologist on Austrealia's sub-Antarctic Macquarie Island over 2013/14 and 2014/15. She has written to ACAP Latest News: " 'I have been showing the baby to everyone and asking what they think it is and they always say a penguin!' was one response I got when I sent a photo of a Light-mantled Albatross chick, alone and alert on its nest on Macquarie Island, to family and friends. It reinforced to me how privileged I was to be working with such amazing creatures, species that many people do not get the chance to encounter in their lifetime. World Albatross Day is an opportunity and a reminder to share our experiences far and wide, to highlight the conservation needs of these majestic birds and to spread the albatross love!"