According to on-line dictionaries consulted the expression "Holy Moley" first recorded in 1892 is a euphemism for "Holy Mary", Molly being a nickname for Mary. The rhyming interjection is used to express surprise or astonishment. In the Hawaiian language Mōlī is a Laysan Albatross Phoebastria immutabilis. Showing a deft and whimsical touch, author Hob Osterlund combines the expression with the bird to create the title for her book that takes the reader on two entwined journeys: her own since childhood and the breeding cycle of backyard Laysan Albatrosses on her Hawaiian island home of Kaua'i.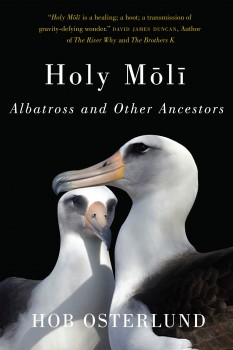 Hob is a former Clinical Nurse Specialist who retired from the U.S. mainland to Hawaii and there encountered - and fell in love with - the Laysan Albatrosses of Kaua'i. On this island the birds breed in the community of Princeville and elsewhere in the north-east of the island, laying their eggs and rearing chicks in the gardens of private houses and on golf courses. Apart from the occasional rampages of domestic dogs and depredations by feral cats (click here), the birds are well looked after by the residents.
The albatrosses Hob observes are given names and sometimes assigned with emotions normally reserved for humans, such as love, tenderness and heartbreak – for example in the case of a hatchling called Paki. So the book is not one to read for scientific observations but given a warm day on a North Pacific island with a hammock and a cooling breeze her lyrical writing should pass a pleasant hour or so. Or read it with enjoyment during a southern winter as I did under a cosy blanket!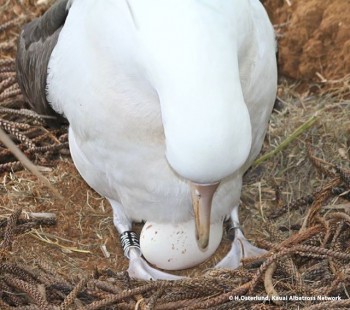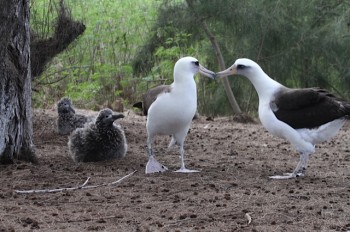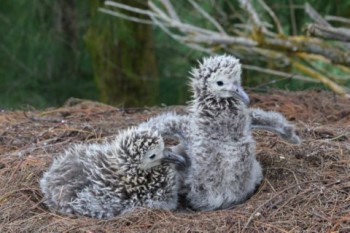 As well as being a writer of some skill and empathy, Hob is an accomplished photographer, as shown by her photos in this review and here. A pity then that her photos in Holy Mōlī are all in black and white, with that look of having been converted from colour originals. But colour does add to cost and her cover photo of a Laysan Albatross pair is an attractive one. The author founded the Kaua'i Albatross Network which is "dedicated to helping preserve the vitality of the Laysan albatross and promoting safe habitat on which this magnificent bird depends".
Laysans also breed in the Kilauea Point National Wildlife Refuge on Kaua'i. The island is home to a livestreaming "albiecam" pointed at an albatross nest (click here).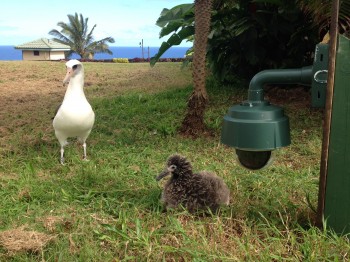 The "albiecam" on Kaua'i. All photographs by Hob Osterlund
I have been to Kaua'i and viewed breeding Laysan Albatrosses on Midway and Oahu during four separate visits to the Hawaiian Islands. Seems I now need to go back for a fifth visit to meet Hob, a fellow albatross enthusiast and (unlike myself) a talented author.
With thanks to Hob Osterlund, who writes evocatively on her Facebook page:
"Thinking about similes related to animals. Busy as a bee. Happy as a clam. Blind as a bat. Silly as a goose. Drunk as a skunk. Free as a bird. So what could we say about albatross, if a mood to draft similes (or alliteratives*) suddenly strikes us on a summer solstice? There are a dozen stellar qualities we could choose from, but dominant among them is the impression of an almost meditative serenity. It's a great state to be in if [you] have to wait weeks for your meals and months for your feathers. Patient as a ʻtross. Mellow as an albie. Holy as a mōlī."
*alliterations
Reference:
Osterlund, H. 2016. Holy Mōlī: Albatross and other Ancestors. Corvallis: Oregon State University Press. 147 pp. ISBN 978-0-87071-849-9. Soft cover, illustrated with 22 black & white photographs. US$ 18.95.
John Cooper, ACAP Information Officer, 28 June 2016